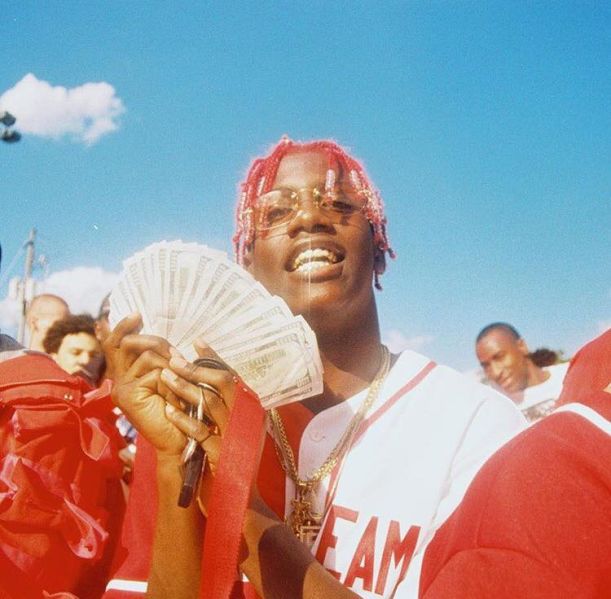 One of the buzziest and most-hyped names in rap today, Lil Yachty has had a break-out 2016 thanks to two acclaimed mixtapes (starting with his debut, Lil Boat), chart-topping singles (his collaboration with D.R.A.M., "Broccoli," is rising up the Hot 100) and impressive co-signs (including the likes of Kanye West and Rick Rubin).
For the soon-to-be 19-year-old Yachty, real name: Miles McCollum, it's a long way from growing up in Atlanta where his previous job was working at an area McDonald's. Hot on the heels of his sophomore mixtape, last month's Summer Song 2, and the mainstream success of "Broccoli" and solo single "1 Night," the Observer caught up with Yachty recently to discuss his rise, creative process, and the origin of his trademark red hair.
[youtube https://www.youtube.com/watch?v=K44j-sb1SRY&w=560&h=315]
Where are you right now?
I'm dying my hair right now in Atlanta.
Ah yes, your red hair has become a trademark. What made you dye it red?
I had a job at McDonalds and I had long braids with beads. So my mom made me cut it for a job interview. When I got the new job, I was upset at my mom because at the time nobody had braids or beads and then I had the same haircut as everybody else. One day on the car ride to work, she suggested that I dye my hair red. I guess she didn't think I was actually going to do it, but I did it and it never went away.
What does she think of that red hair now?
She never liked it until it started making me money. [Laughs]
Well, congratulations on your success. Not only do you have "1 Night" on the charts, but D.R.A.M's track "Broccoli' that you're featured on is a hit as well. What was your experience like creating "Broccoli"? It's such a jam.
We made that one in Los Angeles. I met D.R.A.M. through Rick Rubin and they really wanted me in the studio. Rick set up a session, so D.R.A.M. saw me later that night and asked me to come through. That was the first time I've ever seen a beat get made from scratch, and was the first time I saw more than one person make a beat. They had pianos and instruments chiming in making it.
[youtube https://www.youtube.com/watch?v=251cxou3yR4&w=560&h=315]
You met D.R.A.M. through Rick. How did you originally meet Rick?
He actually set up a meeting to meet me.
What's it feel like to see "Broccoli' become so popular? Does it feel like things are happening super quickly, or has it been a slow burn to this point?
It's quick. I think it's even moving too quick to feel any kind of way.
What's your writing process like?
I'll usually write everything on my phone or just freestyle, either or. Around my first mixtape, I did a lot of writing at home. I'd work on stuff in bed, or in the shower I'd come up with stuff. Literally anywhere. Even now, lines will come into my head and I'll jot them down. At my mom's house I used to do a lot of work really late at night, 3 or 4 in the morning, and I'd just write in bed.
I want to hear about you and Kanye West. Because I know you were a model during his big Pablo fashion show at Madison Square Garden. What that'd feel like?
I don't know, it didn't really feel like anything. I always feel weird when people ask me because I never really know how it felt like. It felt like what I feel like right now getting my hair colored, except with other people watching me. My friend Ian Connor helped me be a part of it.
[soundcloud url="https://api.soundcloud.com/playlists/246294553″ params="color=ff5500&auto_play=false&hide_related=false&show_comments=true&show_user=true&show_reposts=false" width="100%" height="450″ iframe="true" /]
For anyone who's never met Kanye West, what's he like in person?
He's nice. He's a nice guy. He's not mean at all. He's really nice.
What did you think of Life of Pablo when you heard it?
It was tight. I heard a couple of the songs before it came out, and I thought it was good!
I'm wondering what it was like for you growing up in Atlanta?
I grew up on the West Side…. [Laughs]
What are you laughing at?
I'm sorry, but I'm in a group message and it's so funny right now.
Who's on the group message?
All my friends, and everyone's sending me throwback pictures. It's so funny. [Laughs hysterically] Somebody just sent me a picture of my dad in the group and captioned it, "I be trippin'." It's so funny! My dad is a character.
What's he like?
He's a photographer. He's not your average dad, he's real artsy and he looks 22 even though he's 40-something. He dresses like a younger person, too. He's really cool.
Have you been back to the McDonald's you used to work at?
I actually haven't been there recently. I should do that.
You definitely should. You'd be the man strolling in.
I actually might go today!