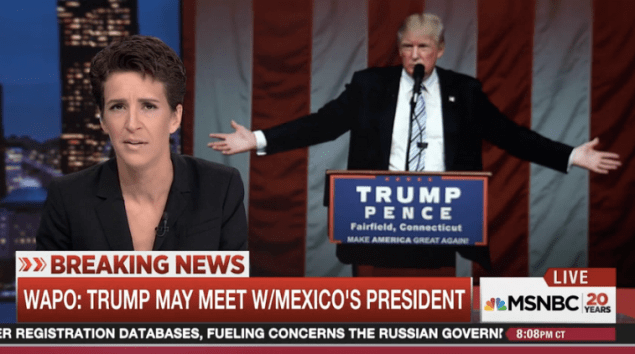 Around 9 p.m. on Tuesday night, The Washington Post broke a major story: Republican presidential candidate Donald Trump would fly to Mexico City the next day to meet with the president of a neighboring nation that he has slandered, scapegoated and defamed.
In that the 9 p.m. hour is the sharpest and most entertaining prime-time slot among the cable news outlets, it was revealing to see how differently MSNBC, Fox News Channel and CNN handled the story.
On MSNBC, Rachel Maddow got the word first but she teased it in a way that was perplexing and vague, as she often is, on The Rachel Maddow Show.
On Fox, news actress Megyn Kelly reported it second but was sketchy, dismissing the story in a few words well into the show, overlooking obvious news value in favor of performing her prepared script on The Kelly File.
And on CNN, the Anderson Cooper 360 show was the last to announce the news. But Cooper was the most thorough, giving the story the length, debate and perspective it deserved.
Here's what Maddow said at the top of her show.
"Keeping an eye on a few ongoing stories tonight, including some interesting news about the presidential campaign that just broke in the last few minutes," she said. "We're going to have the reporter who broke that story here with us—I think—live, in just a moment."
(Psssst! Rachel! Exactly what is the news? What's the scoop?)
Then Maddow changed direction, talking about other Trump campaign matters, including his curious use of time and money, his lack of a national organization, his tweets on Twitter and a story in Mother Jones that alleged Trump's fashion models were often foreigners who lied to work in the United States.
(Hey, Rachel! All this is interesting, but what's the really big news? What is it?)
Finally, six minutes into the show, Maddow got around to reporting the real story: Trump to Mexico. By telephone, she interviewed Robert Costa, one of The Post's reporters.
They discussed how the invitation was sent to both Trump and Hillary Clinton, the Democratic candidate, by Mexican President Enrique Pena Nieto.
They spoke of how Steve Bannon, the new CEO of the Trump campaign, urged Trump to take the gamble and go. It was good, timely stuff—poorly presented.
Developing her theme, Maddow read the words from the base of the Statue of Liberty, relevant in light of Trump's hateful speech.
Had Maddow—or one of her writers—thought of it, they could have added one sentence to her show's opening: "The Washington Post is reporting that Donald Trump is flying to Mexico City tomorrow to visit that nation's president."
This would have tempted casual viewers to stay tuned and would have rewarded her loyalists, who have made Maddow the brightest star of MSNBC. Her show is the top-rated program on the liberal network—behind six shows that air on Fox.
On Fox, Kelly and her producers didn't have a clue about the Mexico story Tuesday, opening with a long segment about how Clinton hasn't always told the truth about her emails and about the Clinton Foundation's dealings with the State Department.
Of course, as Clinton's detractors spoke, the screen showed the Benghazi fire footage, which is to Fox News what Yule logs are to Christmas (or to the "War on Christmas.")
As Kelly ended the segment before commercials at the 15-minute mark, she said in passing "And there are late-breaking reports today that he (Trump) might be headed to Mexico for a meeting with their president—potentially tomorrow."
But when she returned from the break—which included a vicious National Rifle Association commercial against Clinton—Kelly had nothing to add about Trump's trip.
Instead, her guest was Pastor Mark Burns, a buffoonish Trump surrogate who had to apologize for circulating on the Internet a cartoon showing Clinton in blackface and also for circulating a false photo claiming Bill and Hillary Clinton attended a party in blackface.
In that race-baiting is a common theme of The Kelly File and most Fox programming, she showed a brand new "angry black man" video of singer Chris Brown, confronting the police, shouting into a cell phone camera.
"Black Lives Matter!" Brown said. "Y'all the worst gang in the world—the police."
Fox just loves Angry Black Man videos, almost as much as it loves big, strong, tough police officers, so this naturally segued into a segment about police violence and accusations by African-Americans that they are often profiled negatively and killed unnecessarily by cops. (Just coincidentally, "Law and Order" is a favorite theme in Trump speeches).
Kelly first interviewed New York Police Commissioner Bill Bratton. She also interviewed macho tough guy David Clarke, Jr., the hard-faced Milwaukee County sheriff who wears several dozen shiny things on his uniform chest and says there is no such thing as police brutality.
He's a Fox regular and Sean Hannity's favorite African-American law enforcement official.
Kelly also showed a clip of a Beyonce performance from the recent MTV awards in which several white-robed "angels" fell to the stage floor in pools of red light, symbolizing blood. Kelly said it was a comment about cops killing young black men.
But here's the curious part. Fox, we all know, loves to show action video—particularly violent action—to illustrate its stories. Stuff like the fire in Benghazi from years ago, or angry black men burning a store.
And with so much video available of cops killing unthreatening young black men—that strangling on Staten Island, that street shooting in Chicago—you would think that the slick and sophisticated producers at Fox News would show some of these scenes while Sheriff Clarke was running his mouth.
But no such luck. Besides, Kelly had other things to get to, like a fake Internet story that said she had been fired.
"What?" Kelly said, mugging to the camera with pretend astonishment. "This is really going to upset 'Nana,' who believes everything she hears . . . should I sue?"
Later, Kelly continued the running gag.
"Fired!" she said, clapping her hands as she went to another break. Then, with a pretend worried look, eyes flashing about the studio, she said "Have you heard anything?"
By this time, a viewer might have expected the producers to throw together a late segment about Trump's visit to Mexico. Maybe make a couple of phone calls or even read The Post piece.
But, no. Instead, we got to see a long segment of right-wing radio prophet Rush Limbaugh arguing with a caller who scolded him.
Then, again, Kelly teased the false story about herself, implying that a Facebook algorithm went wrong and put that rumor about Kelly at the top of its trending list.
That meant it was cheeky time for a beautiful, blond anchor Stephen Colbert once compared to a Hitchcock victim.
"Once again," Kelly said, "the rhythm method fails." (Oh, we Catholics get it, Megyn. Hee-hee-hee).
The highlight of her show's last segment was video of a woman in a bedroom, apparently caught on a hidden camera, punching herself in the face in an effort to bruise herself and frame a man for domestic abuse.
As we know, Fox loves vivid video—except maybe when it shows cops killing young black men.
Over on CNN, Anderson Cooper 360 chugged along with a rancorous panel discussion about race and Trump and about the death of an ISIS official in the Middle East who may have been killed by the United States.
But at 9:46 p.m., Cooper announced: "We've got some breaking news that we're going to be bringing you. The Washington Post reporting that Donald Trump may be going to Mexico on Wednesday in advance of his immigrant speech. We'll bring you all the latest on that in just a moment."
He came back from commercials with Patrick Healy of The New York Times, among others in a six-person panel discussion.
Healy said Secret Service "concerns are significant," adding that Trump's approach to politics offers high risk and high reward. It could "blow up in his face," he said.
He also called it "fascinating . . . incredible theater." Kayleigh McEnany, a Trump supporter, said "Donald Trump has risen to the commander-in-chief test time and time again."
Cooper called Trump's trip "overseas," although, technically, the Rio Grande is a river, not an ocean.
Karine Jean-Pierre, representing MoveOn.org, told Cooper: "Donald Trump has spent a year insulting Mexicans and Mexican-Americans. This is a last-ditch, desperate attempt to try to present himself as a world leader."
All three shows serve their niches for devoted political junkies. So how many are watching and who's winning?
Current Nielsen ratings put Kelly's show on top of the three, with an average audience in August of 2.001 million.
Of that total, 468,000 were in the demographic of ages 25-to-54 that is coveted by advertisers. In cable news, Kelly is second behind only Bill O'Reilly, whose The O'Reilly Factor precedes her time slot.
Maddow's show ranked seventh in cable news in August, with a nightly average of 1.3 million and 367,000 in the "demo," the highest rated MSNBC show of all.
Cooper's show—the highest rated on CNN—came in third in the 9 p.m. time slot and 19th in cable news overall with an average audience of 845,000 that included 317,000 in the sweet spot between ages 25 and 54.
As for Tuesday's ratings, Kelly led with 2.6 million viewers and 467,000 in the demo. Maddow was second with just under 1.6 million overall and 315,000 in the demo. Cooper was third with 920,000 and 314,000.
Much was written last month about how Maddow's audience has almost drawn even with Kelly in the demo. That was true, but the difference narrowed only when Kelly was on vacation in August and substitute hosts sat in her chair.
Nevertheless, if you track the Kelly-Maddow, head-to-head audiences since January of 2015, it is clear—at least in the demo—that Maddow is steadily rising and closing the gap as ratings for all three channels spike during this bizarre and disturbing presidential campaign.
And while Maddow's ornate writing and speaking style can sometimes try the patience of an audience, her best presentations pack a powerful punch and expose the deeper significance of important issues.
A brilliant example of her best work came early Thursday morning in a special edition of her show that began at midnight and reviewed both Trump's trip to Mexico City and his fire-breathing speech in Phoenix.
She began with photos of Abraham Lincoln and told how he started out a member of the Whig party and switched to the new Republican Party in the 1850s when the Whigs broke up.
By the ninth minute of the show, Maddow expanded the tale into one about the Know-Nothing Party, an anti-immigrant group that used newly landed foreigners as scapegoats.
Maddow said such splinter parties form when the two-party system fails to represent the mood of the electorate, much as Trump's Republican faction represents a nativist backlash.
As an anchor who often puts things in historical context, Maddow spoke of how Catholics were the scapegoats of 19th Century secret societies.
"It was nativism," Maddow said of secret societies and radical parties. "They hated immigrants."
Then came well-selected clips of Trump speaking in Phoenix hours before, about people killed by undocumented immigrants.
"He was murdered by an illegal immigrant gang member," Trump said. "Brutally beaten and left to bleed to death . . . 90 years old and defenseless. The perpetrators were illegal immigrants . . . sexually assaulted and beaten to death with a hammer . . . Dangerous, dangerous, dangerous criminals . . . My first hour in office, those people are gone!"
Developing her theme, Maddow read the words from the base of the Statue of Liberty, relevant in light of Trump's hateful speech.
"Give me your tired, your poor, your huddled masses yearning to breathe free, the wretched refuse of your teeming shore, send these, the homeless, tempest-tossed to me. I lift my lamp beside the golden door."
She referred to Trump's "nativist tirade" in Arizona. She showed a tweet from former Klansman David Duke praising Trump, then followed it with old black-and-white photos from the 1920s of white-robed, hooded Klansmen with burning crosses igniting the night around them.
"Donald Trump destroyed and humiliated the Republican Party this year," Maddow said, "because the Republican Party was weak and failing."
She described the Trump splinter movement as "A weed that we have uprooted before."
"It does keep growing back, perniciously," Maddow said. "It is one of the ugliest things we have ever been as a country and we are now living it in our generation, again."
Disclosure: Donald Trump is the father-in-law of Jared Kushner, the publisher of Observer Media.