There is something truly special about cognac. It is an elixir that is both luxurious to the core and extremely difficult and costly to produce. You can't just set up a craft shed in Brooklyn and break into the cognac game. Like champagne and Roquefort cheese, cognac is an Appellation d'origine contrôlée, meaning that for a brandy to legally bear the name cognac, it must be produced in a very distinct way. Specifically, it must be derived from certain grapes, distilled twice in copper pots, be aged at least two years in French oak barrels from Limousin or Tronçais and, of course, be produced in the wine-growing region of the rural town of Cognac in the southwest of France. In all, cognac is about history, tradition and integrity.
Of the fewer than 200 cognac producers, no one respects this more than Rémy Martin. In 1738, only 14 years after the house was founded, King Louis XV of France was so impressed by the founder Rémy Martin's cognac that he issued a royal accord granting Rémy exclusive permission to plant new vineyards. Today, the company sources only from the two best growth areas of the Cognac region—the Grande Champagne and the Petite Champagne. Only 17 percent of cognac is certified Fine Champagne, and nearly all of it—80 percent—is produced by Rémy Martin.
Taste and flavors set Rémy Martin apart from other cognacs, the result of a very different method to the norm. While the aging requirement is two years for cognac and the standard most brands adhere to is six, Rémy Martin ages their cognacs between 10 and upwards of 40 years. Its Louis XIII blend, which costs up to $3,400 per bottle, takes four generations of cellar masters over 100 years to craft. To learn more, the Observer met the creators at the core of the process on its home turf in France.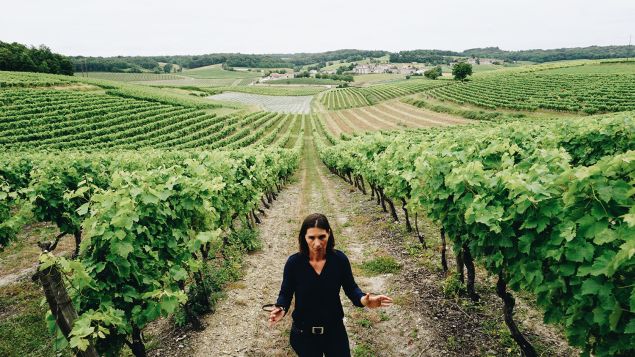 The Grower
Surrounded by budding young grapes in the rolling hills of Cognac, we met Sonya Sicaire, who's been managing the 7.5-acre vineyard almost entirely on her own for 16 years, since she inherited it from her grandfather. Like many of the 1,000 external growers Rémy Martin sources from, she does everything from pruning and harvesting to repairing her own equipment by hand. Telling us about her life's work, Sicaire's pride and passion came through in the emotion in her voice.
"I'm very proud to follow the traces of my family," Sicaire said. "It's hard work, and you need to observe each time. People think there's nothing to do in vineyards because it's green and quiet, but while the vines are independent and can grow themselves, I'm here to make the grapes good."
Throughout the year, as the grapes grow, Sicaire performs frequent maturity tests, plucking off a grape and tasting the juice to track the acidity. This helps her determine when to harvest annually in early fall.
Last year, the cellar master selected the eau de vie derived from Sicaire's grapes as among the best out of all the growers in a blind tasting, earning her one of the coveted annual bonuses.
"If you have patience, you can make beautiful things," she said.
The Master Distiller
Working in the distillery, you'll find 65 people and barely any modern technology. Leading that team is Jean-Marie Bernard, who said he became master distiller "by passion first."
"My father, grandfather, great-grandfather all worked in a distillery. Since I was a child…I never thought about doing anything else."
From harvest until March, Bernard's duties involve overseeing the distillation process and tasting the distillate. It has to be divided into heads, tails and hearts (the desirable portion), and which part will become the eau de vie to be aged is his call by taste alone.
Bernard cherishes the "alchemy of the environment." His co-workers, he insisted, must be thoughtful, calm and patient because the transmission of knowledge between distillers takes years.
"Of course there are things that you can learn in books, but many other skills you can only acquire with experience," he said. "My predecessors have produced eaux de vie for this current generation, and I am producing eaux de vie for the generations to come."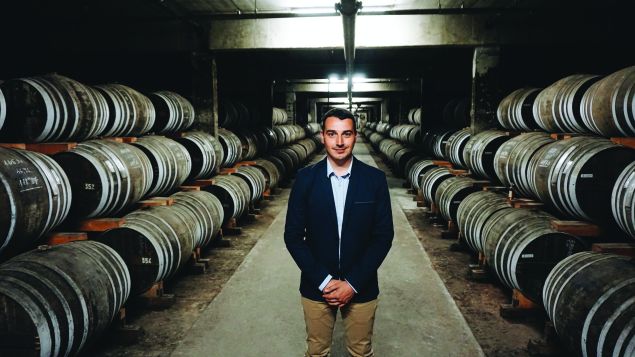 The Cellar Master
The cellar master's role is to taste the eau de vie as it ages and choose how to blend it. He must be an experienced winemaker, a studied viticulturist, an expert blender as well as taster with a superhuman nose.
Current cellar master Baptiste Loiseau came into the job in 2014 at the age of 34, making him one of the youngest to ever hold it.
"My inspiration comes from all the people I meet and places I can explore…from being at the foot of a pot still, looking at the craftsmanship of our master distillers to sharing the expertise of the best mixologists in New York City for example. Curiosity is key and taking the time to share impressions with passionate people too."