Costa Rica has long been known as a go-to beach destination, but the trick to making a trip different is to seek out the unknown. Here, Reshma Patel, owner of Brooklyn's chicest jewelry boutique, Quiet Storms, shares her must-have tips to navigating Santa Teresa, an idyllic beach town located in Teresa, on the southern tip of the Nicoya Peninsula in Costa Rica.
Where to Stay
Blue Surf Sanctuary: On our first visit to Santa Teresa we stayed at Blue Surf Sanctuary, a small eco-friendly boutique hotel, steps away from the beach and located just off the main road in Mal Pais. Blue Surf is all about minimal luxury. The hotel doesn't have a restaurant or bar, but they do have a lovely communal kitchen for morning coffee or tea and each of the four colorful bungalows are brightly and beautifully designed. It's a short walk or bike ride from neighboring Flor Blanca, as well as most of Mal Pais' restaurants. It was perfect for our surf intensive holiday. After hours of lessons, we loved walking a few steps and settling into the perfectly-sized pool, surrounded entirely by jungle and sky.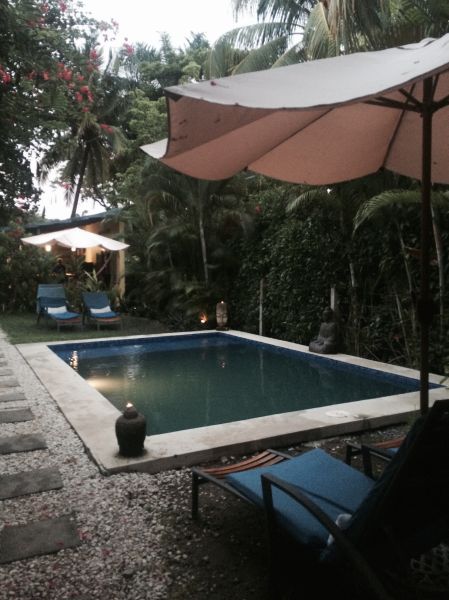 Flor Blanca: Just a short walk down the road from Blue Surf, Flor Blanca is an entirely different experience. This resort, though much larger than Blue Surf, is quite intimate and enclosed in a lush, tropical jungle setting. Along with the luxurious villas and delicious food (including killer breakfast burritos and fresh fruit juice concoctions), one of our favorite things about Flor Blanca is the gorgeous spa. The staff is so wonderful and the setting is impeccably designed for meditation, relaxation and a healthy dose of pampering.  We love to soak in the warm salt-water pool after a day of surfing and yoga. When you stay at Flor Blanca, you need to remember to look up and down. There are incredible creatures of all sizes who call Flor Blanca home. Monkeys swing in the canopy of trees above, iguanas jump off rocks and sneak up on you when you least expect it, sea turtles come to shore in the evenings to find hidden coves for laying their eggs, hermit crabs cover the beach at night and beautiful tropical birds can be spotted throughout the day.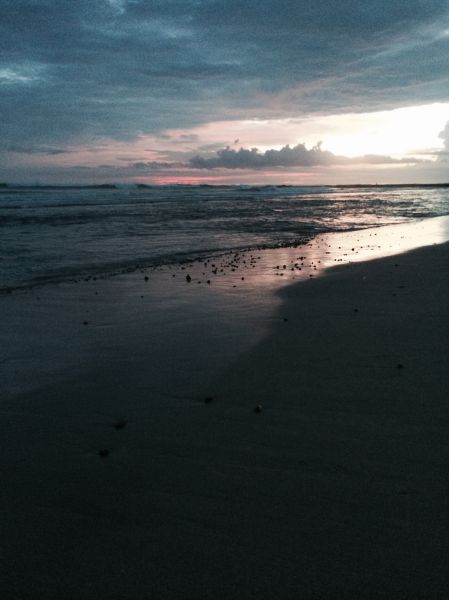 Where to Eat:
Al Chile Viola is our favorite restaurant in Santa Teresa. The cuisine is Italian and everything is made in a small kitchen, which you can peer into while you sit in the beautiful, intimate garden. There are so many delicious dishes on their menu and everything is made from fresh ingredients, including their selection blended fresh fruit cocktails, an unexpected but ideal pairing for the extra-warm evenings. We often go two or three times for the food and the lovely people running it. It's somewhat hidden on the dirt road towards Playa Carmen, but every local knows this place and will point you in the right direction if you end up missing it.
Must-Try Local Food:
Platacones, which are mashed and fried plantains, from any of the sodas (locally-run Costa Rican restaurants along the main street) and fresh fruit cocktails at Nectar's restaurant.
Best Kept Secret?
Yoga with Stefano at Flor Blanca. When we're in Santa Teresa we have a pretty rigorous schedule – surfing for two hours in the morning, followed by intense and exhilarating one-and-a-half or two hours of yoga with Stefano. His classes are held in an open-air, beachside room and though the setting is serene, the class is anything but. He will work you into poses you had no idea you could do and he does it with a sense of humor–and a charming Italian accent.
Must-Visit City:
Playa Carmen. It's where we learned to surf. Toro, our surf instructor, is the heart of this beach. Everyone knows and loves him. He and his beautiful wife always make us feel at home when we arrive.
Must-See Experience?
Sunset drinks at the Hotel Vista del Olas, in Mal Pais. We drove our ATV's to the top of the hill and discovered what felt like the edge of the world. The infinity pool looks out over an expansive ocean, so all you see is an endless sky and sea. The bar is conveniently built into the pool, so you can swim over and ask for rosé while you wait for the sun to set.
The Rocomar: A beachside bar that throws a beach party every Sunday. Arrive before sunset, bring a blanket and stay for the fire dancers!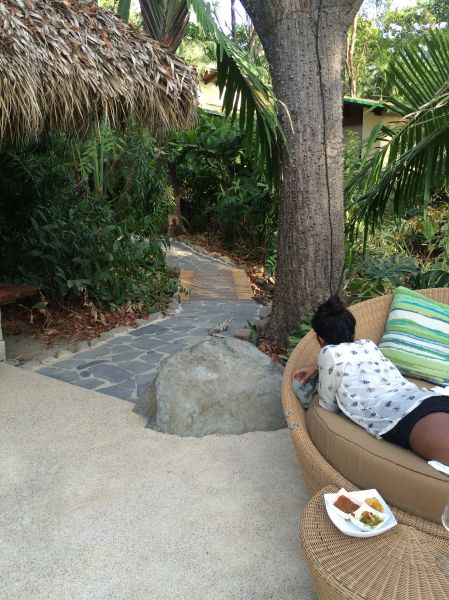 What to pack:
Casual beachwear!
Rash Guard. I tend to choose performance brands for surf gear, like Billabong, but I love the Babes in Bathers' surf top for all-purpose sun protection and board friction.
Sun hat. I love the chic construction of Clyde's hats. Their Dream visor is the perfect fold-up-in-your-bag and go vacation hat.
An effortless, lightweight, water-resistant beach tote, like this Sans Arcidet one.
Jane D'Arensbourg rings for the perfect pop of color and lightness.
Tracy Feith anything. vintage or new. His colors and prints are made for the 'everything's all good' vibe and 'pura vida' spirit of Santa Teresa. I can't wait to try his new label, Warm.
Given that we rarely travel on paved roads, I never pack anything fussy or fancy: Teva's for day, K. Jacques for evening, and barefoot at all other times.
A great beach blanket/scarf/wrap, like this one from Block Shop.
Best transportation:
We rented ATV's to explore the peninsula. There are few paved roads, so ATV's allow you to get to some of the best beaches and destinations around Santa Teresa. We drove our mini, open-air tankers across the peninsula, through the jungle and parked our ATV's in Montezuma, another really great town to explore for restaurants and beaches. For a change of scenery we hiked up into the jungle to see the beautiful waterfalls and take a dip in the fresh-water pools.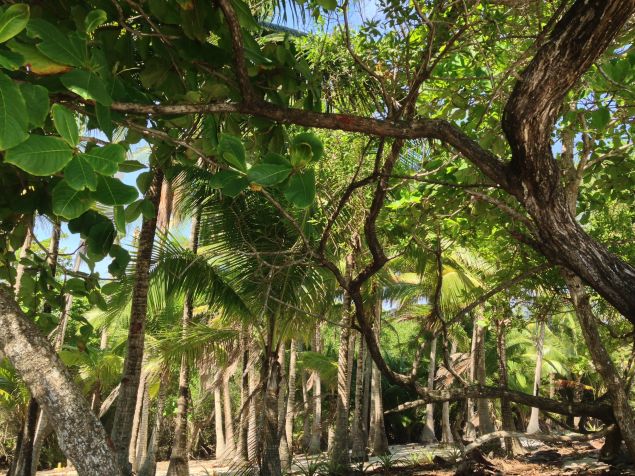 Most Surprising Feature:
The jungle crabs! Every evening hundreds of crabs come out at night, and the roads are covered with them!
Where to Shop:
There are small artisanal shops along the main road that have beautiful crafts and beachwear by locals. You'll find incredible textiles – ikat, indigo, tie-dye everything!