In August 1991, K Records organized the International Pop Underground Convention in its home town of Olympia, Wash., a state capital whose insanely charming annual Pet Parade just happened to be scheduled that same week. Nine-hundred indie-rock fans, all sharing the anti-corporate DIY spirit of bands and labels for whom ambition was—if not quite a dirty word—a highly suspect priority, filled the hippie holdover town for six days of love rock and riot grrrl, a genial gathering in which scene stars like Ian MacKaye of Fugazi worked as a ticket-taker at his own show and more than a few performers had to face down first-gig jitters.
While there (on Rolling Stone's dime, as it happened), I interviewed K founder Calvin Johnson in his office. We got to talking about the decision to exclude major-label bands from the lineup, which instead featured Bratmobile, the Smugglers, L7, the Spinanes, Jad Fair, Mecca Normal, the Mummies, Melvins, Some Velvet Sidewalk, Pastels and Courtney Love (the duo, not the person).
"There are bands that can go to a major label and get what they want out of it and get things done and be able to reach a large audience," he said. "But a lot of people, for the music they're making, it's not the appropriate medium." As the leader of Beat Happening, a pillar of amateurism, he knew where he stood. "They think they want one thing, but they really want something else. It's happened to friends of mine."
Even a principled idealist like Johnson did not completely equate signing up with selling out. "It's not that you can't make good music on a major label. Nirvana [and] Teenage Fan Club are on major labels, and they've both just recorded incredible albums. I hope they sell a million copies: I don't see how the Nirvana album couldn't, it's just so fucking great."
Johnson wasn't the only person in Olympia who raved to me about Nirvana's imminent release on DGC, a division of Geffen. I didn't know anything about it.
Bleach, Nirvana's debut album, which Sub Pop released in 1989, hadn't dented my hull; I dismissed it as "undistinguished Northwest garage noise." But whatever they had in the can, which a lot of the locals had heard, was the talk of the town that week, proud pumping for the local team about to take its long shot in the big leagues. The word was that Nirvana had grafted pop to punk, and it was way cool. But they still weren't asked to play K Fest.
I got back to New York, intrigued to hear what Nirvana might have done (and hoping it might lead to another freelance assignment from the corporate ogre in my life) and procured an advance cassette of Nevermind, which was due for release September 24. (Odd footnote here: I heard a few glitches on the tape, beyond the wobbly "C'mon people" lead-in to "Territorial Pissings" that I took to be intentional but are not on the album. Wish I still had it to check.)
[youtube https://www.youtube.com/watch?v=hTWKbfoikeg&w=560&h=315]
I submitted my 325-word review to Rolling Stone in mid-September; I called it "a dynamic mix of sizzling power chords, manic energy and spacious sonic restraint…singalong hard rock…frenzied screaming and guitar havoc." I called the trio "the latest underground bonus baby to test mainstream tolerance for 'alternative' music."
"If Nirvana isn't on to anything altogether new," I hedged, "Nevermind does possess the songs, character and confident spirit to be much more than a reformulation of college radio's high-octane hits." I concluded by calling them "scrappy garageland warriors setting their sights on a land of giants."
At that point, three unexpected things happened.
The video for "Smells Like Teen Spirit" went into heavy rotation on MTV. The album started selling in serious numbers. And Rolling Stone sat on the review, which finally appeared—given a tepid three out of five stars by an editor—in the issue dated November 28, which was the day after Nevermind was certified platinum for sales of a million copies.
Mainstream tolerance had been tested and found altogether welcoming. My review, which failed to adequately foresee that, was recently deemed "the most notorious Rolling Stone review of the 1990s" by RollingStone.com. Oh well, whatever, nevermind.
For better and worse, Nevermind did indeed slay the giants, replacing them with a battalion of flannel-coated grunge-rockers and whatever else record companies could package as "alternative" and flog to a hastily assembled generation of disaffected youth in desperate need of a shit to give. Nirvana gave them an identity, albeit one that could be called apathetic, self-destructive and purposeless. Regardless, the music biz moved in to exploit it. College bands like the Pixies, Husker Du, the Replacements, Soul Asylum, Social Distortion, R.E.M., Living Colour—already landed on major labels—got a well-deserved surge, but loads of crap washed up on the beach behind them.
[youtube https://www.youtube.com/watch?v=vabnZ9-ex7o&w=560&h=315]
The cataclysm of cultural recalibration that Nirvana brought did not open the door to a parade of great bands as the Beatles had in the '60s, and the Pistols did in the '70s. No, the afterbirth of Nevermind was rubbish like Bush and Candlebox. It gave a big push to (watch your toes here) Soundgarden, Alice in Chains, Pearl Jam and Stone Temple Pilots, all descendants of the tired hard-rock archetypes Nirvana had leapfrogged over.
For a couple of years there, anyone with fanzine credentials (and/or the admiration of Sonic Youth) got offered a serious record deal. That was swell for talented oddballs like Beck, Daniel Johnston, the Vaselines, Melvins, Butthole Surfers and the Flaming Lips; the industry was even able to recognize the commercial prospects of Green Day, the Breeders and Bad Religion. But the flip side was racks of mediocre albums by loud-soft screamers with none of Nirvana's delirious panache.
No one enjoyed the success of Nevermind less than Kurt Cobain, whose K logo tattoo would always be a symbol of the world he left behind.
At first, he might have relished the vindication of his and his friends' musical ideas, the triumph of social ideals and slacker ambivalence, the fun of being a small town ratbag with enormous power. But while he could embrace the idea of escaping the indie-rock preserve when success was merely a loopy dream (Geffen's best-case scenario was that the album might reach gold), he ultimately couldn't live with the reality, the responsibility, of it.
[youtube https://www.youtube.com/watch?v=PbgKEjNBHqM&w=560&h=315]
A multiplatinum album that bought him an unwanted role as the conflicted figurehead of a conflicted musical movement—was it a cultural revolution or just a buzzed-up sloppy regurgitation of '80s rock for younger kids?—was a lot of moral freight for an insecure punk-rocker with an ambivalent self-image.
If he viewed stardom as selling out, that didn't mean he wanted to be rid of it. When public acclaim got to be too much, spokesman-of-his-generation Bob Dylan crashed his bike and vanished; Cobain appeared on the cover of Rolling Stone wearing a T-shirt that read "Corporate magazines still suck." Someone left that cake out in the rain, and he still couldn't decide whether to eat it or throw it away. Two years later, he faced down his demons in the fight of his life—and lost. The album's death obsession, the gun references in "Teen Spirit," "In Bloom" and "Come As You Are," none of which had felt ominous or even serious at the time, became its focal point.
Cobain's suicide ended Nirvana and turned Nevermind into a monument, less the frozen cry of a new era than the echoing scream of a dive into the abyss. Proof that no one ever learns anything, drugs had turned grunge into the latest chapter in rock and roll's death march. Altamont for dummies.
History has been kind to Nevermind. Grammy voters couldn't quite see their way to awarding it a Best Alternative Music Performance in 1992 (R.E.M.'s Out of Time being the more palatable selection; you don't want to know the other nominees), but the album did sell more than a million copies each year for the remainder of the '90s. It routinely lands in the upper echelons of best-albums-ever lists. And in total 2016 radio airplay (as compiled by Mediabase), Nirvana is No. 10 in the Alternative Rock format and No. 6 in Active Rock. A hefty portion of that airplay is for songs from Nevermind.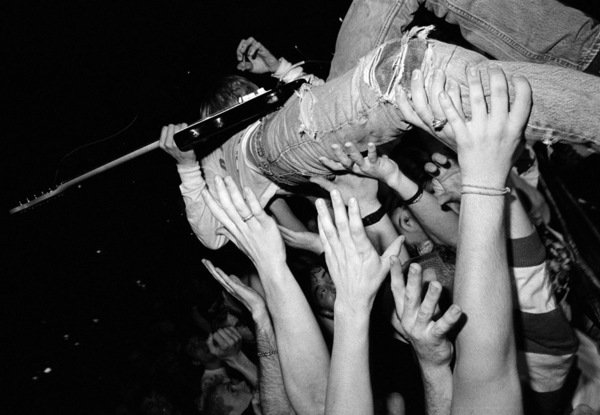 After Nirvana, bassist Krist Novoselic became politically active and wandered out of the musical spotlight; drummer Dave Grohl switched to guitar and hogged it, fronting Foo Fighters (a piss-poor evolution from the sound—and more crucially, the songs—of Nirvana), guesting with countless artists, helming a cable TV series promoting his musical taste and appearing on virtually every awards and tribute show that airs.
But Grohl has upheld the spirit of Nevermind as well as anyone. He doesn't take himself seriously, works like a demon, believes in what he's doing and promotes the bands he loves, from Queen to Queens of the Stone Age. Probably aided to some measure by his ubiquity, the trio was swept into the Rock and Roll Hall of Fame the first year it was eligible for consideration.
And Nevermind has been kind to history.
Nirvana had a substantial subsequent career after its breakthrough, but Nevermind remains the essential statement, a definite turning point in music, one that stands as a monument to the fact that going against convention is frequently the recipe for replacing it. The 12 songs still sound strong, original and full of the piss and vinegar that gives the best punk its conviction. It's not a cliché, a dated curio, a vanguard effort that was predictably supplanted by refinements or improvements, or a bizarre one-off whose vast impact now seems unfathomable.
The landmark albums a quarter-century before Nevermind—try Revolver, Pet Sounds and Blonde on Blonde for starters—sounded like oldies in 1991. But Nevermind, absent its familiarity, its tragedy, its influence, could conceivably have been recorded this year. Whether that's an indictment of the retarded evolution of guitar rock (guitar, bass, drums and a singer-songwriter has been the rule now for more than 60 years—no new ideas there) or a demonstration of Nevermind's lasting achievement is not for me to say.
In two years, it will have outlasted its auteur, and it's safe to say that its ecstatic howl will stay in the air for a long time to come.