Three people—that's all it took for the Republicans to take over Gov. Andrew Cuomo's Women's Equality Party on the Upper East Side.
By having just three of its members change their registration, and using an obscure method called opportunity-to-ballot, the New York County GOP has been able to place three of its candidates on the WEP  line this November—right below Hillary Clinton for president and Charles Schumer for Senate. And Republican party leaders tell the Observer they believe it could lift their contender Rebecca Harary over incumbent Democratic Assemblyman Daniel Quart, who represents a district where GOP mayoral candidate Joseph Lhota outperformed Bill de Blasio by some 3,500 votes in 2013.
"This is a spot where women's equality and women's issues really matter, and the women here would call this their top issue," county Republican chairwoman Adele Malpass told the Observer in a phone interview, noting that more than 800 people in the area voted for Cuomo on the WEP line in 2014. "I hope that people uncomfortable voting on the Republican line, this being the year of the woman, hopefully they will vote on the Women's Equality line."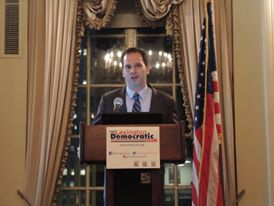 The governor filed petitions to create the line for his 2014 re-election campaign, with the putative purpose of advancing his liberal 10-point "Women's Equality Agenda," and won Clinton's endorsement both of his candidacy and his new party. But most observers recognized it as an attempt to divert votes from the left-wing Working Families Party, which has an abbreviation only a single letter different from the WEP, and which has spatted with Cuomo repeatedly during his tenure as governor, despite having endorsed him twice.
If fewer than 50,000 people had voted on the Working Families line for governor that year, it would have lost its ballot line until at least the next gubernatorial election, when it would have had to file petitions to get back on the ticket. But the WFP surpassed that threshold—as did the WEP, meaning the new party earned a row of its own until 2018.
Former Council Speaker Christine Quinn and Lieutenant Gov. Kathy Hochul, both Democrats who have championed the WEP line, vowed last year the party would prove "transformative" in 2016, with Clinton leading the ballot. But helping potentially elect Republicans on the Upper East Side was probably not what they had in mind.
The New York County GOP has long eyed the Upper East Side, one of the few parts of the borough with a substantial population of Republicans, as the ideal place to finally install of their own in elected office. To get their candidates on the WEP line, it needed only three of its members to change their voter registration from Republican to Women's Equality and to petition for an opportunity-to-ballot in the September primary.
When one or fewer candidates is running on a party line, there is no primary and the party's line does not appear on the ticket in September. But if five percent or more of the party's members sign a petition, the party line will appear, allowing voters to write in the candidate of their choice.
In Quart's district, a single petition signature was all it took to open up the WEP line in September—and to put Harary on the ballot for November. The party could have challenged the opportunity to ballot, but didn't.
"The WEP wasn't paying attention to what was going on," one election lawyer, who asked to remain anonymous, told the Observer.
WFP leaders and their allies have denounced the WEP as a "fake party" and a "sham," and female elected officials like Manhattan Borough President Gale Brewer and Upper East Side State Senator Liz Krueger have assailed it for doing little to advance women's issues.
Now Krueger is one of three Upper East Side officials with a GOP-backed opponent, Michael Zumbluskas, running against her on the Women's Equality Party.
"I thought there was a danger in having too many tiny parties with no real back up or reason to exist. And this is a prime example," said Krueger, noting Zumbluskas captured the WEP line in September with only a modicum of support. "I now have a male Republican with no record on women's or feminist issues running against me who got a whopping two votes."
Zumbluskas, a longtime Independence Party activist running with the Republicans' endorsement and support, is a perennial candidate with little chance of besting the seven-term Krueger. Similarly, Jon Kostakopoulos—a public relations specialist and former aide to supermarket magnate and failed 2013 GOP mayoral candidate John Catsimatidis—got into his race against Assemblywoman Rebecca Seawright relatively late, and faces long odds even with his name appearing on the Women's Equality line.
Harary, however, believes she has a chance to scrape closer to Quart. And she's focusing her campaign attacks on Cuomo's bitterest foe: de Blasio, who she claims her internal polls show has a 60 percent disapproval rating in the district. Besides the Women's Equality line, Harary is also running on a new row created just for this election cycle—the Stop de Blasio line.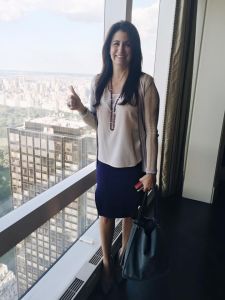 "I think I'm not alone when I say there are plenty of people, including me, who are just not happy with where Mayor de Blasio is taking this city," she told the Observer over the phone, attacking Quart for not pushing back on the mayor's policies in Albany. "If you're going to take the responsibility of representing us, then you better do something to make our district better. Not allow all these stores to close, not allow the homeless to pile up on the street."
The mother of four daughters, Harary said the idea of the Women's Equality Party has a special resonance for her. Among the multiple nonprofits she has founded and worked for is the PROPEL Network, which helps secure job training and employment for mothers re-entering the workforce.
"It's time for women to take a stand. There's been a lot of talk over the years, equal pay and equal rights. But with the formation of the Women's Equality Party we have something really strong for women to stand behind, or stand with, and advocate for women's issues," she said. "It's the right time. Cuomo started the line, Christine Quinn got behind it, and I'm right there with her."
But neither Harary nor Malpass would endorse all 10 points of Cuomo's Women's Equality Agenda, the ostensible reason for the party's existence—an agenda that would codify the right to obtain an abortion, a host of anti-housing discrimination statutes and the right of attorneys to recover fees in employment, credit and lending cases.
"We need to review it a little more closely," Malpass told the Observer.
Harary would only emphasize that she is firmly pro-choice.
"To me the Women's Equality Party is really about equality and standing up for the rights of women," she said. "It was hard for me not to stand behind the Women's Equality Party."
Quart declined to comment for this story, except to note through a spokesperson that Harary gained the WEP line through a single petition signature.
WEP Chairwoman Rachel Gold, who Cuomo installed atop his new party, did not respond to repeated requests for comment until after the initial publication of this piece.
"We are proud to be working to elect the dozens of candidates sought [sic] the WEP endorsement and received our nomination this election cycle," read an email statement from Gold, who served under Cuomo when he was state attorney general.
The party's website appears not to have been updated in more than a year, and there is no indication that the party has any form of internal organization or infrastructure at the local level.
Malpass said the GOP might look to place its candidates on the Women's Party line again next year, depending on how well Harary performs.
"We'll have to see what happens in 2017 when we have City Council candidates running," she said. "I think there are lots of women who would like to vote for women on this line."
Updated to include comment from Krueger and Gold.