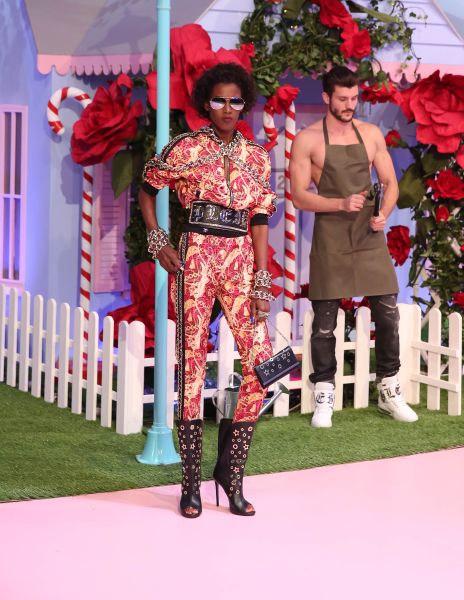 In New York, brands hoped to make large splashes in an effort to spur sales of their immediately available "see now, buy now" collections. In London, Burberry did the same, hosting in-store viewings of their streaming runway show before clients could snap up the pieces at venues like Barneys New York. In Milan, the "ready for purchase" trend waned, but the desire to make a splash for social media was still present.
Sure, designers routinely fly out celebrities and Instagram stars out for front row appearances to ramp up their show's significance. Back in 2009 Dolce & Gabbana caused a bit of a scene with their now infamous blogger front row. This season, to reflect how the industry has moved, they invited a whopping 21 Instagram stars as their glitterati.
But when the show started up, while editors sipped their fresh coconut drinks, instead of attention turning to parading models, dancers in street clothes came out and began to breakdance, with hordes of teens running through the runway as if it were some sort of bustling street. Eventually their performance did give way to a full 91 looks. The show finished with Gabbana's now customary parade of models, but this time the dancers came out, again. And while the performance was upbeat, it didn't exactly match the freshness of what Antonio Marras had on hand.
In a showing that may have been a little too long (by some estimations, it tallied up to 110 looks) the Italian paid homage to the '50s and '60s. And to completely evoke that old school mood, models stalked around a scene set like a vintage hair salon, replete with lounging ladies reading magazines. Periodically these women, along with a few men (as the presentation was Marras' first to integrate both his men's and women's collections), began to dance in a jive reminiscent of the inspirational decades.
Always the showman, Philipp Plein also went big, possibly the biggest. The designer brought in a spinning carousel full of models, as well as musicians Fergie and Fat Joe. The musicians were nothing new, as Lil Wayne made headlines for walking off his set during the January show. And that's not all; a marching band finished the procession. If it all sounds a bit convoluted, that's how much of the attendees felt, too. The random add ons and the theme of "Alice in Ghettoland" left some with an unsettled feeling about the presentation. Though one thing was clear: Pleinn used this over-the-top show to announce his departure from Milan Fashion Week; starting next season he will be showing on the NFYW schedule.
But increasingly, these gimmicks are what it takes for designers to get noticed during fashion week.