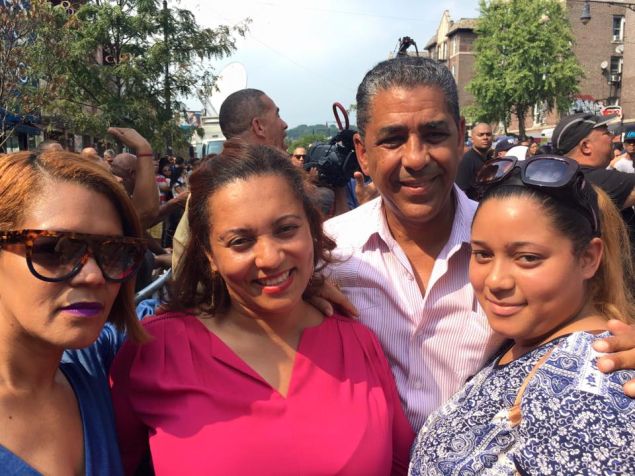 Everything's coming up Espaillat!
Just months after Upper Manhattan State Senator Adriano Espaillat triumphed on his third try for retiring Congressman Charles Rangel's seat, the Dominican-American pol succeeded tonight on both picking his successor in Albany and vanquishing his oldest foe.
With more than 90 percent of the precincts reporting, it looks like Marisol Alcantara—a leader in Espaillat's political club—has beaten back former Councilman Robert Jackson and Micah Lasher, the former chief-of-staff to state Attorney General Eric Schneiderman, to take over Espaillat's State Senate seat covering Washington Heights, Inwood and a strip of the West Side. Alcantara appears to have pulled roughly 1,000 more votes than Jackson, who scraped close to beating Espaillat two years ago, and who in turn led Lasher by almost 600 ballots in the Democratic contest.
Alcantara's victory, and the choice that lies in front of her, will likely shape the power structure in the State Senate. The Independent Democratic Conference, a five-member breakaway sect that has colluded with Republicans to control the State Senate since 2012, dumped thousands into Alcantara's campaign.
The candidate has so far declined to say whether she will sit with the IDC—becoming their only member of color—or with the mainstream Democratic caucus. But it seems likely she will choose the former, strengthening the renegade faction's position as kingmaker. After the November elections, the IDC will likely decide either to continue to work with the GOP, propping up the current regime in the upper house of the legislature, or to work with their fellow Democrats and establish a new order.
Either way, the IDC will secure perks and power for its members.
Just as sweet for Espaillat, however, is the apparent triumph of Carmen de la Rosa over sitting Assemblyman Guillermo Linares. With 99 percent of the votes counted, de la Rosa appears to have defeated the longtime lawmaker by nearly 16 percentage points.
Linares and Espaillat battled for years to be the most influential Dominican-American powerbroker in Upper Manhattan and New York as a whole. Linares unsuccessfully challenged Espaillat for State Senate in 2012, and competed against him in the Democratic primary for Rangel's seat this year, though he had little chance of winning—though some chance of drawing enough votes away from Espaillat to keep him from realizing his Washington ambitions.
Espaillat set de la Rosa, a staffer for his ally Councilman Ydanis Rodriguez, up against Linares in the race for his Assembly seat. After placing near the bottom in the congressional contest, the veteran lawmaker took an oddly lackadaisical approach to getting re-elected to his state seat, raising little money and making few appearances in his district.
And now it is his district no longer.
Espaillat, Alcantara and de la Rosa won't officially claim their respective seats until the November general election, but each is almost certain to win in overwhelmingly Democratic Upper Manhattan.