The invitation to Kanye West's Yeezy Season 4 presentation for adidas arrived in the early hours of Wednesday, September 7th – the same day as the show. Many fashion insiders thought they might have been snubbed this season, and some speculated that West would be showing sans live audience for virtual viewers only. We were all wrong, and awoke yesterday morning to find shadowy details in our inboxes. We were to meet at a pre-determined check point in Chelsea, where we would board a bus with our colleagues to an undisclosed location. It was then revealed just 3 hours before the presentation's 3 PM start time that we would be trekking to Roosevelt Island's Four Freedoms Park. 
While it seemed like many hoops to jump through, this secrecy went a long way in removing the spectacle of the Yeezy experience. We baked in the sun awaiting entry as many bemoaned West's venue choice, though it turned out to be a tactful one as hypebeasts and gawkers had all but disappeared. Sure, there was something troubling about seeing fashion veterans like The International Herald Tribune's Suzy Menkes and InStyle's new editor-in-chief Laura Brown being pushed back by a set of burly security guards to allow smooth entrance for rappers like Desiigner and 2 Chainz, but there is a reason we all showed up, and that's for the spectacle of it all. This season, Kanye took a step toward changing that.
After passing a series of three checkpoints, we arrived inside the park to find a merchandise booth selling neon and white "Season 4" t-shirts for $75 each, as well as a performance art piece devised by West's frequent collaborator, Vanessa Beecroft, which stood as the show's backdrop. The rows of models were clad in various cuts of flesh-toned shape wear, sitting and standing as they wished, with one model fainting from the sweltering heat. Most showgoers remained confused as to whether the fainting was apart of the performance, or if the model had actually fainted, but eventually she was given water by a nearby attendee.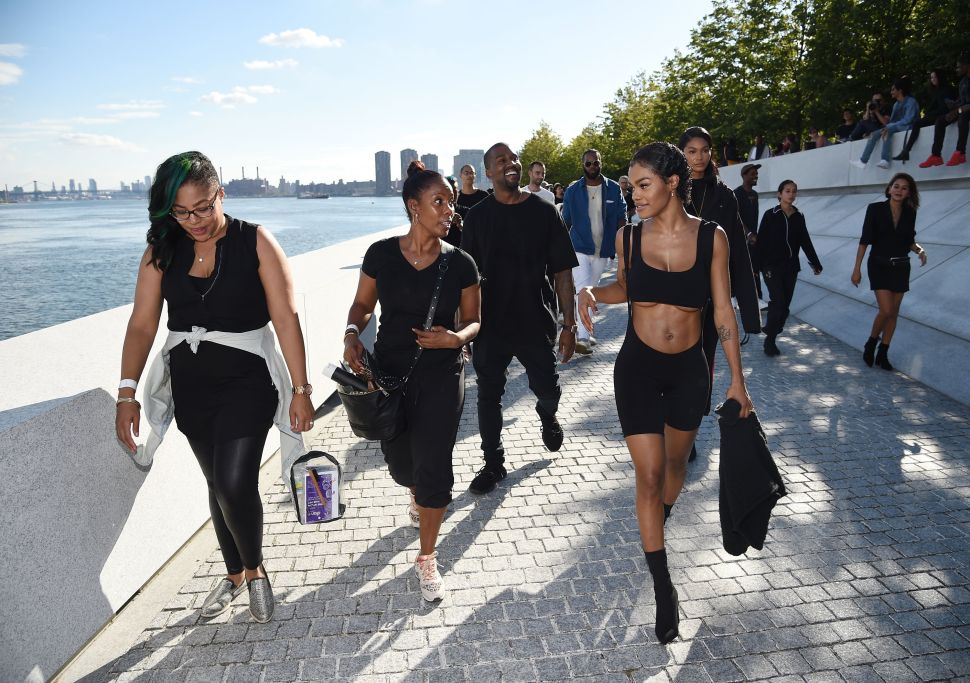 After just over 90 minutes of delays, the clothes finally arrived. Rather than presenting every design en masse to a soundtrack of his own music as he did last season at Madison Square Garden, the show's runway format gave each look proper attention and the soundtrack remained wordless. There was a subtle progression to the design elements in comparison to last season's more dilapidated ensembles, while some harkened back to West's pre-adidas collection entitled Kw. In particular, several oversized canvas backpacks were reminiscent of a large fur iteration presented by West in 2006, but this time with a bit more practicality (and affordability, as the goods are likely to land in one of the many Yeezy for adidas storefronts).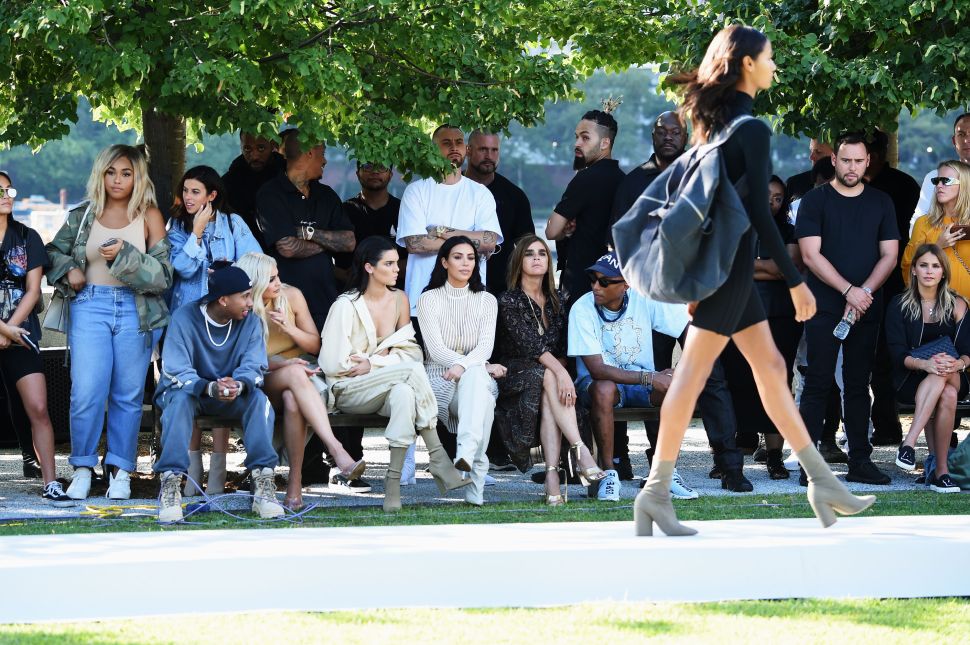 Knee jerk reviews took aim at the shoes, which models struggled to right themselves on as they strutted down the low catwalk. It was unclear whether it was due to sizing errors or the model's own discomfort with walking the runway, but Amina Blue ultimately decided to stop to remove her shoes altogether and walk with them in her hands. She returned for her final pass wearing a pair of white adidas flip-flops. The show was closed by frequent Yeezy favorite, supermodel Chanel Iman, as well as the star of West's latest "Fade" music video, Teyana Taylor.
The front row echoed a similar glitz. Looking on were those who also turned out for the past two nights of West's sold out Saint Pablo Tour concerts including West's wife, Kim Kardashian without children North and Saint West, though she did arrive with her two youngest sisters, Kendall and Kylie Jenner. They were trailed by a large camera crew filming them for their reality television series, and sat alongside director Spike Jonze, CR Fashion Book and Harper's Bazaar's Carine Roitfeld, and rapper Pharrell.
Anna Wintour was there too, though she sat noticeably far away from the media circus. While Wintour has attended the past three seasons purposefully seated directly next to Kim, it seems the world's most influential figure in fashion may be distancing herself – both literally and figuratively – from West, and it is unlikely he will be taken seriously as a legitimate force of fashion design without her blessing.