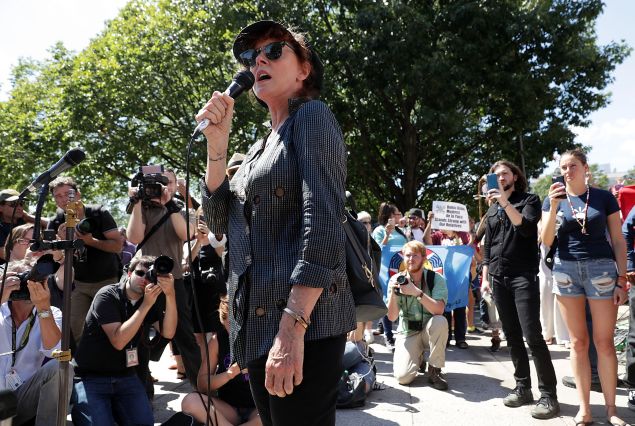 Starting in April 2016, Native American tribes from across the country began gathering outside a small town in North Dakota called Cannon Ball, to protest the Dakota Access Pipeline in solidarity with the Standing Rock Sioux Tribe.
If construction is completed, a pipeline carrying roughly 500,000 barrels of crude oil from North Dakota's Bakken oil field to Illinois will sit on several sacred tribal burial sites, threatening the tribe's drinking water sources. Despite a pending court decision on whether construction would be halted, bulldozers hired by the pipeline's construction company went ahead and destroyed many of these sites anyway. They also hired security officers with attack dogs and pepper spray to subdue protesters. Coverage has mostly been provided by alternative outlets and social media. Political officials have widely avoided addressing the issue altogether.
"It is discouraging that both Hillary Clinton and Obama, who have professed to be protectors of Native American rights—and Obama even visited that particular reservation—have been silent," Susan Sarandon, one of the few prominent voices speaking out against the Dakota Access Pipeline, told the Observer. "Why haven't we heard from more people who are supposed to be progressive, who believe in global warming? I'm not even talking about Trump, because he's out of the concession with the science—but those people who pretend to care about the environment and believe in global warming, how can they not speak out on what's happening?"
Sen. Bernie Sanders was the first major politician to object to the pipeline. "Like the Keystone XL pipeline, which I opposed since day one, the Dakota Access fracked oil pipeline, will transport some of the dirtiest fuel on the planet," said Sanders in a statement. "Regardless of the court's decision, the Dakota Access pipeline must be stopped. As a nation, our job is to break our addiction to fossil fuels, not increase our dependence on oil. I join with the Standing Rock Sioux Tribe and the many tribal nations fighting this dangerous pipeline."
Virginia Sen. Tim Kaine, Clinton's ticket mate, refused to give an opinion on the subject when he was confronted by an activist with 350.org. The silence of these public officials, and the media's disinterest in the protests, is actively helping the pipeline progress.
The route of the Dakota Access Pipeline was initially planned to be near, Bismarck, the capitol of North Dakota, but was moved due to concerns over the dangers it would pose to people living in the area. "So they moved it near people they value less," Sarandon said. "They decide one group of people is more disposable than another, and that is what allows these things to happen in these communities."
Sarandon explained that the fight to stop the Dakota Access Pipeline isn't just for Native Americans, but is essential to the public interest. "This will affect everyone downstream, it will impact future pipelines and the way they are built," she said. "We have an opportunity at this moment to show that we learned something and to make amends for the lands we have taken and continue to take."
During the Democratic Primaries, Sarandon developed a reputation as an activist for the Sanders campaign. She regularly faced scrutiny and criticism from mainstream media outlets and Clinton supporters, since she wasn't "supposed to" come out in support of Sanders when Clinton was predisposed to being the Democratic presidential nominee. Continuing this trend, Sarandon, and a small handful of other public figures are protesting the Dakota Access Pipeline, while many others in the spotlight, from politicians to celebrities, remain silent.
"I don't blame other celebrities. It's a very risky thing to do—because everything you say usually gets twisted around, and you stand a chance to make a lot of enemies, especially online. People go crazy whenever anybody does anything one way or another," said Sarandon. "I use my career instead of it using me. We sacrifice a lot of privacy and you are vulnerable when every move you make is scrutinized."
As a mother and grandmother, Sarandon said she feels obligated to speak up on important issues like the pipeline. "Everyone who is not up the power structure, not connected to the lobbying, the big money, we are all marginalized, because they are the ones deciding our future." She also said that the Trans-Pacific Partnership agreement (TPP), if allowed to pass, will undermine the ability for everyday people to rein in corporate greed. "That's another mystery in terms of Obama and Hillary Clinton. I'm saying mystery in a generous sense, because I know why they're for the TPP. If that goes through, there will legally be no recourse to fight these types of things."
Although TPP hints at bleak possibilities, Sarandon maintains a positive outlook for the future. "I have hope and faith in millennials. I see they are very, very educated and at this point understand that this is their world they are going to inherit," she said. "They know what's coming down and they're committed, angry, and justifiably concerned. I put my faith in them to understand they are as marginalized as these people are."