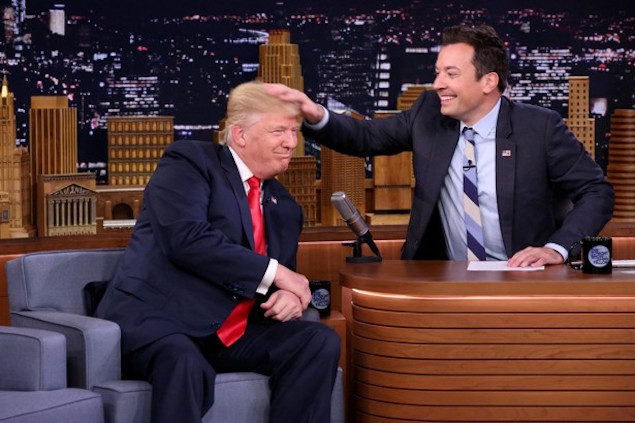 I'm not going to link to the interview Donald Trump did with Jimmy Fallon last night. Surely by now you've seen the image elsewhere of Jimmy Fallon ruffling Trump's famous pompadour, Fallon giggling like a schoolboy while Trump grimaces in as close an approximation to "good-natured" as he can.
That picture about sums it up: faced with the most unusual presidential candidate in American history, Jimmy Fallon gently nuggied his hair and laughed at everything he said. The interview wouldn't have been any different if Trump had been promoting a new season of Celebrity Apprentice instead of running for president of the United States.
Jimmy Fallon has never been a political commentator or an interviewer of any real depth. His strike zone falls in forcing celebrities into made-for-YouTube bits somewhere between drinking game and freshman improv class icebreaker. But last night has proved, once and for all, he'll never be anything more. He joins a string of mediocre men—Matt Lauer, Dr. Oz—who choose to be affable instead of being responsible, normalizing Trump's unique brand of fluff and media manipulation as if he were any other candidate. And their failures are a failure for all of us.
Regardless of where you stand politically, it's impossible to deny that Trump's behavior both before his candidacy and on the campaign trail has been (to say it politely) problematic.
If anyone is ever face to face with Donald Trump and given the opportunity to ask him questions, here are a few things they should ask about:
—How can you claim to have ended the birther movement in 2011 when you continued to tweet about President Obama's birth certificate being forged in 2012, 2013, 2014, and 2015?
—If you now believe President Obama was born in the United States, what changed your mind? What happened to your "reliable sources" that told you the birth certificate was fake?
—Would you remove yourself from your over 500 businesses with ties overseas if you're elected president to prevent a massive conflict of interest?
—You say you won't release your tax returns because you're being audited. Are you going to release any proof that you're even being audited?
—You've advocated assassinating terrorist's families. Are you aware that's a war crime?
—There are some people in this nation who are abjectly racist, or sexist. Not to say they're half of your supporters, but you've called POOR people "losers." Wouldn't you call racists deplorable?
—How do you "humanely" round up and deport 11 million human beings in the United States? Do you just leave their children (legal American citizens under the 14th amendment) wondering where their parents have gone?
—You and your father were both investigated by the Department of Justice for refusing to rent to black people. How would you respond to those concerned by that?
—You've implied that rape is just "what to expect" for men and women in the military together. So what is your proposed solution?
—You've claimed to have hundreds of friends die in 9/11 and yet you didn't attend a single funeral. How could you lie about a thing like that?
—You said, "It doesn't really matter what [the media] write as long as you've got a young and beautiful piece of ass." Do you still believe that?
—You spent $20,000 of your foundation's money on a 6 ft. portrait of yourself. How is that a charitable contribution?
—See above, re: signed Tim Tebow helmet.
—See above, re: $25,000 campaign donation to Florida Attorney General Pam Bondi who then decided not to investigate Trump University for fraud.
—You've repeatedly discussed how you'd date your daughter (if she weren't your daughter. I don't really have a question here, but gross, right?
Instead, Jimmy Fallon used his own personal charm and his platform to give Donald Trump a humanizing campaign ad for millions of Americans.
For some, this election might have irrevocably become reality show. But for the rest of us, we'd like to know how the candidates measure up in terms of the things that matter.
Disclosure: Donald Trump is the father-in-law of Jared Kushner, the publisher of Observer Media.