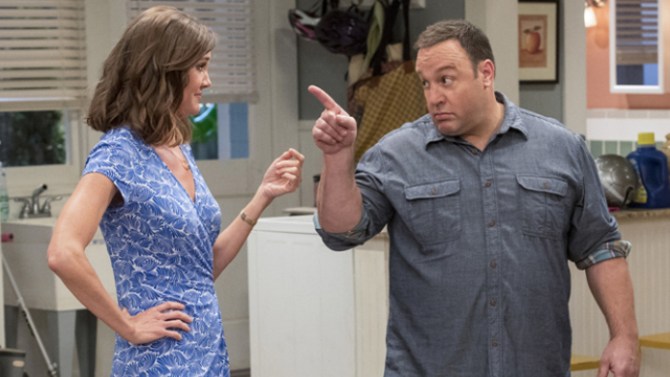 It's good to have Kevin James back on TV. It's just too bad that it's not via a better vehicle than Kevin Can Wait.
It pretty much goes without saying that James is a gifted comedian. His timing and delivery are top notch, so it seems like he absolutely should be on TV every week, and for a long time he was in his previous series King of Queens. That show worked for a lot of reasons, including the presence of Leah Remini as his wife Carrie and Jerry Stiller as James' father-in-law Arthur, but mostly because James, clearly the center of the show, was so good at playing off of those two.
In this series James plays a family man who's ready to retire when his adult daughter decides to move back in with the folks and brings with her her strange fiancé. He apparently has two other children as well, but they were nowhere to be seen in the pilot.
Family sit-coms have proven to work well, ala shows like Modern Family, Black-ish, and Fresh Off the Boat, etc, but the premise here (at least in the one episode that was available for screening) just seems too weak.
What those other shows have is something unique—Modern Family has a large ensemble, Black-ish and Fresh Off the Boat also feature big families with an ethnic twist. Unfortunately, Kevin Can Wait doesn't really have anything distinctive about it. In fact, it seems so familiar that as I watched I kept waiting for Carrie to burst in and I kept wondering, "where is Arthur and what's he doing?" Not to take anything away from Erinn Hayes, who plays James' wife Donna, but it was just weird to see her with James. It was like he'd divorced Carrie and was now with this woman in a similar house, and it was just too hard to get used to. Maybe that will come with time, but at first glance it just feels very awkward.
It's also curious that James has come back in something that, at least initially, seems a bit too similar to his previous show. Yes, he has kids in this series which he didn't before, but maybe it would have been better creatively for him to come back in a role that's completely opposite of his King of Queens character—like maybe a single guy. (Wait! Maybe he could have been the lead of Sloppy Joseph, the sit-com Michael Che pitches to Tina Fey in those American Express commercials—"middle-aged man is trying to get his life together but he can't, he's too sloppy"—I'd watch Kevin James in that, especially if it also starred Michael Che and was produced by Tina Fey.)
And, I would be remise if I didn't point out another issue with Kevin Can Wait, and I have to say that this is from a guy friend of mine. When he saw it he immediately said, "oh, another show that has a fat guy with a hot wife. Yeah, that's new.: Now he went on to say that no offense to Kevin James as James clearly has no issues with his size as does use his weight for jokes in the show, and while series with this husband-wife combo gives hope to "fat guys everywhere," it's just not really realistic and has been done too many times before. (He was also a bit interested as to why women weren't outraged by this double standard, but that's a discussion for another time.)
In the end, Kevin James is an extremely likable and funny guy and while it's good to have him back on-screen making jokes, it's a shame that it can't be in a better show.
Kevin Can Wait airs Mondays at 8:30 p.m. EST on CBS.