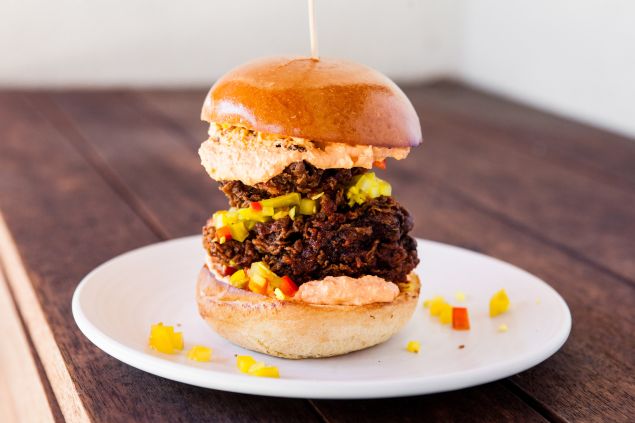 If you're going to have a Sunday funday, you might as well make it a Sunday bun day.
You'll probably want to loosen your party pants before you head to the new weekend brunch at chefs Quinn and Karen Hatfield's Odys + Penelope, where warm skillet buns with a maple brown-butter glaze are salty-sweet bliss and you might be inclined to double down on your carbo-loading with cornmeal ricotta pancakes (featured Pudwill blueberries, salted butter and maple syrup) or the requisite grilled focaccia avocado toast.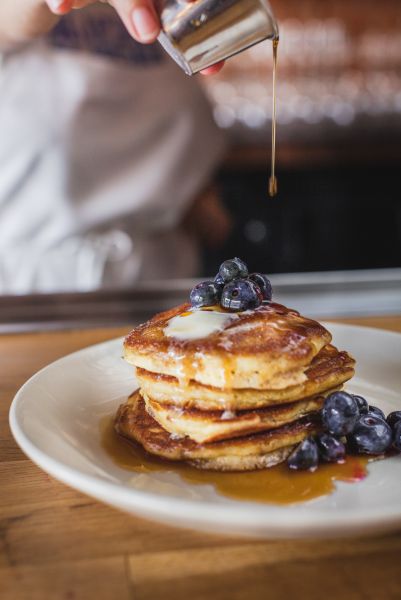 By now, it should be no surprise that the Los Angeles culinary power couple who previously ran fine-dining institution Hatfield's is serving avocado toast. Anybody who's visited The Sycamore Kitchen down the block on La Brea Avenue knows that Karen Hatfield is a boss of a baker. And when the Hatfields opened the grill-focused Odys + Penelope in January 2015 soon after closing Hatfield's, she told me that they wanted to create a restaurant that represented how their palates had evolved. Goodbye, tasting menu; hello, gargantuan smoked short ribs.
Odys + Penelope's open-fire cooking quickly became a showcase for Quinn Hatfield's mastery of meat, something you can also enjoy during weekend brunch in dishes like the porchetta eggs Benedict and a 'nduja hash where the spicy Calabrian sausage really brings the heat. (Cool off with the free bellini you get when you order a brunch entree in September.)
On Sundays, you can also make your mouth burn at The Bellwether's weekend brunch in Studio City. Like the Hatfields, Ted Hopson (who previously cooked at Father's Office and Water Grill) is an accomplished chef who's created a modern neighborhood restaurant that celebrates local ingredients married with global influences.
The avocado toast at The Bellwether's brunch includes aleppo chili; the tempura cauliflower (also a crowd-pleaser at dinner) has Thai chili, Thai basil and fish sauce; and the Nashville hot chicken sandwich with pimento cheese and green tomato chow chow is habit-forming. The monkey bread (with cinnamon and dulce de leche) and the perfect French fries (with housemade hot sauce) mean you'll probably end up carbo-loading here, too. And because this is your Sunday funday, The Bellwether serves a Bloody Mary garnished with a mini BLT and has just added $15 "bottle service" (Domaine Saint Vincent Brut with orange juice plus a choice of two other juices including strawberry, guava, white peach, morello cherry, blueberry and black cassis) as part of its weekend brunch.
Brunch, as we all know, can often be total bullshit. But Odys + Penelope and The Bellwether, along with Manhattan Beach's M.B. Post, are part of a national trend of chef-driven, boundary-free restaurants (like Michael's Genuine in Miami, Woodberry Kitchen in Baltimore, Buttermilk Channel in Brooklyn, Tasty n Sons in Portland and DW Bistro in Vegas) that riff on international cuisine while remaining distinctly American on Sunday afternoons. At all these places, you could make a case that brunch is the most important meal of the week.
And for one fine day that's also one brine day, head to chef Esdras Ochoa's Salazar in L.A.'s Frogtown on Sundays. We think this place, with its patio and its Santa Maria-style grill, is pure flames whether you come primarily for tacos, horchata cocktails, potatoes with chorizo or large-format meats. And Salazar has just started serving a rotating selection of oysters, including options from Baja and Washington, from shucking duo Oyster Boys every Sunday starting at 4 p.m. We can't think of a better place to sit outside and slurp.