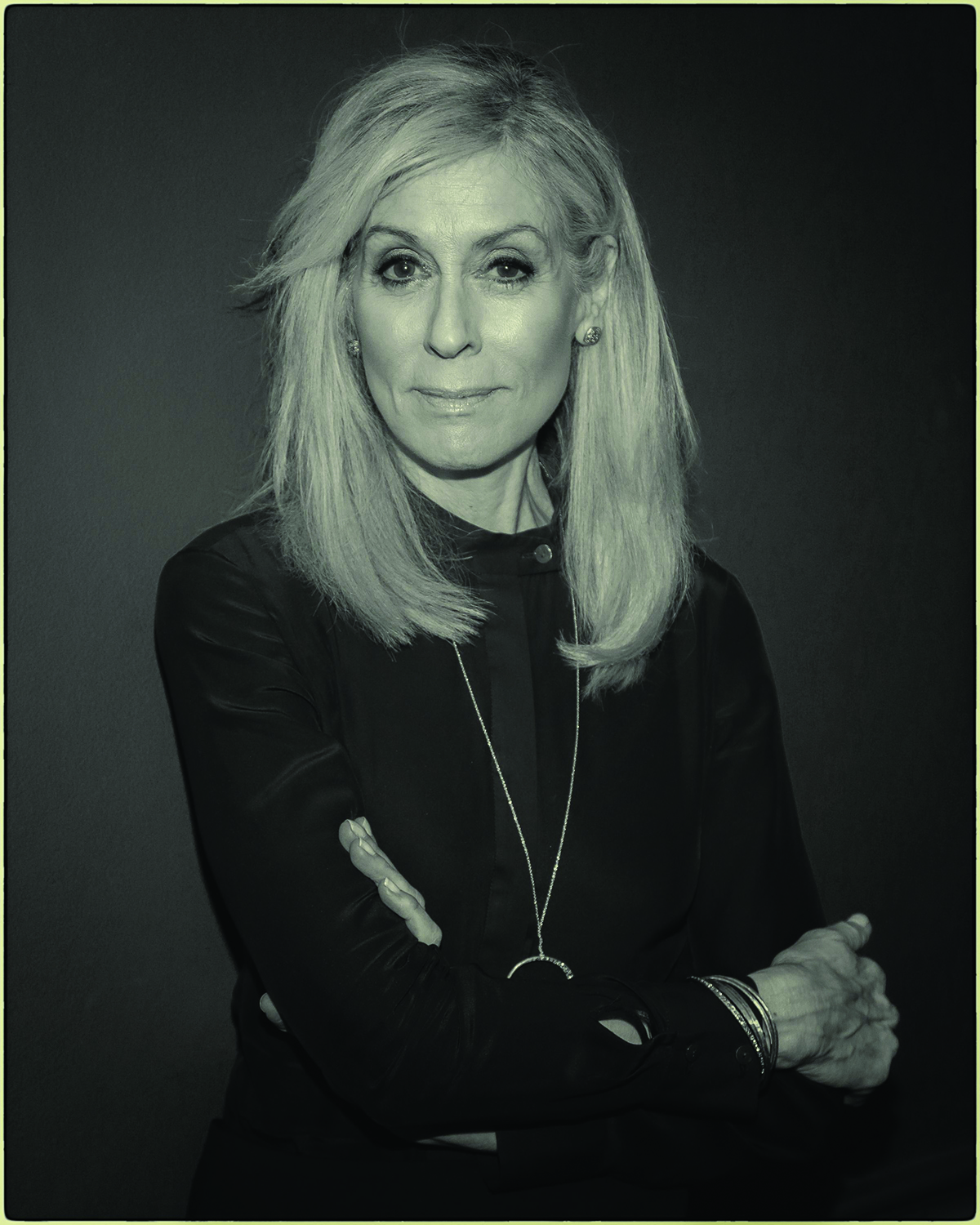 "Please, the full company of All the Ways to Say I Love You—to the set, please." Such is the politely overripe way stage manager David Lurie summons his cast to work these days. Promptly and dutifully, the full company of All the Ways to Say I Love You materializes: one (and only one) Judith Light. "We all make jokes about it," the actress confesses, "but it's pretty frightening. You're so naked, so exposed. There's just nothing to fall back on—absolutely nothing. It's a trapeze act without a net."
For the first time in her career, Light is finding herself all by her lonesome on a stage without a single star to kick around or support. That's ironic because support is her strong suit. She wins awards for it—two Tony Awards and two Drama Desk Awards in the Featured Actress category for Other Desert Cities and The Assembled Parties and nominations from both groups for Lombardi. This year she picked up an Outer Critics Circle Award for supporting Thérèse Raquin, and she's currently contending for an Emmy as Outstanding Supporting Actress in a Comedy Series (Transparent).
All the Ways to Say I Love You, now previewing to premiere September 28 at the Lucille Lortel Theater, is also the first time Neil LaBute has ever written a solo show for a woman. "I did one with Ed Harris about 10 years ago called Wrecks, and, five years before that, I did a trio of solo pieces called Bash," he recalls, "but I've never written a one-woman before, and I just thought it was about time, so I went off on a tear."
Although he claims he has never tailor-made a play for a specific performer ("I just have a huge belief in actors"), the role he's come up with here certainly falls within Light's price range: a happily married high school English teacher and guidance counselor who is haunted by her experiences with a favored student from her past.
This is a job LaBute knows a thing or two about. "I taught a long time—in Indiana, then at NYU. I love that profession, so I'm very—if not sentimental—warm toward it. Writing about someone who has given their life to that is something I understand."
LaBute and Light crossed paths once before doing a piece for DirecTV titled ten X ten. She was one of 10 actors he used for 10 short monologues played directly to the camera. "I got a taste of how good she was at connecting with the camera and the audience. She likes to work the same way I like to work. There's very little ego there. It's just someone who wants to have the best story. We sat in the room working on the script for three days, trying to find out, line by line, what's the best version we can provide, pushing ourselves, trying to make it better, sharper, stronger, funnier."
These two "firsts" are being steered by Leigh Silverman, an old hand at directing one-person shows. "It's a tremendous experience to sit at a table with Judith and Neil," she insists, "focusing on that one performance, creating its relationship with the audience, which is what we're trying to craft. This is a deep, intimate portrayal of a woman searching the interior of herself, grappling with choices she made in life."
As for Light, she considers her roller-coaster solo "a kind of coming-out story," akin to what won her back-to-back Daytime Emmy Awards in 1980 and 1981 as One Life to Live's Karen Wolek, who had a brain-burning meltdown on the witness stand in which she confessed a promiscuous past to save a friend from the electric chair.
Ya hadda be there, and MCC casting director Bernie Telsey was. He's the one who invited Light back into the NYC fold after 22 years on the West Coast by hiring her to follow multiple-award-winner Kathleen Chalfant into Off Broadway's Wit. Light won an award herself when she took the play on the road—D.C.'s Helen Hayes Award.
Her current MCC assignment is about "what it means to live with a lie that you have created, carrying the burden of it for years and years and years, never speaking of it until you finally have to take responsibility for it. That's this woman's journey.
"We all tell little lies, and we know we're only as sick as the secrets we carry around with us, but they tear us up. We try to keep them pushed down, and it's impossible."
At present, she's struggling with this problem on two coasts in two mediums, "with great women guiding me both places," Light points out, "Leigh with the LaBute play, and Jill Soloway with Transparent, the web television series she created."
In Season 1, Transparent amassed a host of critical hosannas and two Golden Globes, the first show produced by Amazon Studios to win a major award and the first produced by a streaming media service to win a Golden Globe for Best Series.
The series is a comedy about gender reassignment, which, by that envelope-pushing definition, makes it at least a dramedy (or, as it is known on the set, "a trauma-dy").
Its focus is a modern (very!) Jewish family in Los Angeles. Jeffrey Tambor plays the patriarch, Mort Pfefferman, who, retired from teaching political science and 70 years old, announces that he always identified as a woman and transitions accordingly into Maura, a transgender "moppa." Like dominos, his three grown children (Amy Landecker, Jay Duplass and Gaby Hoffmann) start radically reinventing themselves.
Light is the trio's mother, Shelly, the ex long before left behind, but the emergence of Maura rekindles some old cougar juices in her, and Season 2 brings them to full boil—so much so that the actress is now finding herself in Emmy contention.
The Emmys will be announced September 18—and, yes, Light will be "red-eyeing" out and back. "MCC is letting me off. I will do the Saturday matinee on the 17th, fly to L.A. that night, go to the Emmys on Sunday and return on Monday in time for Tuesday's performance. If the play is extended, we'll try to make up those two missed shows."
Her youngest daughter on Transparent, Hoffmann, is a contender in the same Emmy category. "I love that we're both nominated," Light says with a certain maternal pride. "It speaks to the quality of the show and the creation of the writing team. It speaks to Jill's overall vision for this—how she is changing the conversation about how we relate to ourselves as human beings and how we relate to the transgender community and how that impacts on the LGBT community. There are so many kinds of dynamics that happen here. I think that they watch and they see what we're doing because this is the safest set I've ever been on. My last safe one was Ugly Betty."
The notion of award competition grates on Light. "There is so much push about this one against that one," she rails. "We have enough of that in our lives. We've seen that so much over the years in the LGBT community—'the other' and 'the lesser one'—I find that so dehumanizing. We know the work that we do. We know how hard this is. There is no 'best.' It's a dynamic that diminishes us as well as the work we do.
"Every single time that I've been nominated for something, I have felt incredibly grateful, incredibly honored, and so respectful of the other people who are in the category with me. I don't want us to be up against each other. I want us to be with each other. I want us to be honoring and loving and appreciating each other."
Shelly, upstaged by the childish antics of her offspring, has been the series' late-arriving secret weapon. "I think that she's wonderful," her impersonator trills. "She's incredibly human, wildly flawed—kind of the personification of loneliness. She has this need to reach out and be connected. We all know people like that who so desperately want to be connected to other people but have absolutely no idea how to do that and end up pushing people away. I think that's so human—and so sad."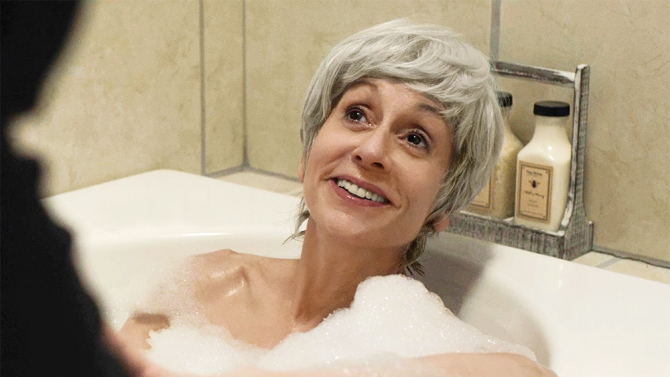 The second season starts with a wedding scene—not Maura and Shelly's—they're just lovey-dovey bystanders. But, they do drift back under the same roof, for better or for worse, and it's a little of both in Episode 2 (titled, with very good cause, "Flicky-Flicky Thump-Thump" and involving some steamy bubble-bath behavior).
It turned out to be one of most difficult and draining scenes Light has ever taken on. "It just popped up in the script one day, and I thought, 'Oh, my word! I don't think I can do this.' I told my manager, Herb Hamsher, and he said, 'Of course, you can do it, and you have to do it.' So I knew I'd eventually have to do it. When I went to Jill, I told her how nervous I was just being that vulnerable on camera, allowing myself to go there, and the day we shot it, she removed everybody from the building.
"It was just our cinematographer, Jill, Jeffrey and me. We just took a moment to hold hands before we started the scene—just to connect to each other and to the larger purpose for why we were doing it. We asked that the scene be received in the same way it was given—not in a salacious or voyeuristic way but as human understanding of what people actually go through. In our media, we don't talk much about mature sexuality. It's not just for women. It's also for men—and for transgender people. What you see in that scene is—beyond all words—the need for human connection."
Season 3 was filmed from February into early May and will be released September 23. "What you'll see in Season 3 is an even further progression. You will go back in time to see Shelly and Maura and how they first met. It's very interesting. You'll see a whole different Shelly coming out of her shell in a way you haven't seen before.
"Then we begin our fourth season, probably sometimes at the end of January or the beginning of February." Shooting will be done as usual in Los Angeles, where her next Broadway project may lift off: When God Looked Away, Dotson Rader's play version of his 1985 Tennessee Williams biography. Al Pacino will be Williams.
But for the present, Judith Light must deal with the new nudity: her one-woman show: "Oh, my God! This is more naked than my being naked at the end of Wit."