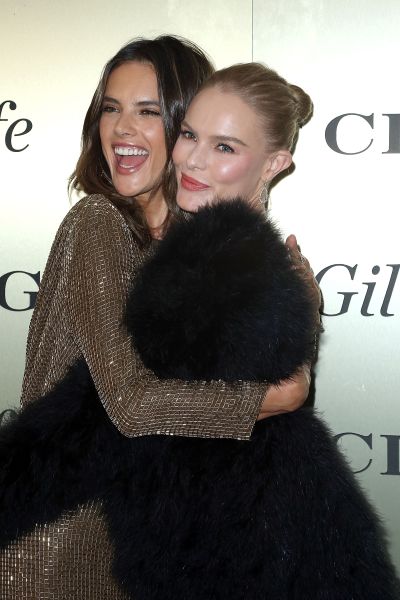 On Tuesday night, Gilt Groupe pressed on with reconfiguring their shopping experience with the opening of the #GiltLife House pop-up shop. Spanning three floors and scheduled to host a slate of ticketed events this week, the location is just Gilt's latest shift to offering experiences over the flash sales that brand made it's name in before.
For the VIP opening, the crowd included the likes of Alessandro Ambrosio, Kate Bosworth and Marcus Samuelsson, all participants in the brand's latest campaign. Ambrosio herself was wearing a Tom Ford gold dress she received from the Gilt site paired with Giuseppe Zanotti heels, while Kate Bosworth was in Miu Miu. All of it, including Bosworth's Fendi clutch and Samuelsson's Michael Bastian shirt came from Gilt. While they circulated around the lower levels of the townhouse, other guests at the opening made pit stops at the onsite GIF Photo Booth and to the top level bar, where hors d'oeuvres by Chef Chris Fischer were passed about.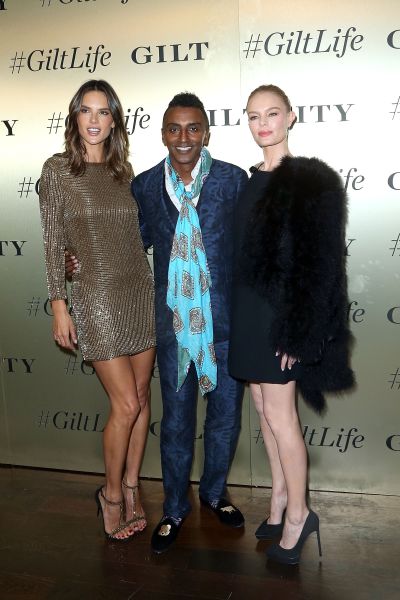 The townhouse itself will host events like EAT, which features a fall-themed four-course dinner, FALL IN LOVE, a wedding-themed evening replete with Oscar de la Renta dresses and suiting from John Varvatos. There will also be EXPERIENCE, day-long event featuring "culinary experiences" from chef Fischer, a selection of Gilt's latest arrivals and musical performances by The Wild Wild and more. Artist Aerosyn-Lex Mestrovic will also be on hand to create a piece of artwork live in the space.
That project by Mestrovic will just be the latest work the creator has done for the brand.  "I [created] all original paintings for the two week-long exhibition," Mestrovic told Observer. He was picked through a Gilt partnership with Scope Art Fair and created 18 pieces inspired by language and multiculturalism, which are both common motifs in his work. "I worked closely with the Scope and Gilt teams to create a collection of works that worked within the space and ultimately would be available for purchase on Gilt. I'm also curating a collection for Gilt Man which launches later in October."
Gilt has come a long way from its heyday, when it was at the forefront of consumer infatuation with flash sales. That success was seemingly short-lived though and this year, the company was bought for $250 million by Hudson's Bay after being valued at over $1 billion in 2011. That takeover has signaled a switch in the Gilt approach. This summer the brand partnered with Zachary Prell during New York Fashion Week: Men's to launch a full-priced exclusive capsule of his latest assortment. That capsule not only got support online but in the Gilt's shop housed within the Saks OFF 5th space that its new parent company owns.
It's an interesting approach, to move offline and full price when your business was started on the opposite. But in today's anything goes market, everything is worth trying, at least once.