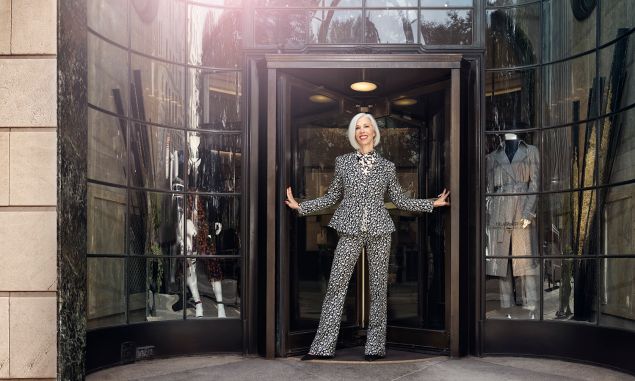 It's easy to pick out things that are quintessentially New York: Yellow cabs, pizza, the Empire State Building. But for the fashion inclined, such Manhattan signatures can be more closely defined: an all-black wardrobe, high heels that will withstand a five-block walk (versus those that can only go from the front door to the Uber) and Bergdorf Goodman.
This department store is a major relic of the past, in the best way possible. Founded in 1899 by Herman Bergdorf, the shop settled into a gilded chateau—which once was home to the Vanderbilt family—on the corner of 57th Street and Fifth Avenue in 1928. Today, powdery lavender shopping bags, wares from optimistic young designers and established names, memorable holiday window displays and a chintzy café are all part of the equation, but there's one person who happens to have a semblance of control over many of those signifying details: Linda Fargo.
Now, more than ever, Fargo, the senior vice president of the fashion office and store presentation, is at the forefront of the charge to bring passion back to New York fashion. Her chosen best-sellers for fall will demonstrate just how forward-thinking, flamboyant, courageous and meticulous New York shoppers can be. This season, Fargo is particularly interested in seeing what Raf Simons makes out of his appointment as chief creative officer at Calvin Klein; though, she pointed out, that result won't be seen until February 2017. She also has her eye on what Maria Grazia Chiuri will do as Dior's first-ever female creative director. "She is going to be amazing," Fargo remarked. "I mean, she's highly respected and she has a lot of couture effects [in her designs]."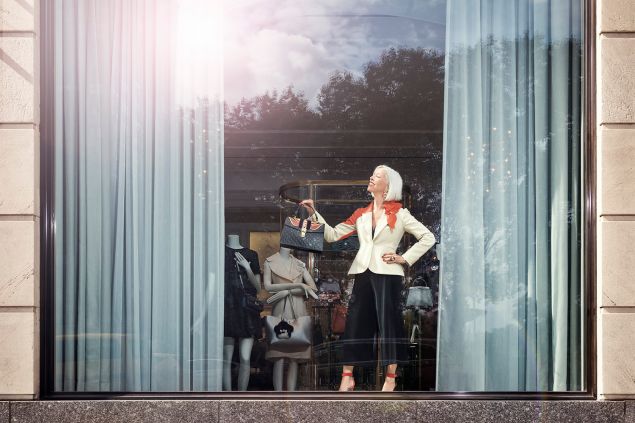 Like other fashion insiders at this moment in time, Fargo had plenty to say about the current state of retail, now that Michael Kors, Tom Ford and more are selling in-season looks straight from the runway. These seismic changes, coupled with new, needier expectations from consumers, have everyone and their publicist trying to determine how the fashion calendar should be reconfigured. "The world has changed exponentially in the last 30 years and the fashion cycle has somewhat remained the same, and therein is the rub. Everything has sped up and consumers want things faster, they're used to same-day delivery. People­ really have to look inwards right now and re-evaluate," she warned.
Despite her fashion power-player, avant-garde look (which includes a signature whitish-gray bob, red lipstick and toothy white smile) Fargo has a reputation for being nice. This top name on every designer's most-wanted list grew up in the suburbs of Milwaukee and is notoriously easy to work with. Even creatives at the top of their game, like Michael Kors, agree. "I've known Linda for years, and have seen her work her magic in so many ways. She's always had great individual style and a really unique sensibility that sets her apart. She is the rare blend of chic, elegance, warmth and humor. She is an industry icon," he raved.
When Fargo sat down with the Observer in the Bergdorf Goodman corporate offices clad in a precious black and white floral Carolina Herrera jacket, she waved a paper cup of coffee around to punctuate her feelings about Gucci's Alessandro Michele (adoration) or prove a point about the current state of the fashion calendar (dismal). There was no iPhone buzzing incessantly or an assistant poking their head in every 15 minutes. Instead, just a delightful high-low display of fashion and fun at work.
In fact, despite her calm exterior and pleasant manner, Fargo might be one of the hardest-working individuals in fashion. A graduate of University of Wisconsin-Madison, her early roles on the visual teams of Gap, Macy's and the erstwhile I. Magnin department store prepared her for the rich world of Bergdorf's.
Bergdorf Goodman is bringing even more special fashion moments to clients as the whole store undergoes a facelift. This is the most extensive renovation the store has seen since 1999.
"I started at Bergdorf's in 1996 as the visual director. I was their window director for many years as well as doing the interiors. Over time, I kind of absorbed women's fashion," Fargo detailed. Though she makes it all seem rather blasé, jumping from doing displays to running the fashion office is really rather impressive. It takes an extremely astute, creative and well-connected individual to master both roles, not to mention the on-the-spot financial reckoning that all fashion buyers need. Instinctively, they must ask, "will these garments sell?"
How does she know when she's just witnessed a zeitgeist, or at the very least, an important event in fashion history? "Sometimes you have to use yourself and your own gut reaction as a bellwether for everyone, because if something moves you chances are it's going to move someone else. Those things—we call them fashion moments—and it's like love; they come along very rarely and they're very special," she explained.
In fact, Bergdorf Goodman is bringing even more special fashion moments to clients as the whole store undergoes a facelift. This is the most extensive renovation the store has seen since 1999. Given the formal title of BG 20/20, this is an overhaul that will be slowly revealed over the course of five years. The jewelry department was the first area to be redesigned this past December and it was moved from the center of the store toward the heavily trafficked 57th Street side of the building. Now, the remainder of the ground level has been spruced up. During the Observer's visit in late August, much of that space was still under construction, with makeshift walls in place and a thin, barely perceptible layer of dust coating the floor, though it didn't dissuade customers from trickling through to fondle handbags and ogle baubles.
***
While Bergdorf was an early adapter to the e-commerce scene, arriving online in 2004, its flagship store is still the crown jewel of the Bergdorf name. "We've never lost sight of how important that is to really create something that's unique to us. We're making sure that the store itself remains an important destination, as well as the product," Fargo explained. "We pick up almost 57 new brands a year across jewelry, shoes, contemporary [and] designer. Fashion is about change, we move with the times. We're hungry to keep transforming ourselves, shedding skin, changing."
The shop on 57th Street and Fifth Avenue is viewed as a landmark by first-time visitors and regulars alike, meaning it's not the easiest space to renovate. For this author, the creaking wood parquet floors were a favorite design feature, as it made the storied institution feel comfortably lived in, like stepping into the well-appointed home of a very chic family member. However, those beloved floors are no longer. In its place is Blue De Savoie, a marble with a subtle lavender glow to it. In a way, that is a fitting homage to the signature Bergdorf shopping bags, which are getting a new look, thanks to the addition of a chandelier graphic.
While this renovation is a significant, if slightly behind-the-scenes job for Fargo, she also has say over the most public portion of the shop: the windows. For tourists, these vitrines are notorious for over-the-top fantastical displays, which signify the beginning of the holiday shopping season in late November. But for emerging talent, these windows are meaningful at any time of year; landing a frock or shoe in one is a major milestone. "They feel like by being in the windows, they've finally arrived. It's like the Good Housekeeping seal of approval; they've made it to the world stage of fashion," Fargo affirmed. As such, she has become a fairy godmother for young talents, pushing their creative efforts into the spotlight, for all of Manhattan to see. But being featured in the windows isn't just a fleeting mark of success, but rather, according to Fargo, like the beginning of a long, fruitful marriage. "Once we get married, we're not thinking about divorce. It's not a one-night stand, so it's never intended to be a one season [partnership]," she said.
'We pick up almost 57 new brands a year across jewelry, shoes, contemporary [and] designer. Fashion is about change, we move with the times. We're hungry to keep transforming ourselves, shedding our skin, changing.'
As for her own relationship status, Fargo is notoriously secretive, opting not to discuss it with the press. She calls an apartment on Sutton Place home and often decamps (and decompresses) out on Long Island's North Fork, where she keeps a vacation abode. What about pets? "Just pet peeves!" she joked, adding: "Shorts that are shorter than they should be [and] using emojis as replacement for real emotion." It becomes clear that her job is more than just a career, it's her whole life, and unapologetically so.
"Bergdorf Goodman is incredibly iconic and an attraction in itself," echoed designer Brandon Maxwell, the former stylist to Lady Gaga, who struck out on his own in September 2015 with an elegant, refined line. Having his range carried in Bergdorf's was like "a dream come true." A white gown from his spring 2016 collection was displayed in the store's Fifth Avenue window; his parents and friends accompanied him to see it for the first time. "It was a very busy time of preparing for the Oscars and sales post-show, so it was so great to have something like that to make me stop for a second and take it all in!" he told the Observer.
For Rosie Assoulin, whose voluminous shapes and simple styling have become synonymous with a new and growing version of Manhattan's chic set, the experience of being featured in these store windows was overwhelming. "Bergdorf Goodman came to us and told us that they were doing a tribute to Charles James, coinciding with the [2014] Met Gala and they asked us to create a dress for the window. All we could think was 'we are not worthy,' but we had an amazing time working on it," she told us.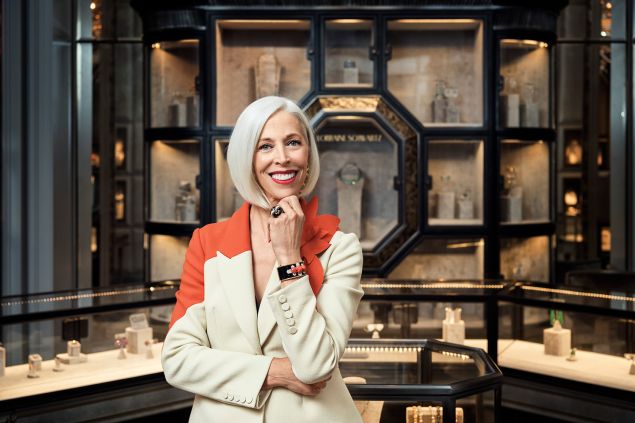 Laura and Kate Mulleavy of Rodarte were similarly thrilled after their first runway in New York in 2006, when they discovered their designs in a vitrine. "It was a window with Mylar balloons spelling out Rodarte," the sisters wrote from L.A. in an email. "They featured a black and gray hand-pleated wool and georgette gown, a black wool and georgette hand-pleated dress and a pale yellow dress with feather trim. Linda has always had such a creative vision for [the windows]. We ended up taking so many photos!"
In fact, Rodarte was one of the first brands that Fargo catapulted to success at Bergdorf's. "They used pinking shears. It was definitely a fashion moment. It was kind of a rare and important arrival of [a brand], almost out of nowhere." And yes, the intricate, moody lace gowns of Rodarte can still be purchased at Bergdorf's.
***
This year marks more than just a monumental change in the look of Bergdorf's; it's also Fargo's 20th anniversary with the company. Recently, while clearing out her office, she came across a resume she created in her younger days, long before her status as a fashion celebrity was cemented. Created with press type ("I didn't even use a typewriter," she marveled), the text ran diagonally across the page, listing awards she won in school, the clubs she participated in, her interests and her objective, which happened to be entirely foretelling.
"My objective was to lend my eye to a company that would like to employ it," she reminisced, adding, "that's what I ended up doing."