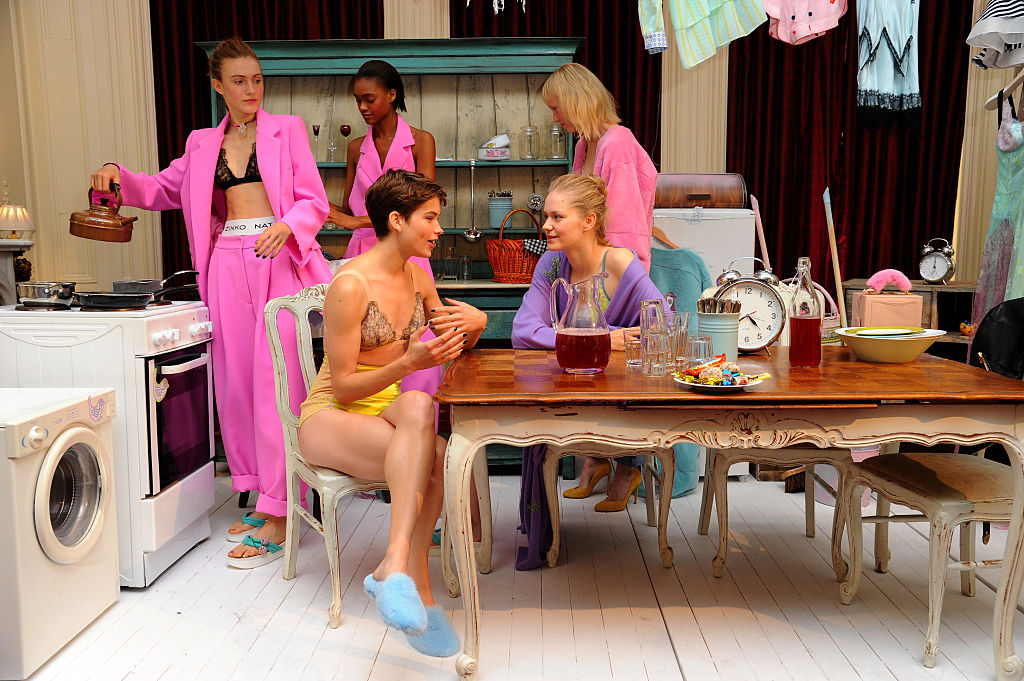 It was 40 years ago that the spirit of punk became a visual explosion of youth culture in London, but the provocative, stylish-yet-messy, and sometimes outrageously contradictory influences of the ideology live on, in the joyous eccentricity of the city's creative young designers.
Mashing up classic aesthetics is what young London designers excel in. They play with familiar themes, taking much loved silhouettes from every style tribe of recent years and refashioning the proportions in an extreme manner, or juxtaposing clashing color with wildly inappropriate texture, to capture the spirit of the time.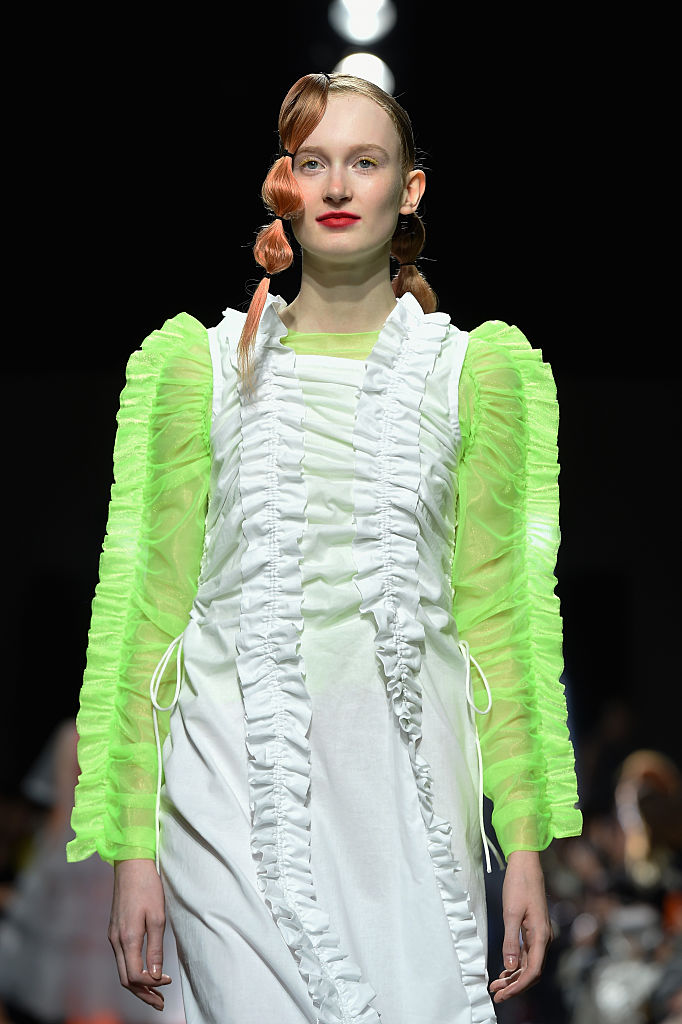 For Spring/Summer 2017, Molly Goddard treated us to a rave, not a fashion show. Recognized for her doll-like signature dresses, ruched and gathered into perfect layers of floaty tulle, Goddard presented an even tougher image of good girl gone bad. Adding texture with striped rainbow knits and patchwork jersey hoodies, she layered girly ruffles with T-shirts featuring Nick Wallington's cutting edge images of New York club land. The party girls were having such a good time together, trance-like under a disco strobe and a thumping beat, they couldn't be persuaded to leave the catwalk. They left the entire audience wishing they could join in.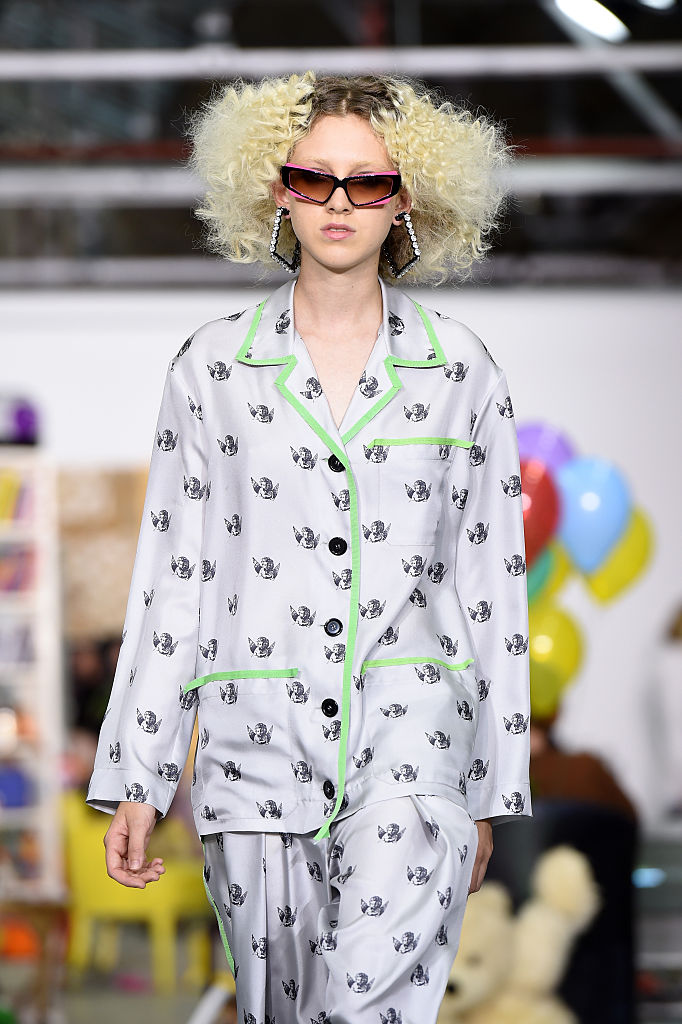 Ashley Williams invited us back to her childhood bedroom to share the agonies and ecstasy of teenage angst in a genderless show that featured silky PJ's (not necessarily for sleeping in) oversized dungarees, Pez-inspired logos and bugle beaded bras. Referencing the excesses of '80s dressing, giant puff sleeves, trashy knitwear and River Phoenix quotes, Williams made her mission statement clear. "This isn't a retrospective but a reflection of the here and now"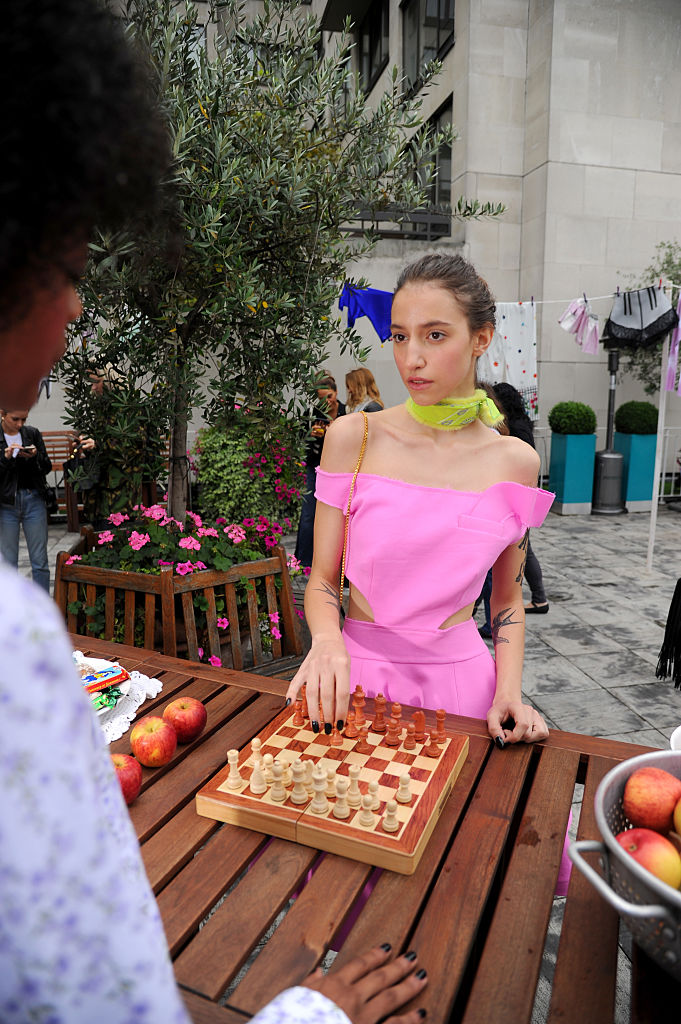 At Natasha Zinko's rooftop tea party, guests dodged between the crowded laundry lines, before the September showers arrived. Pale pink oversized jersey boxers with flouncy ruffle pockets hung alongside turquoise silk camisole tops with sexy black lace. Taking disparate ideas and throwing them together doesn't always work, but perversely mixing and layering utilitarian denim with neon neoprene bra tops really summed up a cool London look. The same applied for the combination of sugared almond-colored frilled lace tea dresses with sharp tailored jackets and fluffy acid pink slippers.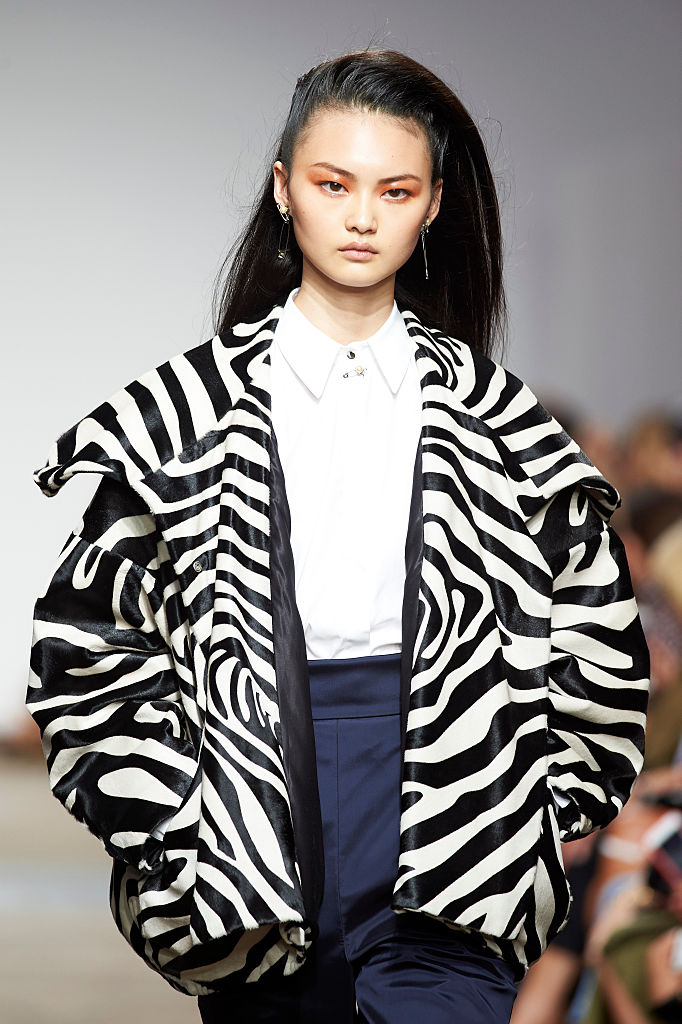 The girl at Topshop Unique rocked a hedonistic '80s vibe that borrowed heavily from the punk legacy, with the addition of bondage strapped skirts, New Wave black vinyl pants, biker jackets and fitted PVC shift dresses, the latter of which were split thigh high. The most charming included a black wet look bandage dresses, strategically placed straps juxtaposed against floaty ballerina tulle skirts, and transparent T's. Joan Jett never looked this good.
Faustine Steinmetz is a master at re-invention and experimentation. This season, she turned her attention solely to blue denim with the intention of subverting everything we have come to love about the fabric. Each piece in her capsule collection is designed to challenge our perception of how we view denim, turning expectation and familiarity on its head. She has re-proportioned the classic jean jacket to a minuscule nipple grazing affair, embellished the most utilitarian of work fabrics with layers of Swarovski crystals, and created an all-over digital print from the repetitive use of her own name. Elsewhere in the collection, she created a classic jean jacket in the flimsiest transparent organza, with top-stitched pockets and a fly front opening.
Matty Bovan produced his first collection for London Fashion Week under the Fashion East umbrella, and showed exactly how an ex-art student turns wildly unconventional fabrics, rainbow plastics and synthetic neon tubing into something gorgeously un-commercial, but gloriously necessary for fashion to keep moving on. This range is admittedly not to everyone's taste–though neither was punk at the time–his distinctly original vision mixes jarring texture and vibrant color to create a unique view that celebrates individuality in a world of digital perfection. Using spray paint, nail varnish and hand embroidery, Bovan celebrates excess, embracing an unconventional aesthetic for people who aren't afraid to live outside convention.
Finally, London celebrated with Henry Holland who sent out catwalk invitations with strict instructions for his stellar Brit pack devotees. "Get ready to cheer, it's our 10th Fucking Year, and we're still here!"
Showing his most accomplished collection to date, Holland mixed multi-colored print, texture and design inspiration to pull off an eclectic assortment of styles that pushed Holland's boundaries. Switching easily between frilly cowgirl gingham skirts and off-the-shoulder puff sleeved bandeau tops, to flared pants and kipper tie neckerchiefs, Holland selectively revisited much of the good stuff from the dodgy decades of the '70s and '80s. Multi-clashing and multi-layered, this collection successfully offered a chaotic sense of pioneering freedom without needing to provoke.