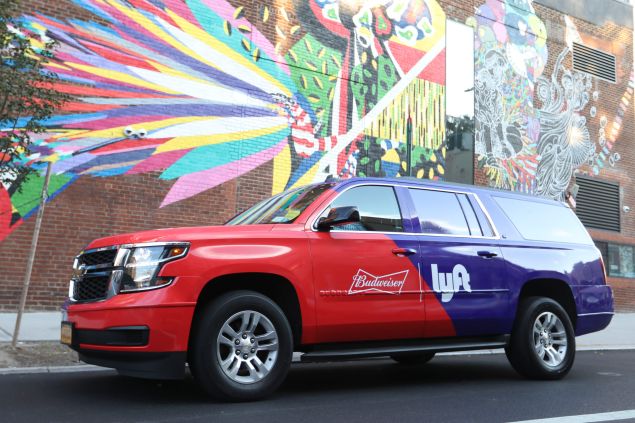 Your next ride home from the bar could be free, thanks to a new partnership between Lyft and Budweiser.
Beginning this Friday, anyone over the age of 21 will qualify for free rides that can be used during peak party hours on Friday and Saturday nights. Through the effort—which is part of Anheuser-Busch's #GiveADamn initiative to combat drunk driving—the companies will give away coupon codes 5,000 rides every weekend for the rest of the year, a total of 80,000 free rides. That's right—they're actually just giving them away without making you jump through hoops. You don't have to follow multiple social media accounts, share with your friends or post a photo holding a Budweiser, Lyft mustache etc.
"We've done a number of events with Lyft this year, including SXSW and the Budweiser Made in America festival, and they've been great partners," Katja Zastrow, vice president of corporate social responsibility at Anheuser-Busch, told the observer. "We're excited to work with them on this larger partnership because they share our values of bringing people together for a better world, including keeping drunk drivers off our roads."
Nearly 10,000 people are killed in alcohol-related driving accidents each year, accounting for 32 percent of all traffic-related deaths. Over the last 30 years, Anheuser-Busch and their wholesalers have invested more than $1 billion in responsible drinking and drunk driving prevention.
The promotion will only available in New York, Colorado, Illinois and Florida—markets the companies chose because they have some of the nation's highest rates of drunk driving fatalities. The good news is that you could potentially earn a free ride every week for the rest of the year. Each Thursday at 2 PM, Budweiser will post a coupon code for a free ride on its Facebook and Twitter pages. If you're one of the first 5,000 people to claim it, you're set for a free ride up to $10 (or $10 off a more expensive ride).