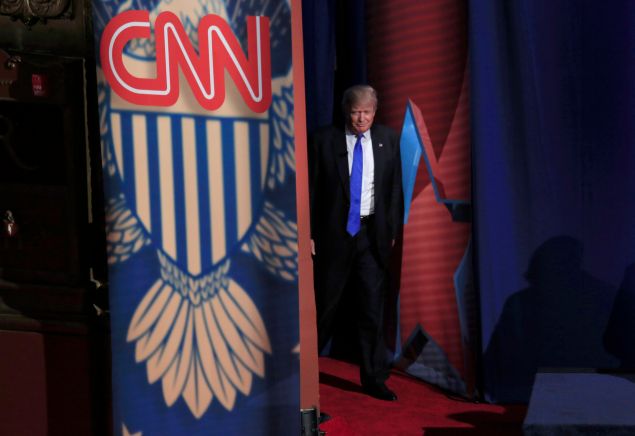 It is no secret that the mainstream media has decided that the threat presented by a possible Donald Trump presidency is so grave that it has suspended even the illusion of objectivity. Writing in The New York Times, media columnist Jim Rutenberg granted permission to his fellow journalists "to throw out the textbook American journalism has been using for the better part of the past half-century, if not longer, and approach it in a way you've never approached anything in your career."
The Observer and others have detailed the ways in which traditional media companies and even tech companies have colluded to maximize negative coverage of Trump and minimize negative coverage of his opponent, Hillary Clinton. But it doesn't end there. As Rutenberg described, many journalists feel the need to "move closer than you've ever been to being oppositional."
That opposition has extended into new and uncharted territory. In the coordinated effort to stop a dangerous candidate from obtaining, to use Rutenberg's breathless description of the stakes, "control of the United States nuclear codes," the mainstream media has taken not just to bashing Trump but to extracting a price even from those who support him.
There are a hundred examples, but here are just a few headlines that tell the story:
Daily Beast: "Trump's Doctor 'Overmedicated' Patients Who Died in His Care"
Washington Post: "The contractor that designs Ivanka Trump's clothes does not offer a single day of paid maternity leave"
New York Times: "Peter Thiel's Embrace of Trump Has Silicon Valley Squirming"
Let's look at each of these. While I don't doubt that self-identified right-wing sites would look into the record of Hillary Clinton's doctors, it's much harder to imagine a site like Daily Beast, which fancies itself a centrist outlet (and is even edited by my old Rudy Giuliani speechwriting buddy, John Avlon), expending that kind of investigative energy on Hillary's non-political professionals. The message is clear: If you associate with Trump, we will rummage through your past.
The attacks on Trump supporters extend even beyond Trump relatives to include, bizarrely, the relatives of supporters.
As for The Washington Post story, the message was equally clear. While children of presidential candidates have long been considered off limits by the mainstream media, the Post clearly smelled danger in the crossover appeal of a successful, presentable working mother. Ivanka Trump (who, for the thousandth time, is married to the Observer's publisher) runs a company that is not only among the 10 percent to provide paid maternity leave, but also offers unlimited vacation and sick days and flexible work schedules. So the Post attacked a company that Ivanka's company does business with, only they implied that Ivanka was responsible for that company's business practices. The Post later attached an editor's note and clarified the story to "indicate that Ivanka Trump has no direct managerial role in G-III Apparel Group," but the damage had been done and the misleading headline remains to this day. Plus, there's the original URL of the story—which is important in search engine optimization. It has not been corrected and still gives the false implication that Ivanka herself is not providing paid maternity leave.
Then there's the Peter Thiel story. His actions in supporting Trump supposedly have his industry peers "squirming," according to The New York Times. Yet Clinton supporters who represent industries in which she is unpopular are portrayed as principled and loyal Democrats. Consider that Politico reported "Clinton haunted by coal country comment." Clinton said, "We're going to put a lot of coal miners and coal companies out of business." Local officials sent a letter to Sen. Joe Manchin saying, "Bill and Hillary Clinton are simply not welcome in our town." So how come not a single supporter of hers, including Sen. Manchin and Gov. Earl Ray Tomblin, is said to be making West Virginia "squirm"?
Where are the mainstream investigations of Hillary's doctors? Or the business practices of Chelsea Clinton? How is it that none of Hillary's supporters has any industry "squirming"?
The attacks on Trump supporters extend even beyond Trump relatives to include, bizarrely, the relatives of supporters. Buzzfeed did a whole story on whether Josh Kushner's business would be hurt by the fact that—can you follow this?—his brother's wife's father is the presidential candidate. Is that the standard? Has there been a single article anywhere about the business prospects of Marc Mezvinsky's siblings? The writer of the Buzzfeed story—the talented reporter Nitasha Tiku, who worked at the Observer and was happy to cash checks signed by Jared Kushner when she did—contacted several colleagues of Josh Kushner to determine whether they'd still be comfortable doing business with Kushner's investment firm, Thrive Capital. The Trump-opposing tech investor Chris Sacca is characterized by Tiku as saying, "The Trump connection might have affected Thrive directly." The message from the MSM is clear: Support Donald Trump, and you—and maybe even your family—will be ridiculed, investigated and ignored.
The Observer itself provides another good example. Our traffic and users have grown more than five times since January 2013, from 1.3 million unique users reading 3 million pages a month to 6 million unique users reading 17 million pages a month. This information is easily available. And yet, from the time this contentious, ornery campaign took shape, our documented-to-death Trump connection has been revealed in the way the Observer itself has been covered.
Politico wrote about us, "The paper's editorials, which had largely ceased having influence…" I showed the reporter data proving that many more people read our editorials today than read them five years ago and I asked him to explain how he reached the conclusion that they had "largely ceased having influence." He told me, "My editor wrote that line." He said he'd get back to me if he got an answer. He never did. Esquire's hit piece on Jared Kushner called the Observer "a once venerable newspaper" without even pretending to offer an explanation of what made it venerable in the past or why it's no longer so, despite the increased revenue, readership, staff, investment in journalism, or other facts I would have been happy to provide had anyone asked.
The Daily Beast wrote that, "Kushner and the paper's editor in chief, Ken Kurson, were the object of controversy and staff protests and resignations." Got that? Staff resignations with an s, as in plural. Actually it's been one staff resignation, a writer who was not the "top reporter" (he was No. 2 on a three-person team) that CNN crowed about in its headline. Given the constant turnover throughout the Observer's history, long before Trump ran for president, it's striking that CNN would devote a headline to this boring-as-hell non-event.
There's another tactic employed by the mainstream media that's inversely related to punishing Trump supporters—rewarding Hillary supporters.
Then there's just the general anti-Observer snark. It's been a fact of life, especially since our beloved longtime editor Peter Kaplan left the paper in 2009, but has been dialed to 11 since Trump began his unlikely ascent in American politics. A telling example involves a trifling story we ran, in which New York Times editor-in-chief Dean Baquet said "Fuck You" to a reporter he thought had used racist language. To me, it was the exact kind of funny and revealing little insider story that Kaplan would have loved (and I don't claim to speak for him, despite the generous way he fed me advice even though I didn't start here till four years after he left). Nonetheless, some media types, eager for any opportunity to celebrate the Observer's demise, pounced. The Times' own Willy Staley, for example, tweeted out the story and insightfully commented, "The Observer has become so fucking weird!" Staley did not know at the time that Baquet himself praised the story, calling it "Perfectly fair." It has been fun to watch the media simultaneously declare the Observer totally irrelevant but also responsible for electing the president of the United States.
At least Gawker, z'l, was less circumspect in its disapproval of what takes place here. In lambasting our paper's endorsement of Trump in the Republican primary (we also endorsed Hillary Clinton in the Democratic primary, which understandably generated far less coverage), Hamilton Nolan wrote "The New York Observer, which was once a good newspaper, is endorsing the owner's wife's dad for president." That's at least funny, and it acknowledges by stating as a fact that the Observer was once good that the idea that Observer is no longer a "good newspaper" is Nolan's opinion, rather than trying to hide behind fact-ish-sounding writing like "once venerable" or "largely ceased having influence."
There's another tactic employed by the mainstream media that's inversely related to punishing Trump supporters—rewarding Hillary supporters. Not just any Hillary supporters, but those brave Republicans who are putting country ahead of party by supporting Clinton.
Search for "Republicans back Hillary" in Google and you get "There are now dozens of big-name Republicans supporting Hillary" (Washington Post), "The Republicans Who Support Hillary Clinton Over Donald Trump" (The Atlantic), "Which Republicans Are Against Donald Trump? A Cheat Sheet (also The Atlantic), "At Least 110 Republican Leaders Won't Vote for Donald Trump. Here's When They Reached Their Breaking Point." (New York Times), "Here are the Republicans Voting for Hillary Clinton Over Donald" (Time), and "The Biggest GOP Names Backing Hillary Clinton—So Far (The Daily Beast).
Enter "Democrats back Trump" and you get a story from The Hill from January and a Toledo Blade story.
The simple explanation would be that tons of Republicans back Hillary while few Democrats back Trump. But that narrative defies the reality of a Republican primary that drew record numbers of new GOP registrants and set a new record for votes cast, unlike the Democratic contest. And with the candidates roughly tied in the polls (the LA Times, for example, has Trump up by three points), there's no way a "wave" of Republican Trump rejecters cannot be equaled by roughly the same number of Democratic Hillary rejecters. Unless the polling is drastically undercounting Hillary supporters (most think it's more likely to be undercounting Trump voters, who have been shamed out of telling a pollster they support such a "dangerous" candidate), there have to be at least as many Trump Democrats as there are Hillary Republicans. But the media isn't interested in finding them.
What's even more surprising than the media suddenly cheering someone like former Bush aide Paul Wolfowitz, who was universally loathed by the MSM up until the moment he announced his support for Hillary, has been the way the press issues valentines to Republicans no one has ever heard of. How did Maria Comella, a press aide to Chris Christie, merit 1,200 words and a "First on CNN" feature on air simply by declaring her support for Hillary?
Republican candidates have long complained about the bias in American media. Most of the time it's nonsense. John McCain courted the favorable opinion of The New York Times so aggressively and for so long that it was almost fun to see him crying about how tough it was to run against a media darling like Barack Obama in 2008. Mitt Romney, who really did suffer from poor coverage, mostly had himself to blame—secret tapes about 47 percent freeloaders may have been reported by Mother Jones, but they weren't manufactured by Mother Jones. And the alleged bias can sometimes work to a Republican's advantage. When George W. Bush called New York Times reporter Adam Clymer a "major league asshole," probably as many people admired the future president's authenticity as chastised him for his uncouth remarks.
What's different here is the dropping of even the pretense of objectivity. In unilaterally determining that Donald Trump is unfit even to be covered objectively—to the point that he must be disqualified by any means necessary—the mainstream media has set a dangerous precedent.