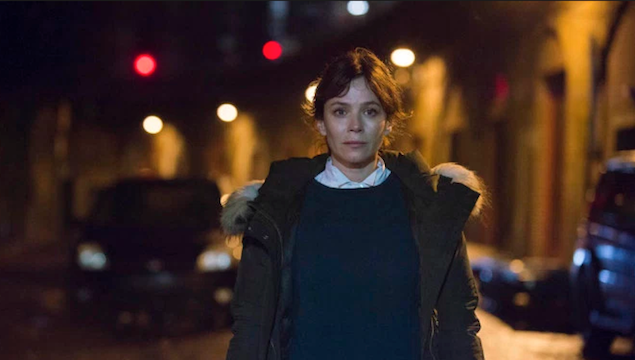 At the heart of many police procedurals beats a fractured marriage. The union is either in a slow state of decay – marked by long moody silences, absence or sexual awkwardness; or it explodes all the while the married detective obsessively channels their investigative skills to save everybody else – but their own family.
What psychopath will kill the next kid usually trumps who will attend the kid's talent show – until the child gets in enough trouble to merit police attention. Just off the top of my head is Christopher Meloni's Elliot Stabler in Law & Order: SVU, fighting perverts as he neglects his long-suffering wife and daughters. It's the trope of the police detective novel: seeking order in the world, fleeing disorder at home. He – or she – is married to the job.   
When the protagonist is female, as she is in Netflix (NFLX)'s binge-worthy crime noir Marcella, the drama at home can be nearly as intense as the murder mystery. It's the antithesis of Nick and Nora Charles in The Thin Man series: the marital playfulness, replete with bottomless martinis, makes the mayhem go down easier. In this eight-episode series (ITV announced on August 26th that it has commissioned a second season), domestic discord ratchets the narrative tension. It's a sophisticated modern-day Agatha Christie murder mystery meets Elena Ferrante's The Days of Abandonment, the short ass-kicking novel of a wife's breakdown after her husband leaves her with the kids and the family dog for a younger, fresher model.
Marcella, written and directed by Swede Hans Rosenfeldt (The Bridge), finds the titular stay-at-home mum (Anna Friel) at loose ends. Having shipped her two kids to a posh boarding school, the empty nester's stylish metrosexual corporate lawyer husband Jason Backland (Fortitude's Nicholas Pinnock) announces he's leaving, too. What's an abandoned mother/ex-cop to do with her grief?
Go back to work.
The parole of the serial killer Marcella arrested 11 years before for a string of perverse murders involving blue builder's tape, plastic bags and pipe ties provides the excuse she needs to rejoin the force. And, suddenly, more corpses with tape, bags and ties appear – and she's the newbie on the team who knows the case best despite her co-workers' mistrust of this throwback to an earlier era.
The former hot-shot detective dives back in to investigating wearing her trademark sack of an anorak, slacks, sensible rubber-soled shoes and her hair in a practical high pigtail. None of which conceals how naturally hot Friel, 40, is, with large expressive eyes, full lips and a petite athletic frame exploding with nervous energy. The female-driven series showcases the Limitless actress's Shakespearean range in a contemporary, naturalistic setting. Her grief, anger and self-doubt reverberate even as she tries to sublimate these emotions into her occupation as the rational (but obsessive) investigator.
Being jilted by her husband and left in a home that's a shrine to their parenting and coupledom—all those happy images on the fridge, the bric-a-brac of family—a constant reminder of Marcella's personal failure, puts her at the nadir of her self-worth. Returning to work is an act of personal agency, a grasping at the straw of salvation – but also, because of her level of distraction she as much endangers those around her as protects them.
As if Marcella doesn't have enough baggage – a marital separation, the kids blaming her and lionizing the dad who never tells them no, and a missing decade in which police work has evolved technologically and left her behind like a mom trying to crack her teenage daughter's iPhone – she also has blackouts. A shrink diagnoses them as stress-induced but the destabilizing incidents only increase her isolation as she hides them from everyone around her, including that dog of a husband.
When Marcella discovers in an early episode that her husband isn't simply slipping their marital coils but chasing the Porsche-driving blond heir of his Lady Macbeth of a boss, DTG Construction's matriarch Silvie Gibson (Sinead Cusack), Marcella loses all sense of boundaries. She is both a cop and a woman on the verge of a nervous breakdown – and the viewer becomes as shaky and uncertain as she is. We are with this unreliable narrator – possibly calling out 'no' to the TV – as Marcella stalks the other woman. Then, Marcella crosses a line, blacks out and awakens with mud and blood all over her hands – and a missing person case in which she alone knows she's the prime suspect, with her cheating husband also in the frame.
From there the series becomes a taut tangle of red herrings and McGuffins and audible gasp moments, as past killers attempt new crimes, and new corpses crop up in unlikely places tied to each other by the thinnest of strings. Marcella is haunted by her past – her inability to pin a string of old murders on the paroled killer and the breakdown of the family for which she exchanged her vocation. And she is racing against the clock to keep more bodies from piling up while discovering, inch by inch, that neither her husband is the man she thought she married nor is she the woman she believed herself to be.
While Marcella represents the classic dogged investigator – who only just remembers at the last minute to attend her son's talent show – the series also stretches the form, presenting a unique and fascinating modern conflicted female protagonist. Haunted by blackouts and investigating her possible complicity in gruesome crimes, repeatedly betrayed by her husband, Marcella doesn't know what she's capable of – and neither does the viewer. We're sharing her crazies.
That's why the series satisfies on all levels – the knot of the mystery that even at midnight has you watching another episode and then another, as well as the complexity of the characters, the interlinking subplots and the various relationships gay and straight, parent and child, each tripping over their individual secrets and lies, some mundane, some fueled by homicidal rage. By the end, we know the culprits. But the twisted causes linger and haunt; the boundaries between law and order blur. And Marcella never settles comfortably into a privileged position above the fray, tying the loose narrative threads into a protective double knot like the shoestrings on a toddler's sneaker in an era of Velcro straps.