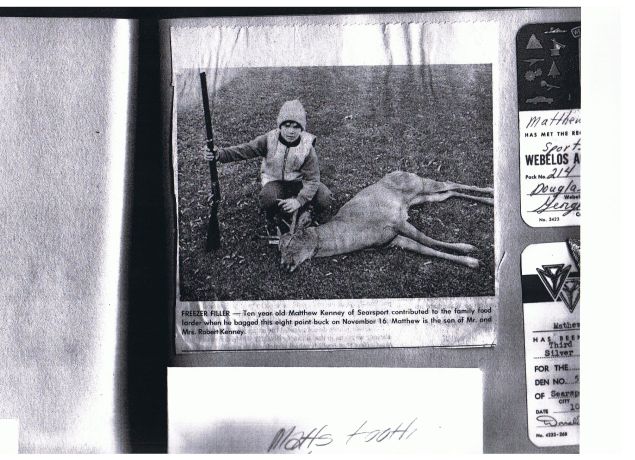 My dad gave me a rifle when I was eight years old and, at 10, I got my first deer with one shot, an eight-point buck, while he was on an afternoon stroll. Everyone assumed it was either luck or my taking credit for someone else's hunt. I confirmed my marksmanship by 'getting a deer' every year until I was 20 years old.
I loved those days, waking up before dawn, walking through crisp leaves and branches, and immersing myself in another world. It felt completely natural to balance hunting, fishing and outdoor chores with high school athletics and a social life. Growing up in a small town off the coast of Maine, you were expected to be versatile—much like the seasons, the terrain and the people.
While animals and animal products were a large part of my diet, I prioritized health, even back in high school. My friend Kevin and I used to meet at the gym at 5:30 in the morning before class and I quickly learned that taking care of my body was one of the best ways to be productive, energetic and even happy. The body fuels the mind and so it goes. We experimented with the Pritikin diet, which seemed extreme but included an abundance of healthy foods and provided an edge for a teenager accustomed to teenager food. It was a very clear message to me about the value of what we put in our bodies. I never lost sight of that.
I planned to go to law school after college but, when I moved to New York, I somehow fell in love with restaurants.
I read everything I could, from reviews to guide books about HOW to read about restaurants. I would look in the windows, sticking my head through the doors while the staff prepared to open for service. It was a full blown affair.
Despite having no interest in cooking, I was intoxicated by the idea of hosting people while they enjoyed an urban social experience. The sounds of glasses and cutlery being shifted, watching a smile grow with the taste of an exquisite dessert or a sip of wine… the light, music, scents and—of course—the decadence of well-prepared cuisine. It seduced me. I momentarily forgot about all my other pursuits.
When I looked behind the scenes, becoming a waiter and then a cook, even gestures as small as sharing a cigarette on the stoop after a hard shift were thrilling. I considered the entire production—and still do—magic. I took a job in a Sicilian restaurant on the Upper East Side. I loved the Mediterranean kitchen, with all the herbs, citrus, capers and bright, vibrant flavors. It wasn't Pritikin, but it was still crisp, light and sexy, which happen to be the barometers I carry with me to this day.
Instead of law school, I went to cooking school. I learned to make duck a l'orange, coq au vin, poulet roti grand mere and all sorts of sweet, fluffy French desserts. I slowed down my fitness routine. I still loved to feel healthy, but I was able to justify my consumption of these foods in the name of being a chef. I think a lot of chefs do that—explain their abundant eating as part of the job. The reality is, some of the most health-conscious people I've met are chefs—but they won't really tell you that.
They glowed, with skin like nectar and eyes as bright as stars.
Somehow, this world came quite easily to me and I fell in love with the idea of it, going on to become an executive chef and overnight sensation, then on to open a number of Mediterranean-inspired restaurants. As I followed the lure of New York, my cuisine evolved into heavier, contemporary American, filling dining rooms with celebrities and a party crowd. Food and even true hospitality took a back seat, to the point where I may as well have been a nightclub operator. I lost my passion, and eventually lost my business.
In those days, our menus divided entrees between seafood and meat, which gives a good idea of how far from vegan I was. In my personal life, however, I was eating mostly plants and, as time went on, I began telling friends I could be a vegetarian. The idea seemed impossible, given my profession, training and upbringing, but I felt better, adored all animals and deeply respected nature. My gut told me there was another way to enjoy this beautiful world without being a peddler of unhealthy living.
Eventually, my passion for health overtook my passion for business as usual. It evolved through my yoga practice and becoming more connected to the planet. One night, a friend invited me to a random raw food restaurant in the East Village. We dined on sprouts and twigs, surrounded by one of the most unusual groups of people I'd ever seen in a restaurant.
They glowed, with skin like nectar and eyes as bright as stars. It sounds bit alien, but the imagery in those early days of raw food was powerful and I saw beneath the surface. Food could change lives. It made sense on a business level. I'd already opened and closed a dozen restaurants, been both a celebrated chef for my successes and a scapegoat for my failures. I was tired, and doing the same old thing wasn't going to change my life.
I'm fortunate I was able to see my passion through the cloudy haze of this raw food weirdness. It looked like the future to me; not just my future, but the future of food and wellness. For the second time in my life, I tapped into my true sense of purpose and I was ready to go, all in, one thousand percent.
I came around to realize we don't need to eat animals or to exploit them. While other parts of the world have fewer choices—and physical lifestyles requiring the consumption of richer foods—it didn't make sense to me that anyone needed a 46-oz. steak glazed in butter to get through a day trading stocks.
Food tastes better when it is alive, full of fresh nutrients and color, rather than charred, over seasoned and unrecognizable from its origin. Plants offer everything we need for pure health. I dove in headfirst and, within weeks, I felt so alive from this new diet. On a mental level, I was so clear, and became obsessed with sharing this new way of living.
Today, I have this really cool business that is built upon the premise of enjoying—actually, loving—food and wine without harming animals. I could never have imagined a more fulfilling company to run.
Everything I ever wanted followed this decision: working with talented people, doing business in the most beautiful places in the world, seeing my team and our school's graduates grow, and being surrounded by incredible food and wine all day long. Most of all, I feel good about how I'm living.
I run a lifestyle company, all plant-based, that operates 20 or so subsidiaries, including culinary schools and restaurants, as well as media, product and service segments. In an unusual twist I never could have imagined, my business is built upon what should the simplest and most obvious premise: we are pleasure seekers, so we naturally need to love the food we eat and how we live.
The most interesting part of this story is the middle and the end.
We enjoy flavor, good wine, and incredible sensory foods like chocolate and herbs and aromatics. If we really want to live a full life, we need to feel good every day—not skip meals or starve or fast after an excellent dinner at a restaurant. It's about balance, and the fastest way to balance I've found is through a plant-based life.
I've never enjoyed food as much as I do know, and I've never felt so good. It's also nice to know I'm not contributing to the destruction of the environment, to the growing healthcare crisis brought on by consumption of unhealthy and processed foods, and that I am making a difference on a daily basis toward the wellbeing of sentient creatures.
The most interesting part of this story is the middle and the end. The shift from being a French trained chef who grew up hunting deer to being an ambassador for all things vegan is no easier than it sounds. In fact, it was riddled with challenge, fires, robberies, fights, and heartbreak. It was a massive undertaking and, somehow, I'm still able wake up ready to take on more, every day. The decision happened in a light bulb moment—but my credibility took years, persistence and endurance to build.
When you transition from being told how delicious your Moroccan lamb shank is to being called a "crazy vegan chef" by mainstream publications, there are bound to be some bumps. They are still there, but the world is changing fast. What I see now is the future of food. This gap between culinary art and world health is narrowing. It's never easy and never boring, but I'm thrilled I took the risk.
Matthew Kenney is one of the world's leading plant-based chefs, the writer of several best-selling cookbooks, a culinary educator, and an entrepreneur specializing in the plant-based lifestyle.