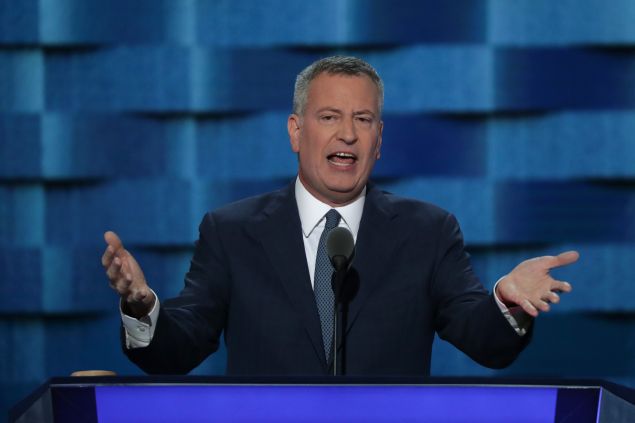 Mayor Bill de Blasio told Queens residents who have fiercely opposed a proposed homeless shelter at a local hotel to "come to Grace Mansion"—because he won't be intimidated by them.
At a community meeting for the proposal last month, Maspeth residents vented their frustration over a proposal to convert the neighborhood's Holiday Inn Express into a homeless shelter. At one point, the enraged locals turned their backs on Human Resources Administration Commissioner Steven Banks as he spoke.
The residents say their concerns center on the process by which the site was selected as well as crime. But de Blasio and Banks city have noted they are required by law to reserve space for homeless individuals, and argued the middle class district of Queens needs to take on some of the burden of the indigent crisis.
"Here's the other thing: that immediate area, that community board, has about 250 people from it who are homeless and are in our shelter system right now," de Blasio said. "And we believe in fair share: every community should shoulder a part of the burden. So we are going to move forward as planned."
Councilwoman Elizabeth Crowley, who represents the area, filed a lawsuit against the mayor and Banks to try to block the proposal. The hotel's owner announced recently he was backing out of the plan due to residents' opposition, but de Blasio maintained today "the plan is alive" and that the city has "more work to do."
He also claimed the topic of homelessness "brings out a lot of contradictions in people." The mayor noted  people constantly call for homeless people to be taken off the streets but react angrily when locations are proposed near where they live.
De Blasio also appealed to compassion.
"People are losing their homes because of too-high rent and too low wages," he said.
And he gave a stern warning to protesters who staged a protest in front of Banks' home in Brooklyn last night: "it's not going to intimidate us."
"It's not right and you have a problem, come to my home," de Blasio continued. "Come to Gracie Mansion. You can protest all you want. Come to City Hall. But leave alone decent public servants who are just trying to give people a place to live."
The mayor attracted mockery in the press in 2014 when he had a taller fence installed around the mayoral abode shortly after moving his family in
The mayor admitted that it will take a lot of work to overturn what he called the "Not in My Backyard," or "NIMBY," worldview. But he vowed to impose a equitable percentage of homeless shelters on all city neighborhoods.
"Well, the NIMBY mindset has grown over decades in New York City and as someone who served here a long time, I don't have an illusion that we're gonna snap our fingers and make it go away," he said. "I think we can tell the people the truth: that every community needs to bear its fair share, that this is how we turn around homelessness and get people off the streets once and for all."
But he said that he is not shocked when people "do not listen to their better angels" or by "all the unfair stereotypes that attend this." He said that the city is putting more resources into security in and around shelters and that NYPD is taking a much bigger role.
He also refuted the claim that the city is not putting shelters in communities equally, noting that his administration has been finding locations in "every kind of community" more than previous administrations—citing a facility recently put on the Upper West Side as an example.
But he wants the city to shift from a "very cumbersome citywide approach" to a borough-based approach to an eventually more localized approach. He says that homeless people should be able to live in the boroughs they are from so they can stay close to their families and their kids' public schools.
"This is the model we wanna move toward," de Blasio said. "And then, you know, if Maspeth residents or anyone else wanna say, 'Oh, we don't want the homeless in our community,' well then they're saying they don't want their own neighbors in their community."
The mayor's repudiation of opposition to the proposed shelter comes as other elected officials as well as advocates have recently pushed forward their own ideas for solving the city's homelessness crisis.
Yesterday, Public Advocate Letitia James and Comptroller Scott Stronger joined Picture the Homeless to unveil legislation calling on the city to conduct a citywide count of vacant lots and buildings—a step they say could help provide homes to the city's 60,000 homeless New Yorkers.
And Gov. Andrew Cuomo has also directed the New York State Division of Budget to implement a memorandum of understanding that would release $2 billion in funding to support the creation of more than 100,000 affordable and supportive housing units in the sate over the next five years.