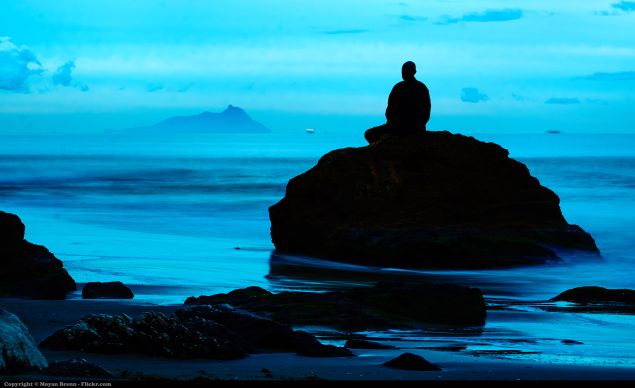 Meditation is a loaded word. It brings to mind images of barefoot gurus, Oprah's book club guests, and of Kundalini yoga classes. If you're like a lot of savvy, intelligent individuals, then you might have already dismissed meditation as something for hippies and the elderly. My mom had a standing meditation appointment on her calendar for decades, each week, and yet, when she retired, she confessed that she had never given it a shot, deciding that her busy schedule of meetings and deadlines was more important. So, maybe the idea of ethereal mindfulness isn't quite up your alley, but what if a minimal daily moment of zen could also carve inches off off your waistline?
Meditation seems too simple to work. You don't have to spend any money or go anywhere, you simply have to find a still position (lying down or seated, usually), close your eyes, breathe mindfully, and notice whatever thoughts come and go, without judging them. Sometimes a theme is involved, such as a daily topic or intention, or sometimes meditation is just about focusing on the breath and being still for five minutes.
The idea that "only five minutes a day can help you lose ten pounds" sounds like a banner ad from a made-for-tv weight-loss product, which most of us ignore or at least distrust. People who are very logical and engage reason-based processing can also find it difficult to respect meditation, which seems so ethereal and hippie-dippie. Yet, according to recent scientific data, meditation and the act of being mindful can impart physical changes.
For many who are constantly on the grind of the "humble hustle," despite the frenetic nature of running from meetings, to social engagements, to work trips, we find our clothes getting tighter, rather than looser. We make time for a daily hour at the gym, yet still, the scale refuses to budge, so we give up and binge on the office coffee cake. The truth is, as our stress levels increase, so too does cortisol, the stress hormone, which leads to inflammation and subsequent weight gain (as well as a slew of other health issues). Even as we exercise, we experience elevated levels of the hormone epinephrine, also known as adrenaline, and our bodies must face increased inflammation. It's no surprise, then, that many who overtrain complain of not being able to lose any weight.
However, results from a 2013 study conducted by John Dinninger of Harvard Medical School, in conjunction with the National Center for Complementary and Integrative Health, indicate that eight weeks of mindfulness training may reduce stress-induced inflammation better than a health program including physical activity and dietary education.
Another aspect of the study shows increased energy metabolism among those who meditated regularly for eight weeks, meaning the body is able to metabolize nutrients into energy faster. Shortening the amount of time we spend at the gym or taking Instagram photos of our food, and putting some of that time toward daily meditation, may actually help us lose those stubborn pounds.
Beyond reducing inflammation and helping you lose weight, meditation can also help you become more aware of yourself and your actions, like how much you eat and what types of food you eat. Because meditation encourages an awareness of feelings and thoughts, the next time you are at a friend's birthday bash or tailgate party, you might be more likely to pause and consider whether you actually want that extra cupcake or beer, rather than simply going through the motions. Learning to understand to internal needs and biological cues like hunger, rather than eating our feelings, is yet another way in which meditation can have a very real impact on weight and on relationships with food and with proper nutrition.
A misconception exists that meditation means you must feel cool, calm, and collected going in. Not so. Meditation simply asks that you take a few minutes to be still, however you're feeling. As you get into the routine of meditating on a regular basis, you then begin to perceive that perhaps you have become a more even-keeled version of yourself.
If you aren't quite sure where to begin and would benefit from some guidance, www.meetup.com offers a plethora of local meditation gatherings (many of which are free or donation-based), or the UCLA Mindful Awareness Research Center offers several free meditation tracks, in addition to a six-week meditation course, all available online. As the yoga community would say, "don't just do something… Sit there!"
Chelsea Vincent has been teaching fitness for almost ten years. Prior to teaching, she had 15 years of formal dance training. Chelsea has a BFA from Carnegie Mellon University and is a certified power yoga instructor, spinning instructor, barre instructor and weightlifting Instructor, as well as an ACE-certified personal trainer and wellness specialist. In 2014, Chelsea was named as one of SHAPE magazine's Hottest 50 Trainers of the Year.