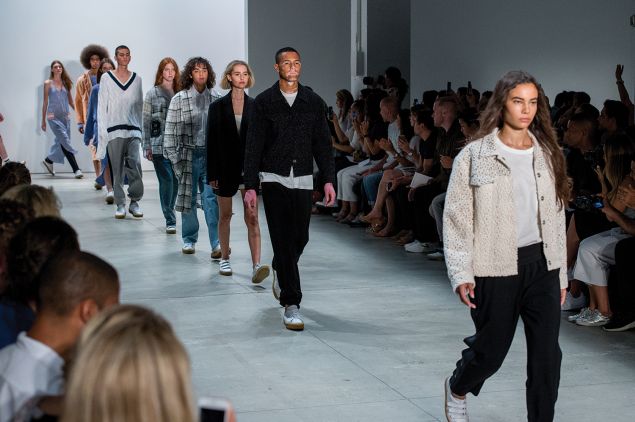 It was an unfortunate exit from Band of Outsiders for Scott Sternberg in June 2015. The fashion world darling was ousted from his own brand after it was unable to pay $2 million in debt. "The proverbial Fat Lady sings, at least for me and my time here at Band," Sternberg told followers on a now-removed Instagram video post showing Mama Cass singing "New World Coming." "The store should be open for at least another week so, like, go buy something cute. And enjoy it. That was the whole point of this thing after all."
The mighty founder may have fallen, but the brand's name lay in wait, and last week the resurrection of Band of Outsiders, now referred to as Band of Outsiders Los Angeles, made its New York Fashion Week debut. Under the ownership of Belgian holding company CLCC SA, 32 men's and women's looks designed by the three men selected to take over creative direction of the house—Niklaus Hodel, Matthias Weber and Florian Feder—hit the runway. Together, their pedigree includes past positions with luxury powerhouses Dries van Noten and Louis Vuitton, as well as fast fashion behemoths like H&M. The three also operated a shoe brand, WHF, out of their native Belgium for four years. As a whole, they blend practicality, luxury and trend awareness—most of which Sternberg purposefully ignored when at the helm of Band of Outsiders. 
Visiting the unassuming Hell's Kitchen headquarters of Band of Outsiders Los Angeles, the day before the collection's runway release, I found a sign warning, "NO SOCIAL MEDIA POSTING WHATSOEVER." Secrecy has been paramount for the brand during planning. Upon entering, Hodel, Weber and Feder all noticed I was wearing a Sternberg-designed shirt and pair of shoes circa 2008 and 2012, respectively. They confessed they had spent time with an archive of the brand's original garments but took no inspiration from them. "We did get to look at all that was left behind and not sold," Hodel said. "It was interesting to see the amazing materials that were used, which helped us understand the customer and Scott's aesthetic, but it also helped us move away from it, because it's not at all what we are doing. It was good to soak up the massive amount of work done by him in the past while realizing that's not how we should do it."
It's a more literal translation of the word "outsider" now, which the trio has related to since their days spent at Antwerp's Royal Academy of Fine Arts. "We were the only ones meeting up to go see football games in sports bars, which doesn't happen much fashion school," Weber said. The three took six informational trips to Los Angeles to try to understand Band's steadfast West Coast undercurrents, where they felt like outsiders all over again.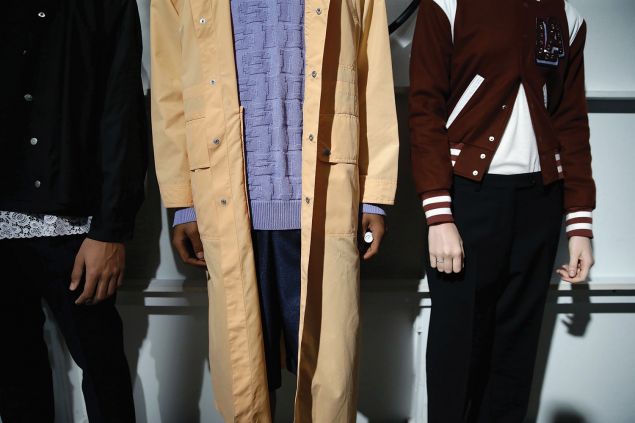 The resulting collection, dubbed "The Class of SS17," is a collage of the archetypes found in each high school classroom—a quarterback, a nerd, a burnout—all with an eye for comfort. "The overarching idea is to have dressy pieces but always done in the most comfortable way," said Feder during a walk through of the collection, a noticeable about-face from Sternberg's airtight constructions. He cites movies Boyz n the Hood and The Breakfast Club as points of inspiration. "We're not actually the suit-wearing type of guy, so we asked ourselves, 'How would we want to wear a suit?' Our goal was to make a suit that feels more like a hoodie." While staunch defenders of formalwear might be taken aback by the suit's athletic-inspired tear away side panels and slightly wider cuts, it felt noticeably on-trend given the continued swell for athleisure sales.
The closest form of imitation to the former Band is the house's first campaign, which debuted alongside the collection. Sternberg often shot his own campaign images using a Polaroid camera and turns out BOO-styled photos of his celebrity friends Aziz Ansari, Spike Jonze and Kirsten Dunst. The new images have the same washed aesthetic, but the famous faces are missing now. This speaks volumes about the brand's new direction. While Sternberg, a former talent agent, quickly drummed up support from former clients and Los Angeles glitterati, Band of Outsiders 2.0 is starting from square one, which Hodel, Weber and Feder don't see as a problem whatsoever.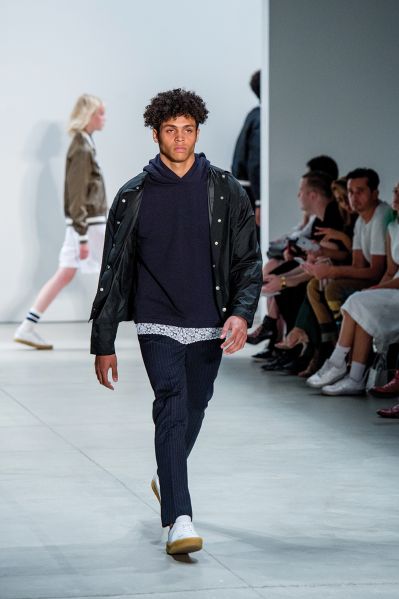 "I don't think people are expecting what we're going to show them," said Hodel. "There may be an attempt to draw comparisons in the media, but it's been two years and I guess the aesthetic was developed 10 years ago for [Sternberg] now. He built on it, but I think a customer from back then probably now feels more like wearing something comfortable. If you ask a 20-year-old guy, hardly any of them know what it is to break in a shoe, which hurts for the first week. People expect shoes to fit like a sneaker these days. Why would we want to squeeze into a suit, if there's one that just feels comfortable? If you wear a piece that is not made for you, and not right, you feel awkward, and people can see that."
Success will be measured in units sold for the new Band of Outsiders Los Angeles. The comfort category is crammed but the space between luxury menswear offerings in the informal but smartly casual arena and the tailored suit is still packed with fashion opportunity, so let's see.