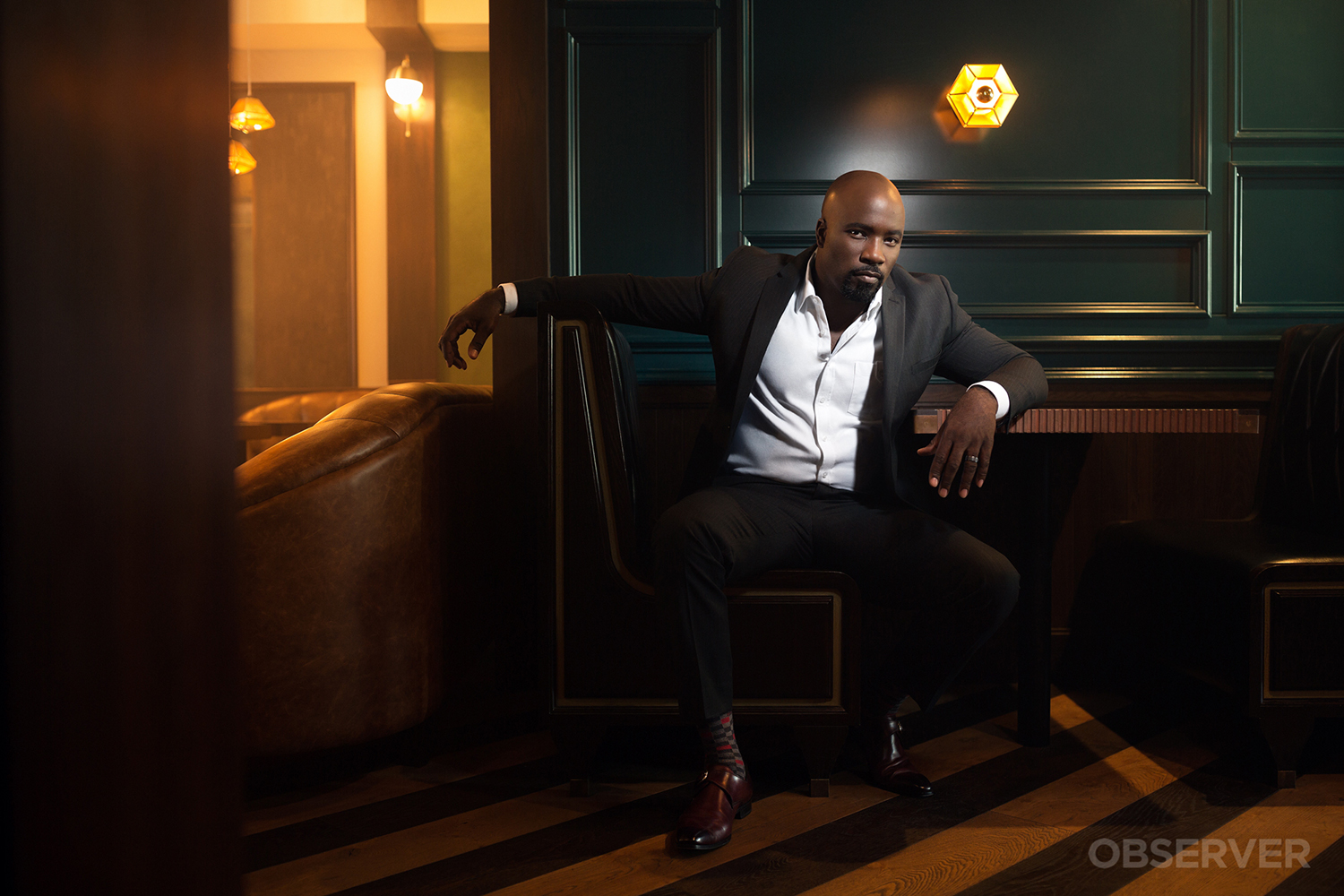 It's fair to say I heard Mike Colter before I saw him. First, the sound of the actor's car—a sleek, black 1970 Chevy Monte Carlo, purring its way down South Santa Fe Avenue in Los Angeles' Arts District. Then, from the driver's seat, the actor's signature booming voice, unmistakable even over the V8 engine. It was such an appropriately cool entrance for a man soon set to play Luke Cage—Marvel Comics' super-strong, iron-skinned badass, whose sexuality is almost as well known as his heroic exploits—that I half expected Colter to finally arrive to our interview by ripping the door off its hinges.
Fortunately for the decorum of the stylish, new cocktail bar Westbound, Marvel's man with the unbreakable skin was having trouble finding a parking spot.
But there is really no better introduction to Colter's take on the titular crime fighter, primed to debut in his standalone Netflix series after a much-hyped appearance in Marvel's Jessica Jones. Together with showrunner Cheo Hodari Coker, Colter presents the most grounded onscreen portrayal of a "superhero" to date, even more so than Daredevil and Jessica Jones before him. If the Avengers of the big screen are engaging in CGI destruction, Luke Cage is the man cleaning up the wreckage with mop, broom, two bare hands and a sigh.
"Luke Cage isn't going to throw a pity party for himself," Colter says of his character, once we finally settled in a corner booth at Westbound. "He literally says to himself, 'This is the world I'm in. These are the circumstances I have.'
"He's a self-made man," Colter continues. "He's trying to continuously build, and that's what's interesting about him. He's a work in progress."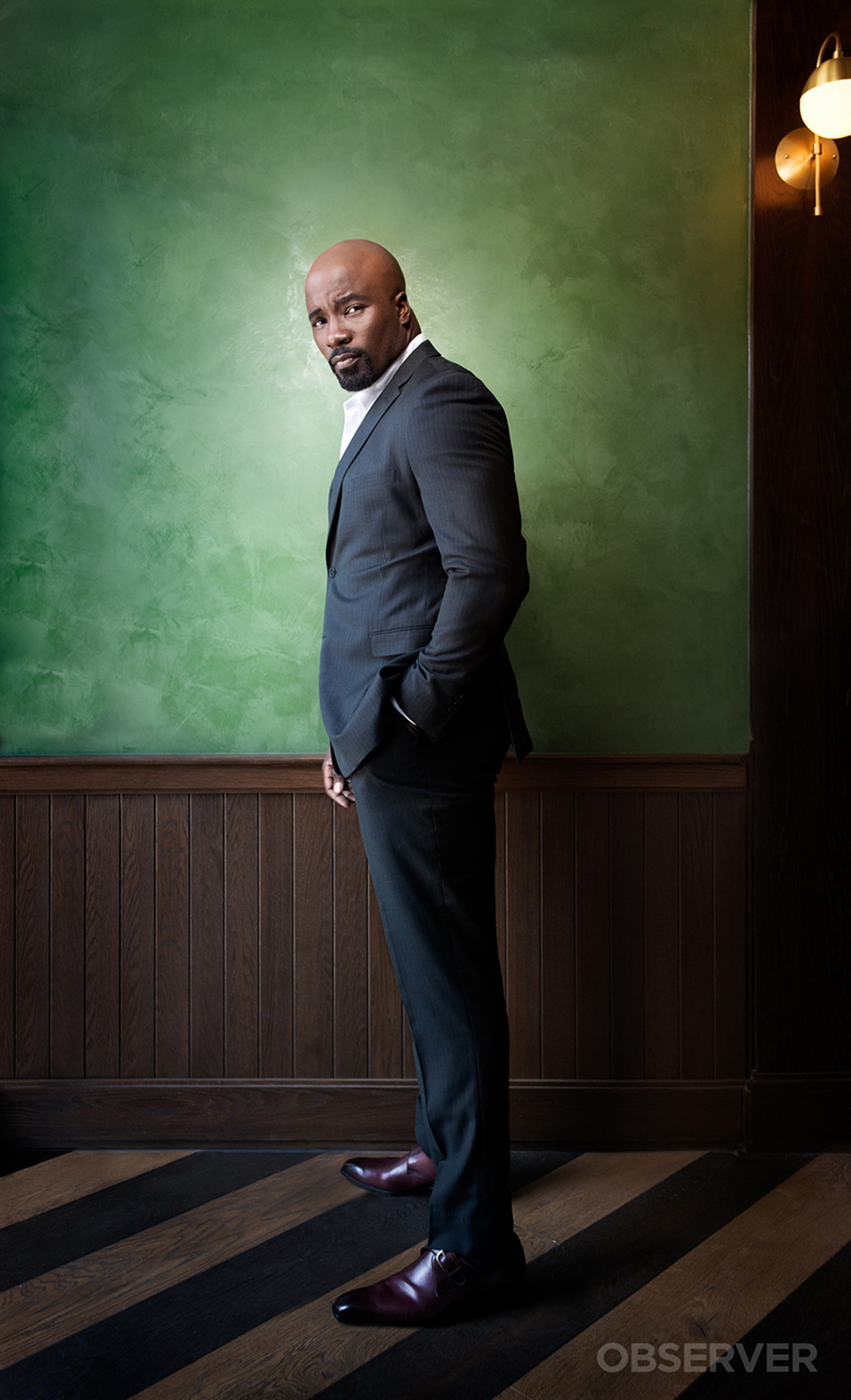 The character has long been, for lack of a better term, a "work in progress." Far before he left the confines of the paneled page for Netflix, Luke Cage first emerged from the minds of artist John Romita Sr. and writer Archie Goodwin, during the early '70s emergence of the Blaxploitation genre. The character was garbed in an open-necked, canary-yellow outfit, topped with a silver tiara tied around an afro.
But as anyone with a Twitter, cable subscription or working set of eyeballs can tell you, times have changed. Netflix is dragging that character into a harsher reality, where the catchphrases are "Hands up, don't shoot!" or "I can't breathe!" instead of "Sweet Christmas!" Gone is the garish yellow, replaced with an all-too-familiar black hoodie, tied tight. "In 2016, we're talking about a world that's supposed to give [Luke Cage] every possible opportunity," Colter says. "Maybe in the 1970s, that wasn't so obviously the case for a black man.
"You're not dealing with any dominant cultural topic that says, 'This Luke Cage has to live his life at a disadvantage.' Yes, he's a black superhero, but at the same time he should be able to go about his life the same way everyone else does."
"You're not dealing with any dominant cultural topic that says, 'This Luke Cage has to live his life at a disadvantage.' Yes, he's a black superhero, but at the same time he should be able to go about his life the same way everyone else does. This is a 2016 that's supposed to be completely fair, open and honest, and one that allows you to live out your dreams and manifest whatever life you want for yourself. Especially here in America."
There's a loaded part of that point, I mention. That phrase "supposed to be." The actor leans forward. "The fact that there's an undercurrent, or something subconscious telling people that's not necessarily the case, well," he says, "that adds a whole different nuance to it."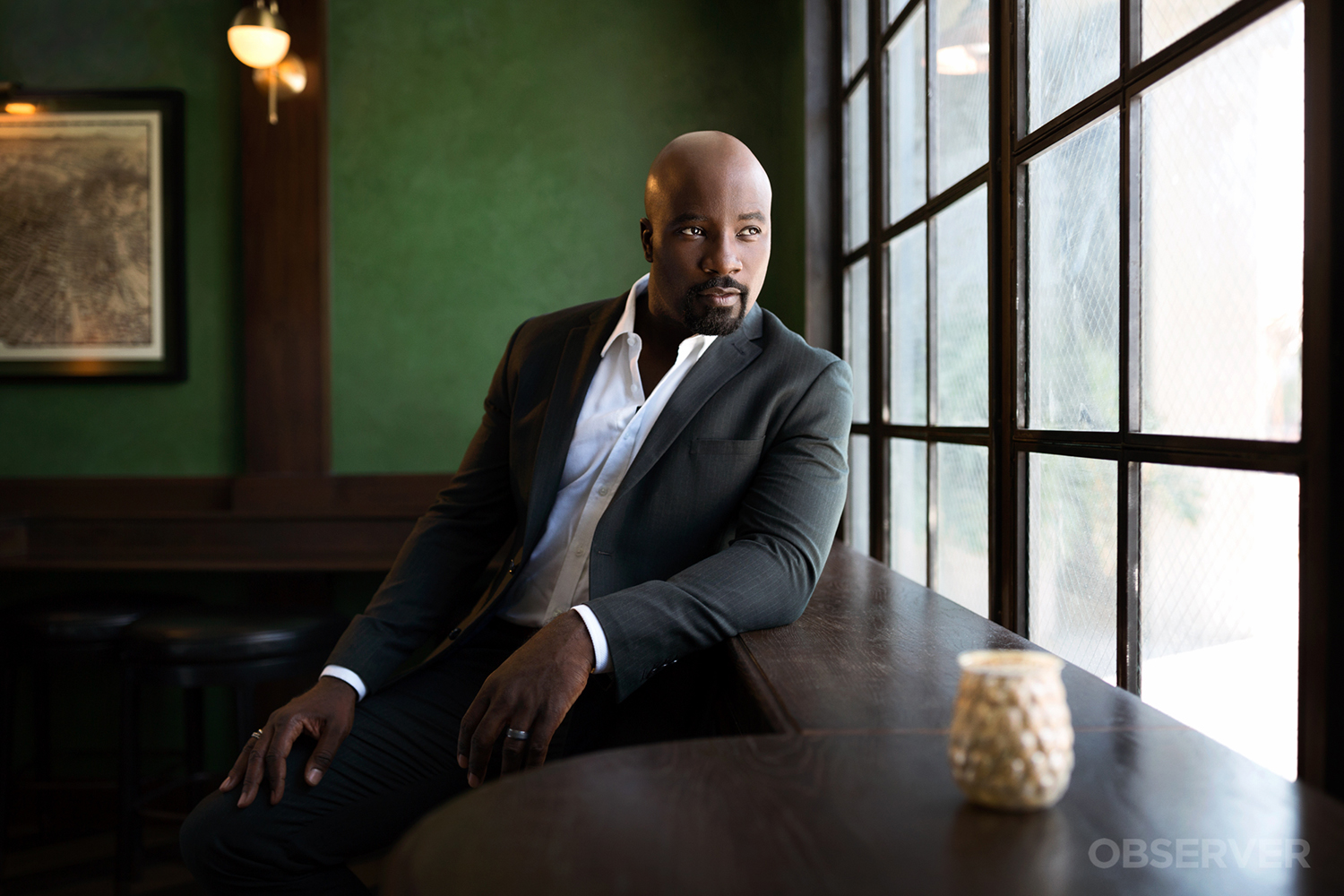 Although Colter and I were sitting about as far as possible in the U.S. from Harlem, the neighborhood wove its way through every word of the conversation. As it does through every conversation concerning Luke Cage, really, seeing as how closely the hero is intertwined with the setting he protects. If Jessica Jones and Daredevil personify the inherent danger that once lurked beneath Hell's Kitchen, Luke Cage embodies the undeniable soul that never left the Apollo Theater's neighborhood. There's a beat throughout every episode I've seen of Luke Cage that just feels so uniquely Harlem, like nothing that's on TV right now: the predominantly black cast, the music—curated in part by A Tribe Called Quest's Ali Shaheed Muhammad—and whole scenes devoted to how terrible the Knicks are playing.
This is an intensely personal aspect of Luke Cage for Colter himself, who lived in New York for eight years, five of them in Harlem. This was in the early days of his career, when he was still scraping by on the occasional Law & Order walk-ons that are seemingly mandatory for any New York actor. It would be years before he landed plumper gigs on shows like The Good Wife and The Following, or his big-screen debut in the Oscar-winning Million Dollar Baby, where he played a boxer. When I ask if any memory encapsulates this time in New York, he answers almost immediately: "When Barack Obama got elected, I remember being in Harlem specifically," he recalls.
"People walked the streets, but it wasn't a riot–it wasn't mayhem. It was a unified feeling of euphoria" – Mike Colter on the night Barack Obama was elected president.
"I remember watching that whole part of town just swell. People walked the streets, but it wasn't a riot—it wasn't mayhem. It was a unified feeling of euphoria. I was standing in the middle of Lenox Avenue, which is also Malcolm X Boulevard, and looking right down the center of Martin Luther King Boulevard. All these people were just sitting there, celebrating. Bullhorns, people are making speeches, dancing. It was a unified feeling of 'We did it.' "
It's exactly that feeling of community, that euphoric neighborhood glow, that Luke Cage finds himself struggling to maintain, super-strength and all. He's not Iron Man, saving the entire world from an alien threat. He's a citizen, saving Harlem from itself—from the gang culture, the street-level drugs and the gun market that permeates any impoverished city corner. I bring up a specific scene, from the show's second episode, which finds Luke in front of a building named for Crispus Attucks. A young black man—no older than 20—comes up behind him and puts a gun to Cage's head.
"The thing about that interaction is, he's looking at me like I don't exist," Colter says. "There's something so dead about an individual who would just pull a gun on a person and kill him because he's standing in the wrong place."
It's a tense moment, and a vital one for the series, as it's not the threat of death that pierces Luke's skin in that moment—he's bulletproof, after all—but a single, loaded epithet.
"[Showrunner Hodari Coker] and I talked a lot about specific uses of the N-word," Colter remembers.
"And I told him from the start, and he agreed, Luke Cage is a guy from the streets, but he does not use that word. Because he's a guy that looks past that, that's trying to be better than that. He needs to be something that people want to strive to achieve, so he can't be so casual with that word, no matter what."
What follows is Colter's finest performance in the series, a defining moment for 2016's iteration of Luke Cage: the actor's face, until this moment stuck on mournful contemplation, finally cracks. We see his true rage as he spits the N-word back, like poison out of his mouth. The effect—for the kid in front of him, for the audience—is as jarring as any gunshot.
Even speaking about that scene, you can sense a transformation in Colter, his deep timbre speeding to a rapid clip. "I always found that word to be so divisive, even when used in a way that's supposed to mean 'I care about you,' " he says.
"Because ultimately it just reminds you that this is where we came from. I don't know if that is ever a good thing. As generations pass, you want to move past that. You want to concentrate on something besides the dirty, dark past. Because that's always going to be there." He flashes a quick smile, proving again, as always, there is charm beneath the steel. "But I like to think we have a bright future."
With that, Colter has to run; a hero-for-hire's work is never done, of course. But I do catch a glimpse of him getting back into his Monte Carlo, before he banks it right down East First Street and back into the Marvel Universe. And the impeccably polished car door, gleaming under the California sun, remains firmly attached to its hinges when Colter pulls the handle. He is human after all.