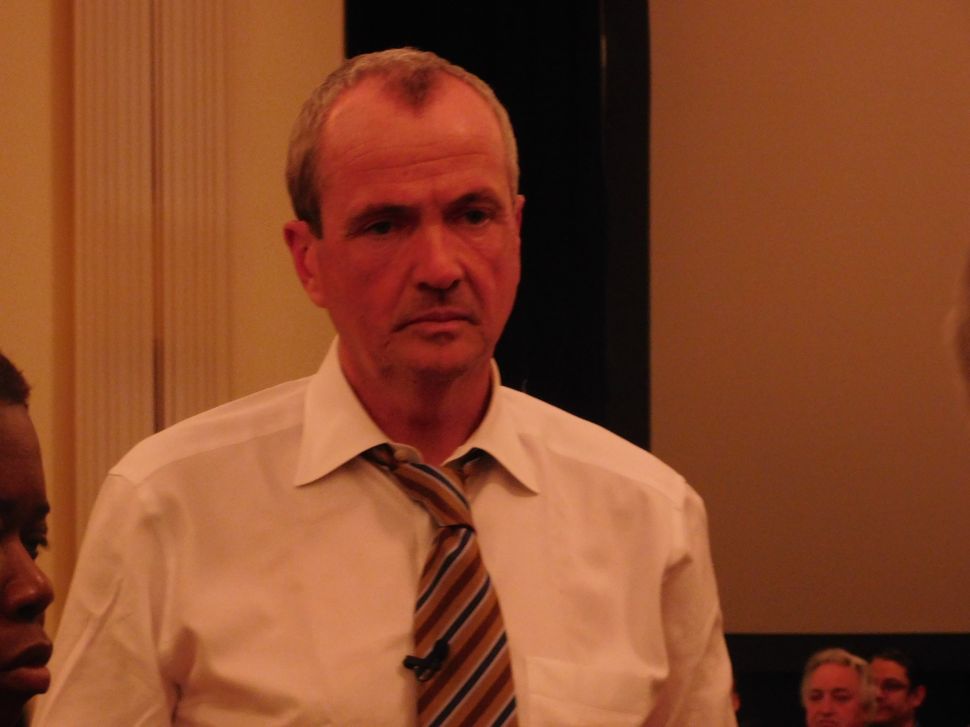 Money won, my friends. Money won.
And outside the crumpling steps of Jersey City's town hall, the new governor might as well have been anointed.
Make no mistake: The gubernatorial election isn't until next year, but with Jersey City Mayor Steve Fulop bowing out of the race, the Democratic nomination and the post itself is Murphy's to lose.
There will be plenty of theatrics in the months to follow. Round about Nov. 10 (after the presidential election, well-timed for Sunday press and weekend shows, and before the New Jersey League of Municipalities meeting), Senate President Stephen Sweeney may still announce his candidacy for governor. But Sweeney is a working class hero who is dependent upon his benefactor, South Jersey political boss George Norcross, for much of his fundraising. Norcross, who would sell his children for the right price, will not be willing to go the distance against Murphy. The distance is quite expensive, it would seem.
To date, Murphy has contributed $10 million to his own campaign. He's raised another $613,000, with 30 percent of that coming from people once associated with Goldman Sachs.
Sweeney doesn't have $10 million to give to his campaign, so he'll have to adhere to the strictures of the state's gubernatorial public matching fund system. When Sweeney raises $430,000, he then qualifies to receive a two-for-one match, garnering him an additional $860,000. But in order to receive those monies, he will have to abide by ascribed limits on campaign expenditures, meaning that he will only be able to spend $6.4 million total in the primary election. So if Sweeney announces in November, he needs to parse out that $6.4 million over more than seven months. Murphy, because he is not participating in the matching fund program, does not have to adhere to such limits. And he won't. Between his campaign account and his largely self-funded super PAC, Murphy's already spent over $5 million on consultants, advertising (some of it targeting Fulop), and events.
And whichever Democrats enter the race – Sweeney, state Senator Ray Lesniak, Assemblyman John Wisniewski, former state Democratic Party chairman Tom Byrne – whoever, Murphy will plink them off one by one, like a sharp shooter at a carnival shooting gallery.
I don't know Phil Murphy, and perhaps he will wind up surprising me, but his style of politics seems deeply evocative of Jon Corzine's: no dues paid, no competencies earned, no trust built. Just come in and buy it up.
That's his prerogative. But for those party bosses who are swooning at his affable charm and his large checkbook, I would offer a warning:
On Election Day in 2009, I happened to be driving down Kings Highway in Camden County and saw a befuddling sight: there, in the midst of a high-stakes gubernatorial elections, were union guys. They were hanging around. They were smoking cigarettes. They were drinking beer. They were eating hoagies. They were not getting out the vote.
It was then at that moment that the enormity of what was occurring hit me. George Norcross had sold out Jon Corzine and was allowing Chris Christie to be elected governor.
In the days that would follow other stories would emerge: the handlers driving down the Atlantic City expressway, a suitcase full of "walking around money" — the standard $50-$100 paid to people in urban areas who would help get out the vote – but without specific instructions as to who to deliver it to. The Latino vote mobilizers in Essex County, who, when they showed up at polling places with voters who were challenged by election officials, couldn't reach the attorneys who were supposed to be their advocates.
In 2005, Corzine was the rich guy buying friends. He promised to use his business acumen to trim spending and the new perspective that he brought to government would move the state forward. He convinced the party bosses and voters that the qualities that rocketed him from his humble background to his enormous success were the same qualities that could fix our failing state (sound familiar?). But over time, he failed. Miserably. At trimming government. At articulating a vision. At governing. By 2006, he was in such a pissing match with the Democratically-controlled state legislature that the government was shut down – and these were the people he had bought.
The party bosses who had gobbled up Corzine's checks had become outraged with Gov. Corzine's ineffectiveness. Nothing could get done. Corzine lack clout, political capital, and was perceived as being incompetent at governing. The Democratic Party bosses of New Jersey decided that a U.S. Attorney named Chris Christie who had made his name prosecuting politicians – some corrupt, some not guilty – was a more palatable alternative than Jon Corzine. And honestly, at the time, it seemed to be a rational decision.
Murphy has surrounded himself with key staffers from Corzine's failed administration, has mimicked Corzine's primary strategy. I haven't met the man, who says that Corzine's "a friend. But I'm not Jon."
Let's hope, for all our sakes, he's right.
Brigid Callahan Harrison is professor of political science and law at Montclair State University, where she teaches courses in American government. A frequent commentator on state and national politics, she is the author of five books on American politics. Like her on Facebook at Brigid Callahan Harrison. Follow her on Twitter @BriCalHar.