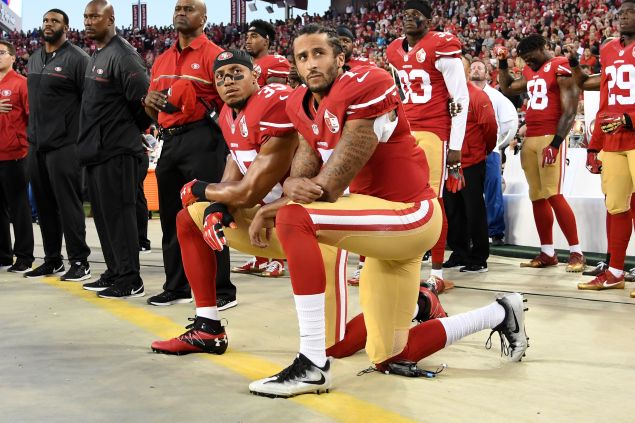 I am African-American and refuse to stand for the national anthem because of ongoing racism in this country and the assaults against black America by police. I am Mexican-American and refuse to stand because the Republican presidential nominee supports the building of a border wall with Mexico. I am Muslim-American and refuse to stand because of this country's limits on immigration of Syrian refugees. I am female and refuse to stand because of this country's persistent wage gap that favors men. I am a member of the LGBTQ community and refuse to stand because there are still states that refuse to recognize same-sex marriage…
Ours is not a perfect country. At the same time, if every citizen with an ax to grind took Colin Kaepernick's stand, and refused to stand – there would go our sense of unity, our sense of nation. Without those common bonds, what hope do we have to join hands and achieve progress? While there are differing points of view in regard to his behavior at recent games, from many men and women who have risked their lives for this country – regardless of their race – Kaepernick garnered little applause.
A key defense of Kaepernick's actions is that he is within his rights as an American to protest in this manner. It is true that he has the right – but is he doing right in alienating so many people and disrespecting a country from which he benefits greatly, in the name of a cause–any cause?
Discontent and disagreement sell papers and make great headlines – headlines that deepen divisions and heighten animosity. The resultant mutual anger is unproductive and polarizing. The issues themselves recede in a dreary onslaught of negative and sensational stories.
The true objective of any protest should be to make a definitive change for the better, to work strenuously in order to tangibly improve the lives of individuals and communities in need.
And what's Colin's next "stand"? Will he stop paying taxes, for example?
The true objective of any protest should be to make a definitive change for the better, to work strenuously in order to tangibly improve the lives of individuals and communities in need. Yet in the current climate of pointless rabble-rousing and contempt, reconciliation and change often get lost. And some truly important causes that aren't fodder for sensationalized headlines are ignored.
A message without unity is doomed to failure; it only helps hatred to fester.  While bringing public attention to injustice is important, it should be done in a constructive manner. This was the greatness of Dr. Martin Luther King. He was a benevolent parent for a nation in need of guidance. He sought to make things better through love, not denigration. His legacy lives on and is viewed favorably by virtually all because his inspiring message brought people together.
Colin Kaepernick may have had noble intentions, but he was shooting from the hip (just like his on-the-field performance) without displaying a well-thought-out game plan. Why not acknowledge the greatness of this country by standing through most of the anthem, but dropping to one's knee for 10 seconds to demonstrate that we must not ignore racism or the social injustices that continue to plague us. If Kaepernick had done something like that, he might have become a vehicle for strengthening and unifying our nation – even, a hero.
Indeed: his recent announcement that he will donate $1 million to social-justice causes in the Bay Area constitutes a step towards healing – and the act of, dare I say, a stand-up guy.
What prompted a high school student to write this? I am a great-granddaughter of Holocaust survivors. They were born into the hellfire of hatred and as refugees rebuilt their lives in the U.S. Although they did experience some anti-Semitism here, it did not cloud their understanding of what makes this country a powerful force for good in the world. Their personal histories only made them even more determined to proudly join hands with fellow Americans.
Last Sunday, I was passing by Fire Station 22/Ladder Co 13 in Manhattan and watched an elderly white woman present a plate of cookies to a firefighter, a young man of color. I felt a powerful surge of emotion, seeing like-minded people from different backgrounds, supporting each other and united in purpose.
We are the strongest when we realize that along with upholding our causes, acknowledging our problems and exercising our freedoms, we must embrace our common link; national pride. To succeed in bringing about change, we need to be on the same team. We can only win this together.
Jasmine Levine is a senior at Ramaz High School where she is the editor of the school newspaper