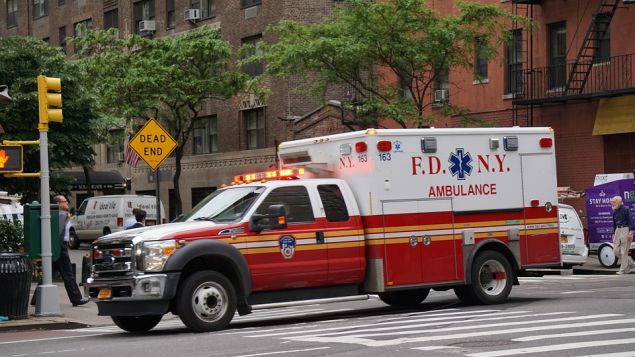 Miraculously, just one of the 29 victims of the Chelsea bombing on Saturday night suffered a serious injury.
The FDNY and the hospitals charged with treating victims handled this crisis. Of those wounded in the terror attack, 11 were taken to Bellevue Hospital, five went to NYU Langone Medical Center, four to Mount Sinai-St. Luke's Hospital, and three people refused medical treatment, said a spokesperson for the New York Fire Department. Even the doctors and nurses at Lenox HealthPlex, the free-standing emergency department that replaced the shuttered St. Vincent's Hospital, treated six victims of the blast.
But the city escaped a more serious test of its depleted emergency preparedness capacity. Had the terrorists proved more proficient and managed to detonate the second bomb (which was found a few blocks away on 27th Street) or launched a larger attack that caused mass casualties, lives likely would have been lost.
Since the 2010 closing of St. Vincent's, a Level I trauma center in Lower Manhattan, community activists have warned that that the city may lack the adequate medical infrastructure to properly respond to a mass casualty incident, or MCI. Since 2007, 13 New York City hospitals have either closed or downsized. Mayor Bill de Blasio was elected, in part, after advocating to save Long Island College Hospital in Brooklyn. He raised expectations that he would defend hospitals from closure, but on his watch that hospital closed, and now Beth Israel Medical Center and the NYC Health + Hospitals system also face potential downsizing.
Eileen Dunn, a former head nurse at St. Vincent's, worried about the Chelsea bombing victims "and the care that they would get because of the delay getting across town," Dunn said by e-mail. "I'm sure Bellevue did a great job, [but] lives should never have been put at risk for the sake of a real estate deal and the deep pockets of the politicians," she added, referring to the conversion of St. Vincent's into luxury condos by Rudin Management.
A resource guide last updated in 2012 and published by the Greater New York Hospital Association for emergency preparedness states that victims of explosions require immediate treatment: "Approximately half of all initial casualties seek medical care in the first hour after the event." In providing medical treatment to trauma victims, time is critical. (The resource guide provided a link to the city's own burn and trauma plan, but it no longer worked. A representative of the city Office of Emergency Management could not immediately provide a copy of that plan).
The subject of ambulance response times has become a delicate political issue for the de Blasio administration. The New York City Council held a hearing in March 2014 into statistics revealing that ambulances took more than 9 minutes to respond to life-threatening emergencies in the previous two months. After de Blasio increased funding in the 2015 city budget to improve ambulance response times, the statistics for year-to-date 2016 improved—by just ten seconds.
Advocates for streamlining the city's emergency response recommend the city establish an exclusive traffic lane for first responders on one of Lower Manhattan's crosstown thoroughfares, such as 14th Street. A dedicated lane would reduce ambulance transport times for patients picked-up on Manhattan's West Side who require care on the East Side, where Bellevue Hospital, now the nearest Level I trauma center, is located. The next nearest Level I trauma centers are all more than 10 miles away in other boroughs.
In the aftermath of Saturday night's explosion, New Yorkers reported in social media posts that they witnessed what they thought were ambulances and other first-responder vehicles leaving the outer boroughs to respond to the explosion in Manhattan. One witness I spoke with reported seeing ambulances stuck in traffic Saturday night on the Williamsburg Bridge.
Although the FDNY would not confirm that any ambulances noted in social media posts participated in the response Saturday night, FDNY spokesperson Jim Long told the Observer that it was not unusual for city ambulances to travel from the outer boroughs to Manhattan or vice-versa to respond to emergencies. In the event of an MCI, Long said first responders would draw, if needed, on other areas in the city for resources.
That's understandable but hardly reassuring. In the absence of building a new level one trauma center in Lower Manhattan, city officials can show forethought by at least creating dedicated lanes for EMS, freeing ambulances from snarled traffic, reducing response times and saving lives.
Louis Flores is publisher of Progress Queens, an online news site.