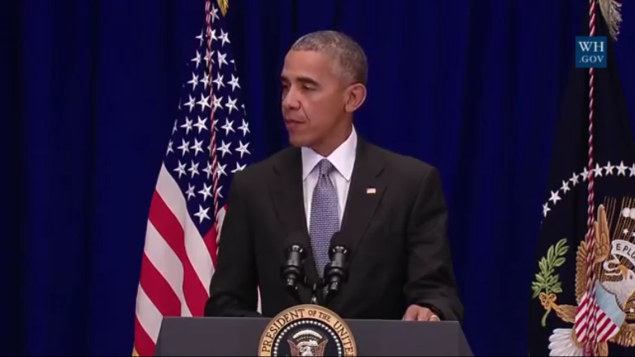 In his first public address since the bombing in Chelsea Saturday night, President Barack Obama said there is no evidence as yet of a connection between the attacks in New York and New Jersey and a stabbing spree the Islamic State has taken credit for in St. Cloud, Minnesota.
Speaking to reporters in Manhattan, the president—in town for a political fundraiser last night—confirmed that federal agents had apprehended Ahmad Khan Rahami in Linden, New Jersey as a person of interest in the investigation of the explosions on Saturday in Seaside, New Jersey and in Manhattan. He said he had pledged full federal support to Gov. Andrew Cuomo, Mayor Bill de Blasio, New Jersey Gov. Chris Christie and to Minnesota Gov. Mark Dayton—but said there was no sign that the man who knifed nine people in the Gopher State had ties to Rahami or any other person involved in the blasts in the northeast.
"At this point we see no connection between that incident and what happened here in New York and New Jersey," Obama said, adding he had just received a briefing from Federal Bureau of Investigation Director James Comey. "The FBI is investigating the Minnesota incident as a potential act of terrorism. We will direct the full resources of the federal government to make sure the investigation goes forward aggressively."
There were no fatalities in any of the incidents over the weekend.
The Islamic State, also known as the Islamic State of Iraq and the Levant, has called the stabber shot dead mid-rampage in Minnesota as a "soldier" in its cause. It is unclear as yet whether Rahami, born in Afghanistan, has any international terror connections.
The president acknowledged that city, state and federal law enforcement were already on alert due to the United Nations meeting this week. He promised all authorities would collaborate to protect New York and to hunt down all those involved in the bombing.
"We're going to make sure everyone is working together seamlessly, as one team, to get to the bottom of what happened, to find those responsible, and to make sure that justice is done," he said. "I want to take this opportunity to reassure the people in this city, this region and Americans across this country that our counter-terrorism and law enforcement professionals at every level, federal state and local, are working together, around the clock, to prevent attacks and keep us safe. They are the best of the best, and over the years they have thwarted many plots and saved many lives, and we are incredibly grateful for their service today and every single day."
Obama also noted he has a meeting scheduled this afternoon with Iraqi Prime Minister Haider al-Abadi to discuss the continuing military campaign against the Islamic State in the Middle East. He appeared to suggest the success of that effort to push the group back on the ground is causing them to lash out online, and encourage attacks in the West—though he insisted the terrorist group would soon find itself utterly discredited.
"We will continue to lead the global coalition in the fight to destroy ISIL, which is instigating a lot of people over Internet to carry out attacks," he said. "We are going to continue to go after them. We're going to take out their leaders, we're going to take out their infrastructure. They are continuing to lose ground in Iraq and in Syria."
"As we take away more of their territory, it exposes ISIL as the failed cause that it is. And it helps to undermine their ideology, which over time will make it harder for them to recruit and inspire people to violence," he continued.
Finally, he made an appeal to New Yorkers and all Americans to remain calm and refuse to allow terror to disrupt their lives.
"We all have a role to play as citizens to make sure we don't succumb to that fear. And there's no better example of that than the people in New York and New Jersey," he said. "One point that they all made is folks around here, you know, they don't get scared. They're tough, they're resilient, they go about their business every single day. And that kind of toughness and resoluteness and a recognition that neither individuals nor organizations like ISIL can ultimately undermine our way of life."
"That's the kind of strength that's going to be critical not only in the days to come, but in the years to come: by showing those who wish to do us harm that they'll never beat us, by showing the entire world that as Americans, we do not and never will give into fear. That's going to be the most important ingredient in us defeating those who would carry out terrorist acts against us," he continued.