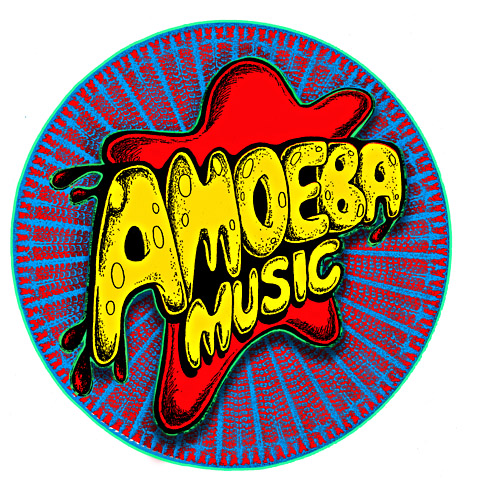 Most readers of Observer Music want an escape from the rigamarole of our current political climate or neighborhood news, and we don't blame them. Some big things that happened in the news for music this week—a bunch of labels got together and sued a popular website that let you rip MP3s off of Youtube, and just yesterday a report was released claiming Spotify is in talks to buy the struggling Soundcloud, giving them an ever greater monopoly on artist exclusives and private embedding that's got every successful recording artist who's ever earned 75 cents for thousands of plays shaking in their booties.
But there's much happier, mellower news to focus on too, my fuzzy friends. Amoeba Music, largely renowned as the best-priced, most eclectic, high-vibe chain of record stores in the country, has just obtained a license to sell cannabis at its Berkeley, California location. Out of all the Amoeba locations, Berkley is likely the waviest, but what does it mean for cross-promotion?
Well if you live out in California and partake, you already know that several celebrities are getting into the cannabis game, releasing their own licensed strains, tinctures, paraphernalia and more. Here are the musicians most likely to capitalize on Amoeba's new market:
Willie Nelson's "Willie's Reserve" 
[youtube https://www.youtube.com/watch?v=Rp8fYm6CsXI]
Dan Rather looks pretty high in this video, interviewing the red-headed stranger about his recently launched line of high-grade cannabis strains. Willie's Reserve is already available at dispensaries across the country,  Willie's Reserve website reveals a myriad of options. The flowers come in many strains and many sizes—one-gram baggies look particularly ready for retail, already blister-packed with a little whole at the top of the bag to hang them from a display hook. Willie's also got 1/8th tins, "perfectly suited for pockets and purses"  and 1/4 tins, "will keep you satisfied on those longer journeys."
And Willie's not stopping there. He's also got pre-rolled joints, vape cartridges with concentrates of the strains that sport a shiny metal mouthpiece with the "WR" logo, and even disposable vape pens. We can only hope Willie doesn't actually sell his ashes in limited, collectable, smokable quantities, but after all, he has long suggested we roll him up and smoke him when he dies. Those ashes would surely get you high, too.
Ghostface Killah's "Wu-Goo"
[youtube https://www.youtube.com/watch?v=BknP3gp4Tgc]When he's not scaring the shit out of Martin Shkreli, Ghostface is getting in on the branded THC game, too. He calls his flavored vape cartridges "the new wave" in this hilarious video, and the strains come in fruity flavors like key lime, vanilla mango, strawberry, and natural cannabis. Pineapple coconut is the strongest, he claims. They come in both disposable vape pens and cartridges designed to be used with his signature pen, "yellow dynamite". Ghost is also selling CBD oil, a non-hallucinogenic oil that contains cannabinoids and reportedly provides some of the same therapeutic healing effects, including helping you get to sleep. That's available now nationwide through his website.
Bob Marley's "Marley Natural" 
[youtube https://www.youtube.com/watch?v=HfRioEljDI4]
For the legacy smoker who be in Babylon too long, the Marley family offers a fine line of salves, body lotions and essential oils infues with hemp and other great botanicals. "Our products contain cannabis sativa oil, a non-medicated, skin beneficial ingredient which is non-psychoactive and does not have any of the physical effects associated with the cannabis plant," the website says. "Our body care products do not contain any ingredients that will induce a physical high."
But the Marley family definitely still wants to get you high,, and for that you can partake in five strains of the herb. There's an indica/sativa hybrid called Marley Green, a straight sativa called Marley Gold, a CBD-rich herb called Marley Red, and a pure indica strain called Marley Black. They're all also available in oil form and pre-rolled, fat rasta joints, "Sourced from local farms run by experienced growers committed to sustainable farming practices,"  "free of harmful pesticides and fertilizers" and "rolled in natural, unbleached paper with a crutch filter."
Couple with his line of high-end, wood paneled grinders, bowls, pens and pipes, Marley's product line is distinguishing itself as the connoisseur's option for branded marijuana, and honoring Bob's love of the plant in the process.
Wiz Khalifa's "Khalifa Kush" and RAW Rolling Papers Product Line
[youtube https://www.youtube.com/watch?v=DqTqKiHs78M]
Apparently Wiz Khalifa's actual strain isn't available to the public, but the "Khlaifa Kush" that shows up in dispensaries seems consistent enough to be called official. Smokers describe the flavor on Leafly as "similar to that of OG Kush: sour lemon and pine, with an active cerebral buzz ideal for morning and daytime use." His partnership with RAW rolling papers, meanwhile, doesn't add any innovation or new quality to their already strong product, but it's a clever marketing move for sure. In the video above, Khalifa claims he smokes more weed than Snoop Dogg. "That's my boy, he passed the torch." Is he sure about that?
"Leafs" by Snoop
[youtube https://www.youtube.com/watch?v=rTcFL3npqDQ]
Snoop was into the branded marijuana game before anyone, although to suggest that he's in any way slowing down with the hustle is simply not true. His official G-Pens are in head shops across the land, while his actual products go under the name "Leafs by Snoop" and have expanded beyond eight strains of flowers to include edibles like "premium, fair trade chocolate", drops, gummies and fruit chews. He's also offering concentrates, too, in all eight strains. All Leafs by Snoop products are available exclusively for purchase at LivWell dispensaries and retail locations in Colorado. The idea of exclusive licensing is intriguing, and makes you wonder, who would license their own exclusive strains to Amoeba?
Melissa Etheridge's Cannabis Wine
[youtube https://www.youtube.com/watch?v=yKUljDqaSBE]
Because your mom wants to get high, too! Melissa Etheridge came up with the idea for her wine tincture during a battle with Breast Cancer. She says in the video above that she was fortunate enough to be in California, and that weed helped her tremendously during chemo. Her site claims that the wine is very expensive, but worth it. "This is a huge opportunity, a huge business, a huge market," she says. "You're gonna see my name with a lot of these things."
But if all these musicians are already in working relationships and exclusive distribution agreements, where does that leave Amoeba? They're in a very fortunate position as the first record shop to sell weed because music and weed are like peanut butter and jelly. Among the artists we'd like to see in the game, how about Neil Young with a "Homegrown" line named after his lost classic? Or how about little robot gummies from Radiohead called "Paranoid Androids"? The possibilities really are endless, folks.