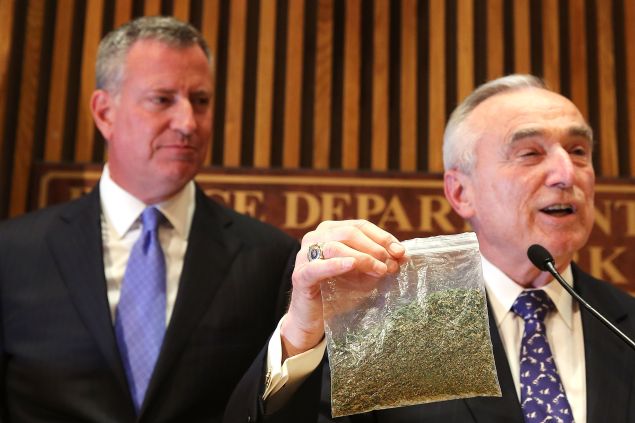 Mayor Bill de Blasio said today he remains "dubious" about the idea of letting New York's tokers light up freely—a day after an explosion at a suspected "growhouse" killed a firefighter in the Bronx.
In his weekly "Ask the Mayor" segment on WNYC, de Blasio promised host Brian Lehrer the NYPD would enhance its efforts to "find and eliminate" hotspots for cultivating marijuana plants. And he said he was still leery at the possibility of making the use of the drug openly permissible.
"I'm not comfortable yet with saying it's time for a full legalization," he said, arguing the Empire State needs more time to observe how legalization schemes have played out in other parts of the country. "I think we need to watch carefully the states that have legalized and particularly good examples in Colorado and Washington State because they have major cities—Denver, Seattle—that we can learn a lot from by example of what works and what doesn't."
The mayor did not say what his concerns about liberalizing the policy on pot are. But he did seem to vaguely suggest the issues were mainly logistical.
"I think we need a little bit more time to see how that works," he said, again alluding to Colorado and Washington. "Once we assess that reality, then we can know better whether it's something that might make sense in a place this, but, but, so far, I'm a little dubious on that front."
As mayor, de Blasio and his former NYPD Commissioner Bill Bratton decriminalized—that is, stopped making arrests for—the possession of 25 grams of marijuana or less. That offense now carries a summons and a fine.
New York State has launched a small medical marijuana program for the severely ill, one which only allows the use of non-smokable extracts with a prescription and which only permits state-certified facilities to grow the plant.