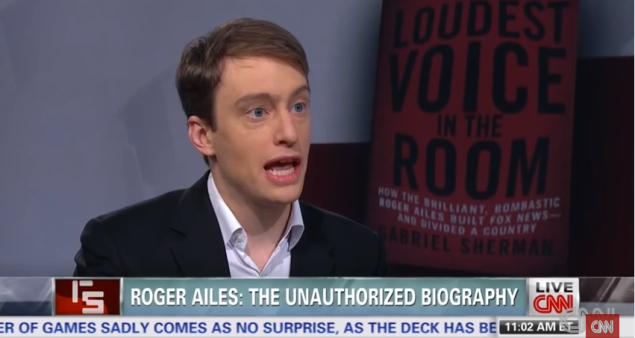 MSNBC and NBC just signed New York magazine national affairs editor and media writer Gabriel Sherman as a paid contributor. But to paraphrase Whittaker Chambers, if Sherman was not for months already on their payroll, he was getting cheated out of a salary.
Sherman is the undisputed king of covering FOX (FOXA) News. His reporting on Roger Ailes—he even wrote a deeply sourced book about the Fox News progenitor and Svengali—helped unthrone Ailes from the empire he created.
While Sherman was busy writing about the travails of MSNBC's key competitor for New York, he didn't tell readers and at least one key editor about his lengthy negotiations with MSNBC and NBC for a paid gig. He had an obvious financial incentive to make FNC look as bad as possible.
Print editor Jared Hohlt conceded this week under fierce questioning that he "didn't have knowledge" of Sherman's talks, which reportedly went on for quite some time. Pressed on why readers were kept in the dark, Hohlt scurried off the phone and said New York magazine publicist Lauren Starke would call back.
It is seldom reassuring when journalists and editors, whose job is holding powerful people accountable to the public, hide behind spokesmen. Regardless, Starke called back just moments later and said editor-in-chief Adam Moss knew about the negotiations. So why didn't Hohlt, who Moss has boasted owns print?
Sherman's lack of full disclosure is serious stuff but not even the most troubling thing about his recent coverage of the Roger Ailes matter.
More importantly, why did Sherman keep readers in the dark? Why did Moss need this crucial information from him but readers didn't? "There was nothing [for them] to be aware of," she insisted.
Really? Journalists are ultimately supposed to be writing and reporting for their readers. Those who read Sherman's stories on FNC should have been allowed to make their own decision about whether his negotiations with NBC were relevant? By any objective standard they were.
Suppose a plaintiff's lawyer did not tell his client that he was trying to get a job with the defendant. He would rightfully land in trouble with the local bar association.
Likewise, doctors are required to disclose any financial connections with drug companies when writing about their products or competitors' products for medical journals. The same kind of analogy could be made with just about any other profession.
Of course, one of the cool things about being a journalist is that, other than libel somebody, you can basically do anything you want—no matter how sleazy or deceitful—without professional repercussions.
But with Sherman now officially working for the news behemoth he is theoretically covering, here are some obvious questions that the self-appointed arbiters of media conflicts of interest should raise if they are committed to neutral standards, as opposed to ginning up pseudo-ethical problems to kneecap journalists who don't share their political sensibility.
Sherman's lack of full disclosure is serious stuff but not even the most troubling thing about his recent coverage of the Roger Ailes matter.
Why did Sherman exhaustively cover allegations in a 2016 civil lawsuit against Roger Ailes but entirely ignore revelations at the 2015 breach of partnership trial for then-host Ed Schultz that MSNBC president Phil Griffin possibly committed perjury in sworn testimony for the case?
These unexpected developments at the trial quickly prompted high-level meetings at NBC, according to a source. NBC News, which once routinely fired even cameramen and other technical employees for lying, stopped doing that. Holding them to a different standard than Griffin could be legally perilous.
So is Sherman covering the October 25 appeals court hearing on whether Queen gets a new trial where Griffin would surely be grilled?
How is all this not a story for Sherman but the machinations at FNC over its then president's legal woes required almost real time coverage? The Griffin matter this summer prompted an investigation by the NBC Universal ombudsman. How is an NBC investigation of the MSNBC president not a story for Sherman but the FNC investigation of Ailes something to report?
And why did Sherman ignore the whole Ed Schultz trial, reported by TV Newser, Mediaite and the Washington Post gossip section?
The crucial issue at trial was whether Schultz should have paid veteran NBC News Washington producer and sound engineer Michael Queen for getting him "The Ed Show."
In 2008, when Schultz was solely a radio host, he dispatched Queen to try and get him a screen gig, promising him 25 percent of any proceeds, according to Queen. Queen, with the late Tim Russert's enthusiastic support, produced a pilot show. He pitched Schultz to NBC, CNN, CBS, the Discovery Channel, and even Roger Ailes. He also emailed Griffin repeatedly.
In videotaped depositions, Griffin insisted he never received Queen's entreaties and recruited Schultz independently because he just happened to notice him asking Barack Obama a question at his first presidential news conference on February 9, 2009.
Except at the trial, Schultz admitted under cross-examination that he never asked Obama a question.
In fact, no video exists of Schultz and Obama ever being in the same room together, let alone Schultz questioning him. Law professor Geoffrey Hazard Jr., one of the foremost experts on civil procedures, has said that would make it hard to argue his statement was an honest mistake. The key standard for perjury is whether the person knowingly made false and misleading statements.
Perjury indictments are rare, especially in civil cases—although making less absolutist statements in a deposition than Griffin did kind of got Bill Clinton in trouble.
Griffin, probably on the advice of lawyers, has said nothing in his defense—not even when I emailed him my articles on this and cc'd New York Times television reporter John Koblin, who, curiously, refuses to report the matter
Despite the media blackout, Griffin's legal travails are far from over.
In October, the United States Court of Appeals for the D.C. Circuit, from which Supreme Court justices are routinely plucked, is hearing Queen's appeal for a new trial.
Queen claims he lost because of a biased federal judge, Beryl Howell, appointed by Barack Obama shortly after she donated to his campaign.
At the trial Howell did not disclose that her husband collaborated with NBC on documentaries when he was a top-level executive for National Geographic television. Griffin's videotaped testimony was played, but he was not called to the stand. But if a new trial is ordered, he would likely be subpoenaed and face even more legal jeopardy.
So is Sherman covering the October 25 appeals court hearing on whether Queen gets a new trial where Griffin would surely be grilled?
Queen told this reporter, "I have no doubt Gabriel Sherman, in the interest of journalistic integrity and fairness, will," report on the proceedings.
Starke declined comment Sherman ignored repeated tweets and emails.
But I am somewhat infamous for getting elusive journalists, like Washington Post executive editor Marty Baron, on the phone. So I will call Sherman myself.
And just to sweeten the pot I am willing to donate $100 to the Phil Griffin legal defense fund for every minute Sherman stays on the phone with me.
But maybe another reporter committed to objectivity and attuned to his own readers concerns should also be asking the FNC scourge these kind of questions?