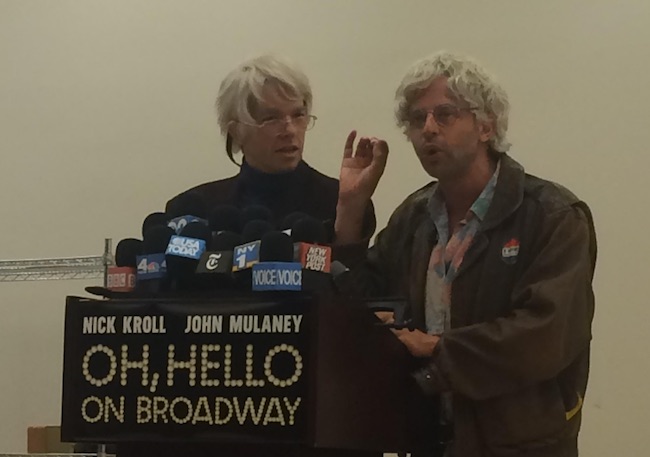 When Gil Faizon and George St. Geegland opened their off-Broadway run of Oh, Hello last December at the Cherry Lane Theatre, former NYPD Commissioner Ray Kelly sat in as their special guest for them to prank with Too Much Tuna.
Other early adopters to the antics of these aging aspiring thespians included Seth Meyers, Richard Kind, Aidy Bryant and Jon Hamm.
Hamm, the duo of Faizon and St. Geegland noted with great glee Thursday during a press conference to announce their Broadway run this fall of Oh, Hello, would now serve as one of their two understudies. The other? Hamm's fellow Mad Men alum, John Slattery. Isn't Slattery also on Broadway already this fall, in The Front Page? "He'll have to take an ambulance," St. Geegland cracked.
Nick Kroll and John Mulaney are Gil and George, for real, though. And their very real and really famous friends and others have joined them onstage during their off-Broadway run and North American tour over the past year. Among them: Jenny Slate, Lena Dunham, Bill Hader, Andy Samberg, Judd Apatow, Meghan Trainor, Vanessa Bayer, Mike Birbiglia and Colin Quinn.
Who's been the most surprising guest so far?
Nick Kroll: "In L.A., we had Marcia Clark, the O.J. (Simpson) prosecutor, who was amazing."
John Mulaney: "She was amazing and had a lot of fun, and it was probably the giggliest interview we've ever had. She was fantastic."
Here's what happened when Clark and Hader joined Gil and George for their "Too Much Tuna" prank during an L.A. performance of Oh, Hello:
https://www.youtube.com/watch?v=ssN6W2Oj3Wk
JM: "Ira Glass came on the show and did a magic trick."
NK: "It freaked Gil out."
JM: "He made a French fry disappear."
NK: "He made a French fry disappear, and Gil freaked out and hid under a table."
Who are your dream gets for the Broadway run?
NK: "Dream gets? Obviously, Bernie Goetz. But then, I think, we would love Alan Alda to do the show more than anyone."
JM: "We have an outstanding offer/bounty on Steely Dan."
NK: "With Bernie Sanders, Gil and George's old friend."
It's his birthday.
NK: "It's his birthday today?"
Yeah. 75.
JM: "Oh! Happy Birthday Bernard."
NK: "We should reach out to Bernie, our dear friend Bernard. And we hope we're going to get a lot of – I think we'll get some Broadway people, we'll get some political people, we'll get our friends in the comedy world. It also should be noted that we take people out of the audience. When we're on the road, and we didn't have celebrities handy in random cities, we would pull people out of the audience, which was as fun for us as any celebrity we had. So if you come to the Oh, Hello show, you never know, you might get chosen."
Has Elliott Gould done it?
Both: "No!"
JM: "Elliott hasn't, but we'd love to have him."
Because I know you made sure to have him say "Oh, Hello!" in every episode of Mulaney on FOX.
JM: "Yes I did."
NK: "Amazing."