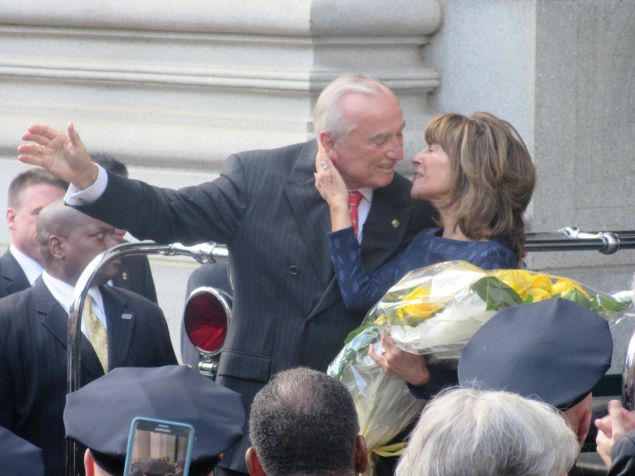 Outgoing Police Commissioner Bill Bratton formally bid farewell to members of the NYPD, elected officials and the City of New York on his last day on the job this afternoon in the most classic way possible: embracing his wife as they stood atop a vintage police car.
Bratton exited One Police Plaza, greeting and hugging officers, elected officials and others and stopping to wave at everyone. Protesters from Picture the Homeless and other activist groups could be heard shouting "I can't breathe!"—the last words of black Staten Islander Eric Garner as he died in a police chokehold—"Tell the boss we need more barricades!," "Fuck Bill Bratton!" and "Fuck, fuck, fuck de Blasio!" in the background both before the ceremonial walkout honoring his final day at One Police Plaza kicked off and as it was underway.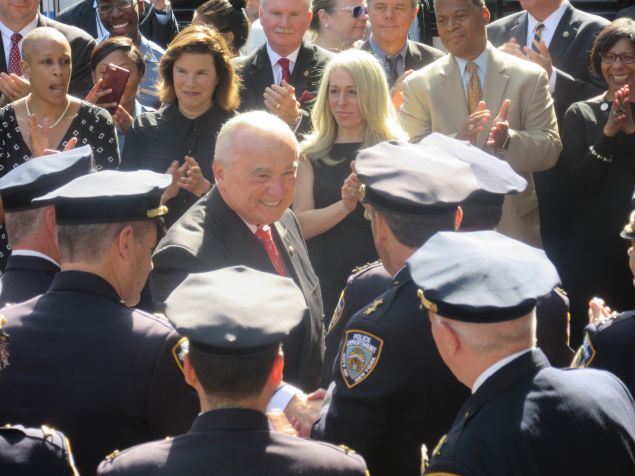 When he arrived at the end of the processional, Bratton hugged the mayor before he and his wife Rikki Klieman climbed into the 1930 Mack emergency services unit car, embraced each other, waved at the crowd, then finally shared a kiss. 
Mayor Bill de Blasio came out before Bratton and waved at attendees as he made his way over to the motorcade area. Earlier today, during his weekly "Ask the Mayor" segment on WNYC's Brian Lehrer Show, defended the "broken windows" policing approach Bratton helped popularize—focusing on smaller crimes to prevent larger ones.
The mayor also said Bratton "just deserves all of our thanks," crediting him with doing more than any other individual to make the city safer and doing more to "reform police practices and create an opportunity for police and community to come together."
In 2014, de Blasio appointed Bratton, now 68, to head the NYPD. Bratton oversaw a drop in crime during his first tenure as the city's top cop in the 1990s, which led to "broken windows" rising in prominence and popularity. He also established and executed the CompStat system, which tracks crime patterns.
He'll be joining Teneo, a firm in the private sector that advises CEOs.
Although he is credited with lowering the use of stop-and-frisk and bringing crime to an all-time low in the city, his continual defense of the broken windows approach has earned him the ire of advocates who believe the method disproportionately targets minority neighborhoods and has led to mass incarceration.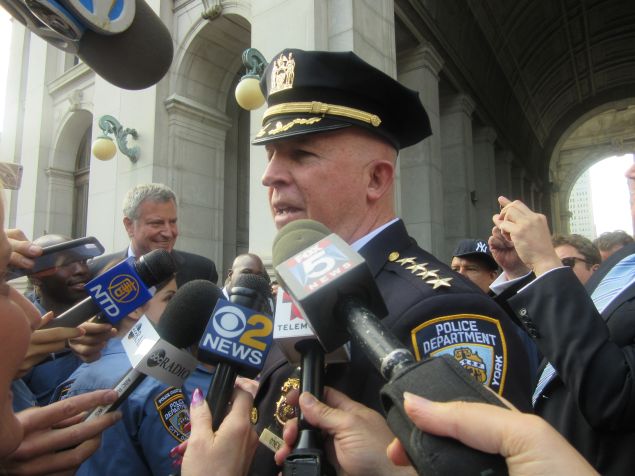 When CBS New York's Marcia Kramer asked, "You're commissioner now, Mr. O'Neill, how do you feel?" he responded, "I sure am." And when she asked again, he responded, "Good, Marcia." He also said, "I think I'm ready. I'm ready to put on a nice suit and a nice tie."
"I've known him for such a long time. He's done so many great things for this city," O'Neill said. "So of course I'm gonna say I was sad. He's a good guy but I'm gonna stay in contact with him. And he's still gonna be in the city. It's been a great relationship. He's done so much for this city."
And echoing the mayor's insistence earlier today that O'Neill will bring to bring "together a strategy of neighborhood policing in the modern world," the new commissioner said he will be doing just that when NY1's Dean Meminger asked him what to expect under an O'Neill tenure.
"I have the opportunity to start the neighborhood policing program and to make sure that it's really impeachment and we do our best to get to know the people that we are…to protect and serve," O'Neill continued.
Spotted at the processional were U.S. Attorney Preet Bharara—who collaborated with Bratton in cracking down on gangs, and probed and prosecuted members of his NYPD for allegedly taking bribes. Public Advocate Letitia James and Bronx Councilwoman Vanessa Gibson, chairwoman of the City Council's Committee on Public Safety, also attended. 
In a statement, Brooklyn Borough President Eric Adams, thanked Bratton for his service and said he was looking forward to working with O'Neill to fulfill the mission of community policing.
He also noted that crime in the city is "roughly 72 percent lower than when he first walked into the lives of New York City residents more than 20 years ago in 1994."
"New York City is now known as the safest city in America, in no small part due to the reforms that he instituted during his initial tenure and the more recent moves he has spearheaded toward creating an NYPD that is focused on community policing and neighborhood engagement," Adams said. "As he departs, we must continue to strive to improve our city, and build on the reform foundations that have been laid."