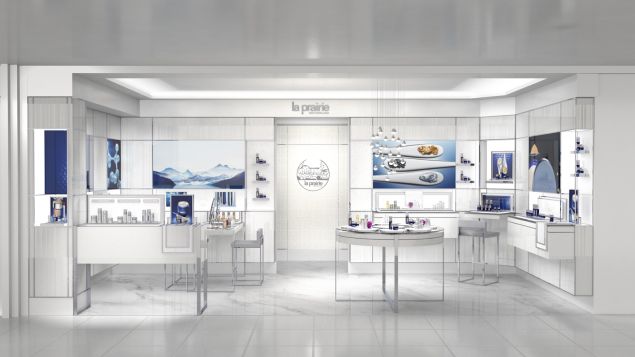 Looking to keep your summer glow going for a few more months? La Prairie is here to help you, but you'll have to visit their newly renovated space at Bergdorf Goodman to reap the benefits.
The 250-square foot skincare haven is a total luxury experience, from the gleaming Italian marble floors to the stools and tables covered in Elitis fabric. Custom displays of your favorite lotions, potions and serums are softly illuminated by the crystal-finish, hand-blown glass of a Mizu by Terzani chandelier. The space includes two consultation stations and, should you need even more encouragement to treat yourself, a montage of "aspirational brand inspiration" will be playing on a loop. Officially opening today, the boutique will also be stocked with La Prairie's newest fall launch: Skin Caviar Essence-in-Lotion. The $240 formula promises to hydrate and smooth skin, in addition to lifting and firming it. If you're skeptical about the hefty price tag, just know that La Prairie didn't create this essence with regular old water; they used 100 percent caviar water.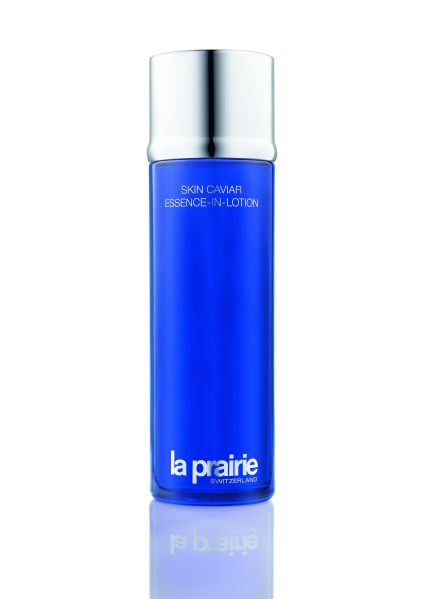 The one portion of the retail shop that is not open yet is the 80-square-foot facial room, where complimentary treatments will be offered to customers. Exclusive to this particular spa is the Swiss Indulgence Facial, which is almost as good as a trip to the Swiss Alps. The 60-minute treatment is completed with the use of heated dermaglobes, a mask peel and a warm hand treatment; it was designed to combat and intercept the signs of aging. Other fancy-sounding treatments include the Platinum Rejuvenation Facial, the Pure Gold Radiance Facial and the White Caviar Illuminating Facial, in addition to the Essential Facial, the Skin Caviar Express Lift Facial, and the Swiss Ice Crystal Facial. Each of the 30-minute treatments feature the use of signature La Prairie products, including the luxe properties of golden caviar extracts, pure gold and platinum.
With the spa slated to open at the end of September, these indulgent facial treatments are sure to book up fast, so be sure to call and book your appointment, stat.
Bergdorf Goodman x La Prarie, 754 5th Avenue, Beauty Level, (212) 872-2623