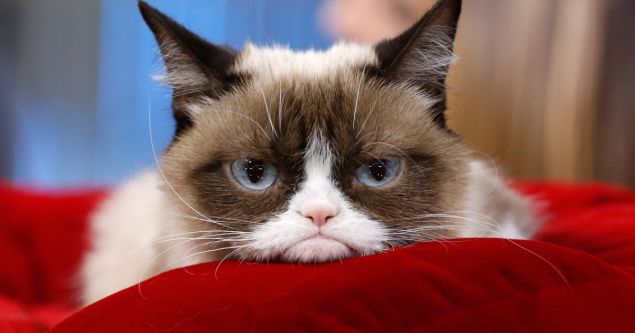 Maybe they should change the name of Grizabella's big number to "Meme-ory."
Grumpy Cat, the feline who became everyone's favorite animal meme because of her permanently pained expression, will make her Broadway debut tomorrow night in the revival of Andrew Lloyd Webber's Cats at the Neil Simon Theatre. This one-night-only appearance will mark the first time an actual kitty has appeared in the show.
"Being selected as the first real cat to perform in Cats on Broadway is an honor. I hate it," Grumpy Cat "said" in a statement. "If I'm really being honest, I'd prefer to play the Phantom in The Phantom of the Opera."
Some outlets were actually confused about which Lloyd Webber show the feline would be appearing in—an initial TheaterMania press release said Grumpy Cat would be starring in School of Rock. Twitter met this faux pas, and the "cats"ting news in general, with disbelief:
The feline's trademark scowl is actually a symptom of feline dwarfism—Grumpy Cat was born undersized, with a flat face and half sized tail. But judging by her internet notoriety and newfound Broadway stardom, she hasn't let it get her down.