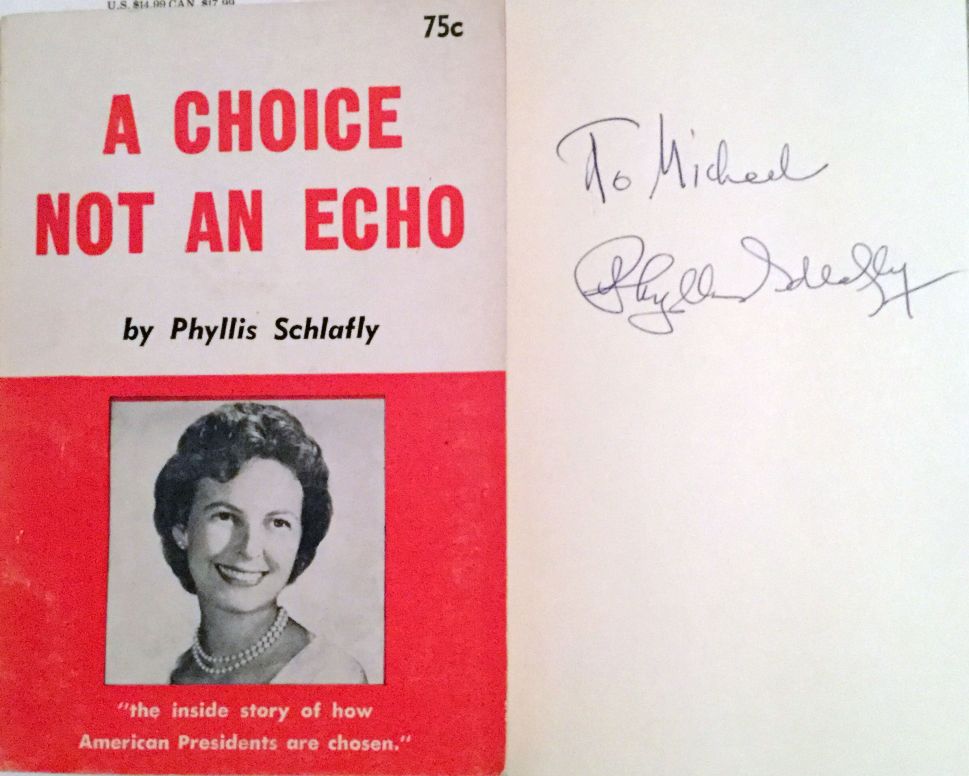 Tomorrow sees the publication of Phyllis Schlafly's final book, The Conservative Case for Trump. Sadly, Mrs. Schlafly—and she would surely insist on anything other than Ms.—passed away today at the age of 92. I recently penned a column for the Observer about Why Phyllis Schlafly Still Matters, and Eagle Forum President Ed Martin sent me a signed copy of her right-wing classic A Choice, Not An Echo in gratitude.
To say that Mrs. Schlafly was an American original is a bit of an understatement. The suffragettes and the (heavily female) pro- and anti-prohibition movements were just that, movements. Mrs. Schlafly on her own had as much effect on the Constitution, as her crusade singlehandedly defeated the Equal Rights Amendment that both parties had endorsed for decades.
Like the UK's Margaret Thatcher, Mrs. Schlafly was a favorite villain of the left. And  like Baroness Thatcher, she relished every single minute of the combat. A few months ago, progressive firebrand Rachel Maddow devoted twenty minutes of her show to Mrs. Schlafly and her influence. Ms. Maddow didn't try to hide the grudging respect she had for Mrs. Schlafly.
It is easy to caricature Mrs. Schlafly as a mere agent of hatred. It is impossible to pretend that she didn't believe in what she was saying, and wasn't having a blast in saying it too. Mrs. Schlafly reveled in attacking feminists. Her speeches often began with, "I'd like to thank my husband for letting me speak here tonight." When she spoke to cadets at The Citadel, she advised them not to get into serious relationships with feminists: "You've got to find out if your girlfriend is a feminist, before you go too far with it. Some of them are pretty; they don't all look like Bella Abzug. So the way to finally find out is to ask her how she feels about Phyllis Schlafly. Then you'll know if she's a feminist or not!"
Yet it was in attacking the GOP that Mrs. Schlafly made her name, exposing as she put it the "kingmakers and their shenanigans." Her book, described as "the inside story of how American presidents are chosen," was a self-published autopsy of how Republican elites controlled every nomination; the recent updated edition carries us through 2012 with the same moxie as in the 1964 original. Millions of copies were printed, and it was a major key in getting Barry Goldwater the nomination in 1964—effectively launching the modern right wing. For better or for worse, American politics wouldn't be anything like what it is without her.