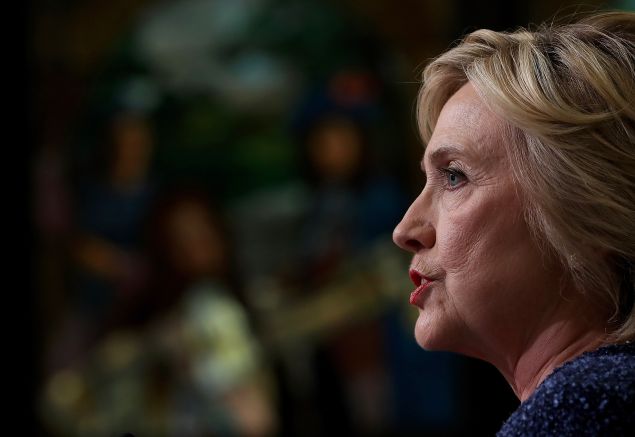 This week started out poorly for Hillary Clinton—but not because of polls. She had insulted millions of Americans who support Donald Trump, calling them a "basket of deplorables." And her "medical episode" left many questioning her transparency and trustworthiness yet again.
Polls early in the week didn't cause a stir. JMC Analytics found Trump up by four points in Florida on Monday, but it wasn't a major poll. The L. A. Times' daily tracker found Trump and Clinton tied on Monday and was largely ignored. On Tuesday—same thing. NBC News released a poll that showed Clinton ahead, though not by much. The L.A. Times' daily tracker showed Trump up by three points.
But on Wednesday, all polling hell broke loose. The Times' tracker now showed Trump up by five points. A CNN/ORC poll found Trump up by three points in Florida when third-party candidates Gary Johnson and Jill Stein were included, and four points in a head-to-head matchup against Clinton. A Bloomberg poll found Trump up by five points in Ohio, regardless of whether third-party candidates were included (the CNN poll also found Trump ahead in Ohio).
It got worse. Trump led in Nevada in a Monmouth poll, and was closing the gap in Maine in a Colby College poll. A Quinnipiac poll also revealed that Clinton has less than half the youth support than Obama had in 2008. Just 31 percent of millennials support Clinton, with 29 percent supporting Johnson and 26 percent supporting Trump.
The bad polls kept coming into Thursday, with a New York Times/CBS News poll finding Clinton only up two points. The Times poll also found Clinton—and Trump—continuing to struggle with young voters, as fully 36 percent of 18 to 29-year-olds said they would vote for either Johnson or Stein (26 percent said Johnson, 10 percent said Stein).
Another big finding in the NYT/CBS poll was the lack of enthusiasm for Clinton in this election. Just 43 percent of Clinton supporters said they were very enthusiastic about voting, compared to 51 percent of Trump's supporters. If the current polls show a correct trend (who knows, given that the election is still two months away), then Clinton could be in serious trouble. If she's down in the polls—or close in the polls—but her supporters stay home, Trump could end up winning.
The L.A. Times' daily tracking poll showed Trump continuing to climb, he now has a six-point lead. Rassmussen also found Trump up two points, but it is a right-leaning polling firm. A Suffolk University poll found Trump up three points over Clinton in Ohio—the third straight Ohio poll to find Trump leading. Finally, a Monmouth poll found Trump up by eight points in Iowa.
That means Trump is now leading in several key battleground states: Florida, Iowa and Ohio.
Now, it's not all bad news for Clinton. That Quinnipiac poll from Wednesday showed her up five points national over Trump in a head-to-head matchup (she was up two points when the third-party candidates were included). A Reuters poll found Trump and Clinton tied, and Clinton ahead by one point in a head-to-head matchup. An Economist poll also found Clinton up two points on Wednesday.
A Quinnipiac poll on Thursday found that voters by-and-large think Clinton is more qualified to be president than Trump. Sixty-two percent of respondents said Clinton was qualified, compared to 38 percent who said she was not. The numbers were reversed for Trump, with 38 percent saying he was qualified and 61 percent saying he was not.
I've said it before and I'll say it again: these polls could be correct, or they could be meaningless. We won't know until election day. They do help to give a snapshot of how a campaign is doing, and could become a self-fulfilling prophecy if Clinton's campaign doesn't do something to turn this ship around.
FiveThirtyEight now gives Trump a 33 percent chance of winning the election. That still gives Clinton a two-thirds chance of becoming the next president, but Trump is climbing, and that should be worrisome to the former secretary of state's campaign.
Disclosure: Donald Trump is the father-in-law of Jared Kushner, the publisher of Observer Media.