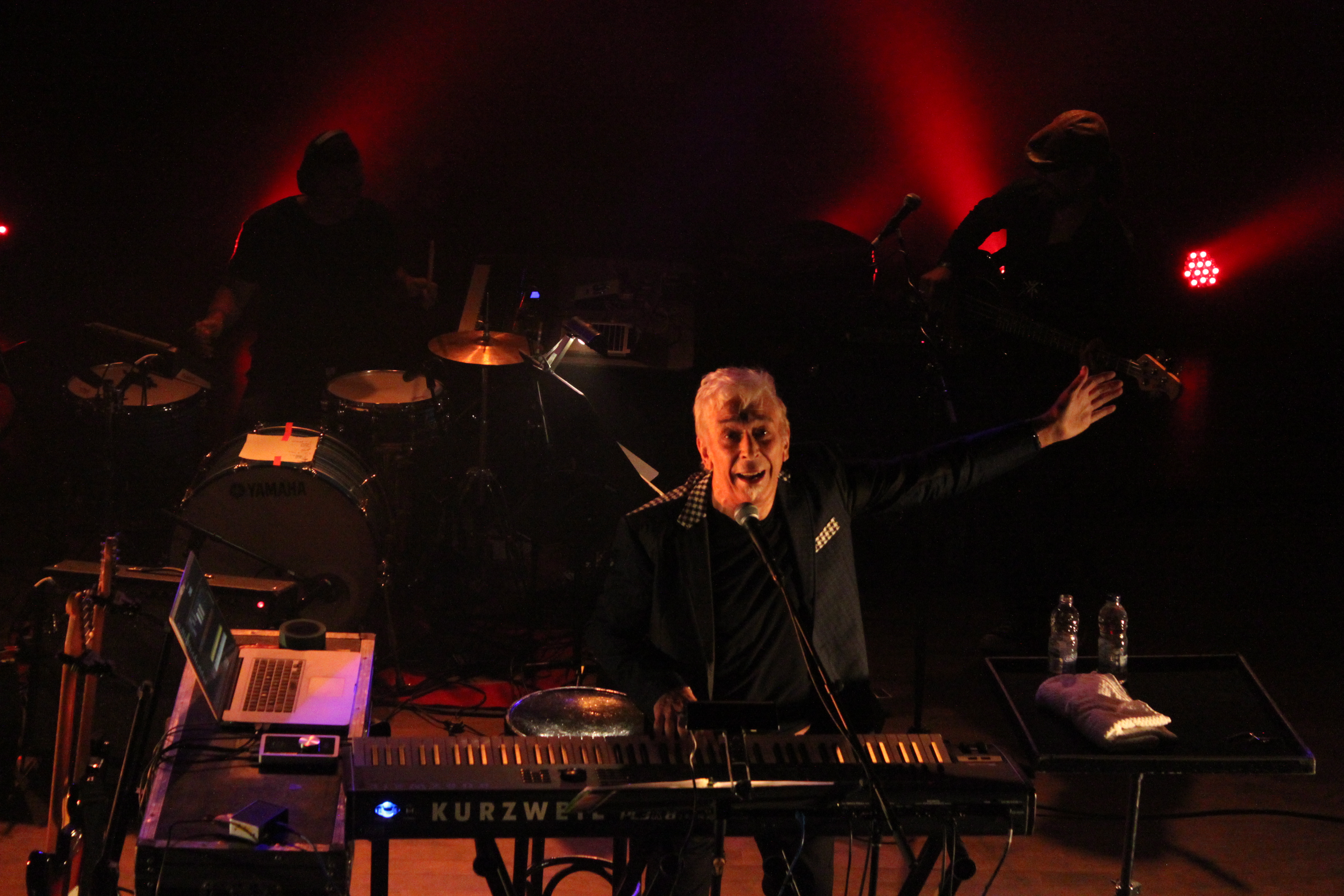 Traveling to Montréal on Leonard Cohen's 82nd birthday last Wednesday felt like a pilgrimage, but it was really just a coincidence. The 15th year of Pop Montréal began that evening—a five-day celebration of music, art, and culture of the city—and the tourism bureau, Tourisme Montréal, was kind enough to send me up for the festivities.
There would be festivities aplenty, too many, in fact, to enjoy everything and not feel exhausted by morning. The tourism folks booked me and the other journalist traveling from New York on a solid, activity-filled itinerary, with evening activities and recommendations either coinciding with the evening's shows or beginning right after. One resident explained to me that winters are so cold in the city that people spend as much time outside as possible while they still can.
So Montréal remains the perfect city for an amateur flâneur to saunter around with a sense of exploratory wonder, even if there's already much to do. And for this Leonard Cohen fan, the lyrics from 69's "The Partisan" tattooed on my arm—"the frontiers are my prison"—mean making time to explore and just walk around was key, itinerary or no.
But Cohen's neighborhood of Westmount was far from the young, hip neighborhoods of Mile End, Mile Ex and The Plateau, where the vast majority of Pop's programming would take place, and I again failed to make it over there. Old Montréal was much closer, where Cohen first met "Suzanne," but the Café Helios where they shared tea and oranges has long closed. And to find the Chapelle Notre-Dame-de-Bonsecours, the sailor's church adorned by the angel who Cohen calls "our lady of the harbor", you've got to walk through blocks of gift shops selling maple syrup and t-shirts screen-printed with cartoon moose. To see the sailor's church is still a sight for any Cohen fan, as the lady still towers over the commerce of tourism and looks out on the St. Laurent River to bless travelers. The zip line adjoining the IMAX across the way might actually be taller, but the lady still catches the sun, which still pours down upon her like honey if you look at it just right.
But isn't that all just a bit bougie? "Leonard Cohen is really more of an anglo thing," Wolf Parade's Dan Boeckner explained to me over the phone after I got into town. "Anglo Montreallers have embraced Cohen across the board, but who doesn't listen to him?"
'You can't just come in and buy up a block of buildings and set up an artisanal mustache waxing shop.'—Dan Boeckner
Boeckner's not born and bred Quebecois—he's from Vancouver Island. But like many of the most talented musicians to find their footing in Montréal, he's embraced the unique cultural juxtaposition between Anglophone and Francophone cultures. Frog Eyes' Carey Mercer hails from Vancouver, too, as does Grimes, while Mac DeMarco hails from Edmonton, Alberta, and Arcade Fire's Win Butler came all the way from Texas. But it was in Montréal where they discovered they could satisfy an international crowd, that they could stay warm in a city happy to provide countless spaces for music and art but also unwilling to make any cultural compromises.
"In a lot of ways, Montréal is 50 percent gentrification proof," said Boeckner. "You can open up an artisanal grocery store, but there's still gonna be super sketchy apartments and landlords. The communities that live in these neighborhoods are so entrenched and have been here longer than the latest wave of gentrification, so the language barrier puts a cap on how much you can gentrify. To open up things that are for lack of a better word 'cool', you can't just come in and buy up a block of buildings and set up an artisanal mustache waxing shop."
After talking to Boeckner and picking up my press credentials at École des Beaux-Arts, it was time for a dinner with our Tourisme Montréal liaison Stéphanie at the greasy-spoon diner Nouveau Palais. Then I headed to La Tulipe, an old theatre in the Plateau district. L.A.'s The Allah Las were headlining with their rockabily-garage-psych songs, but I crossed under La Tulipe's gorgeous illuminated marquee and through its doors to see the local openers.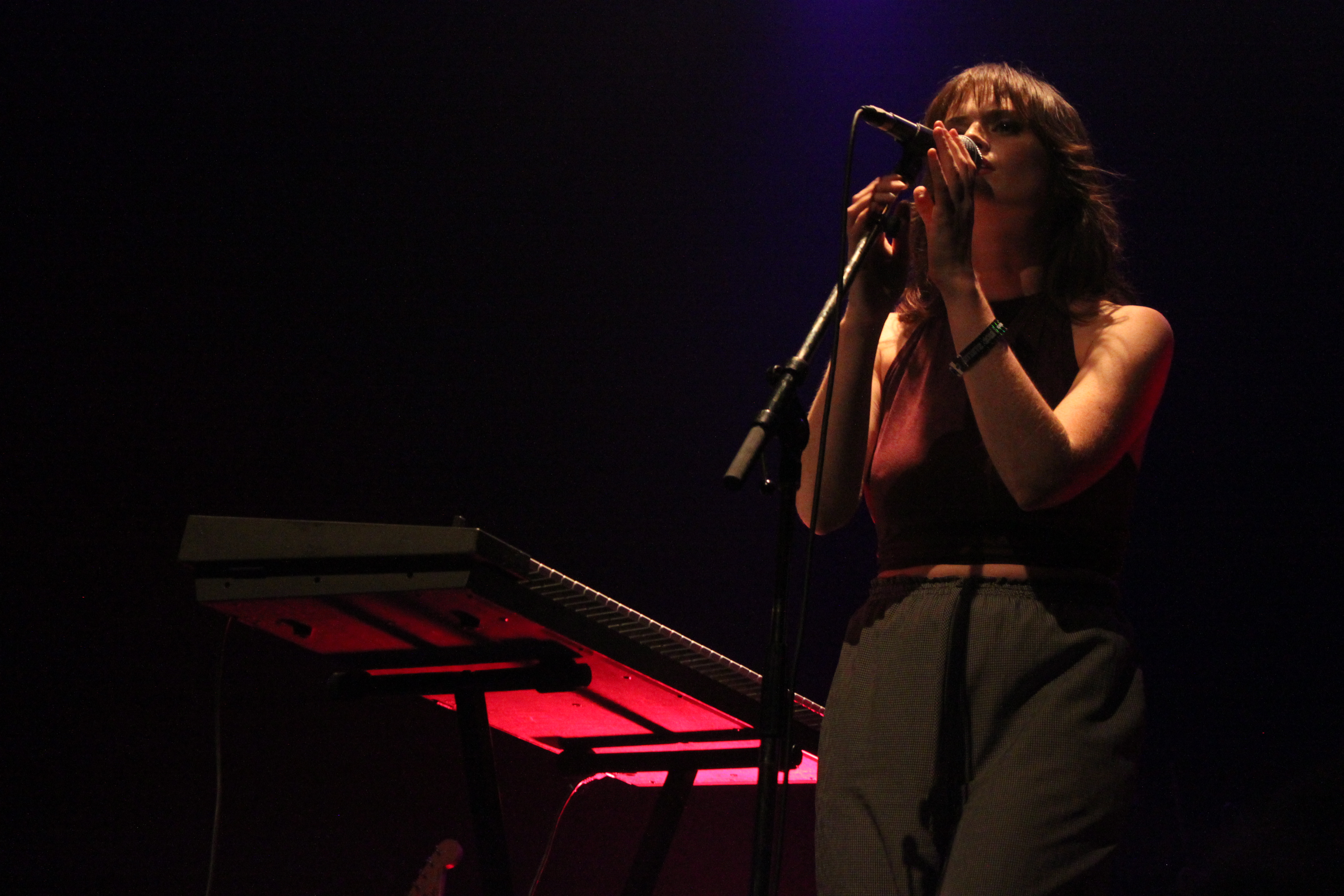 After a fun opening set from Montréal's Corridor (think Gang of Four and The Jam), TOPS took the stage. Singer, keyboardist and guitarist Jane Penny's deceptively fragile voice first caught my attention when she co-fronted a much siller, synthier, poppier group called Silly Kissers up until they disbanded in '11. Sean Nicholas Savage, who also fronted Silly Kissers, went on to a successful recording career of his own, and both acts are signed to the Montréal -based label Arbutus Records. Memories of seeing Silly Kissers open for the late, great local band Think About Life at Arlene's Grocery in 2009 for M pour Montréal's CMJ showcase, Savage wore red long-johns and mime makeup, unabashedly hamming up la spectacle, and Penny played it cool.
With TOPS, Penny takes the lead on her own in an unassumingly hypnotic fashion. Choosing to only perform two cuts from TOPS's last release, 2014's Picture You Staring, we were instead led through a set of new ballads and slow-jams, transforming the bottom floor of La Tulipe into prom night at a gym in some David Lynch movie. A Francophile crust-punk teen standing next to me was doing her damnedest to sway respectfully, but commented aloud to her friend that TOPS reminded her of the Canadian character Robin from How I Met Your Mother and her "Let's Go to the Mall!" music video that became the butt of many gags.
The crust-punk wasn't wrong to comment on the kitschy sounds of Penny's old synthesizer, a generally lo-fi pop vibe that TOPS certainly makes no effort to shy away from. But what she's missing out on is the value that TOPS brings to pop music—that a band could make music so compositionally tight and catchy yet un-ornate, bolstered only by the lushness of its realization through Penny's voice. Though she sings in English, Penny's effectively embracing the chanteuse archetype with the perceived shyness and vulnerability in her singing, liberating it of any modern production tricks, presenting it plainly and purely. In a city that thrives so much on its cultural duality, TOPS provide the perfect soundtrack.
[vimeo 9746053 w=640 h=360]
TOPS proudly acknowledge on the back of their Picture You Staring that they'd received financial support of the Government of Canada through the Department of Canadian Heritage's Canada Music Fund and Canada's Private Radio Broadcasters. Such support may not be 'punk', but it's surely something remarkable and unfamiliar to U.S. artists. Can you imagine how different the cultural landscape around independent music would be in New York if the city set aside money for musicians? I'd learn later on this trip how that used to be the case.
The next day we saw the city through food.Danny Pavlopoulos and Anne-Marie Pellerin, have only been hosting their Spade & Palacio food and bike tours for less than two years, under their assumed nom de guerres. but they continue to remain a hot ticket because the groups are small, the tastings are generous and the merchants you visit welcome you like old friends.
Pellerin was our tour guide for the fantastic "Beyond The Market" tour, and she showed us that friendliness immediately after she met us, smiling, outside Los Planes. Los Planes is her favorite spot to grab an El-Salvadorian Pupusa in Montréal, and the fact that she took us to a little, innocuous hole in the wall we might otherwise not have noticed speaks volumes not only about Pellerin's vibe of amicable hospitality, but to the hospitality of the whole city.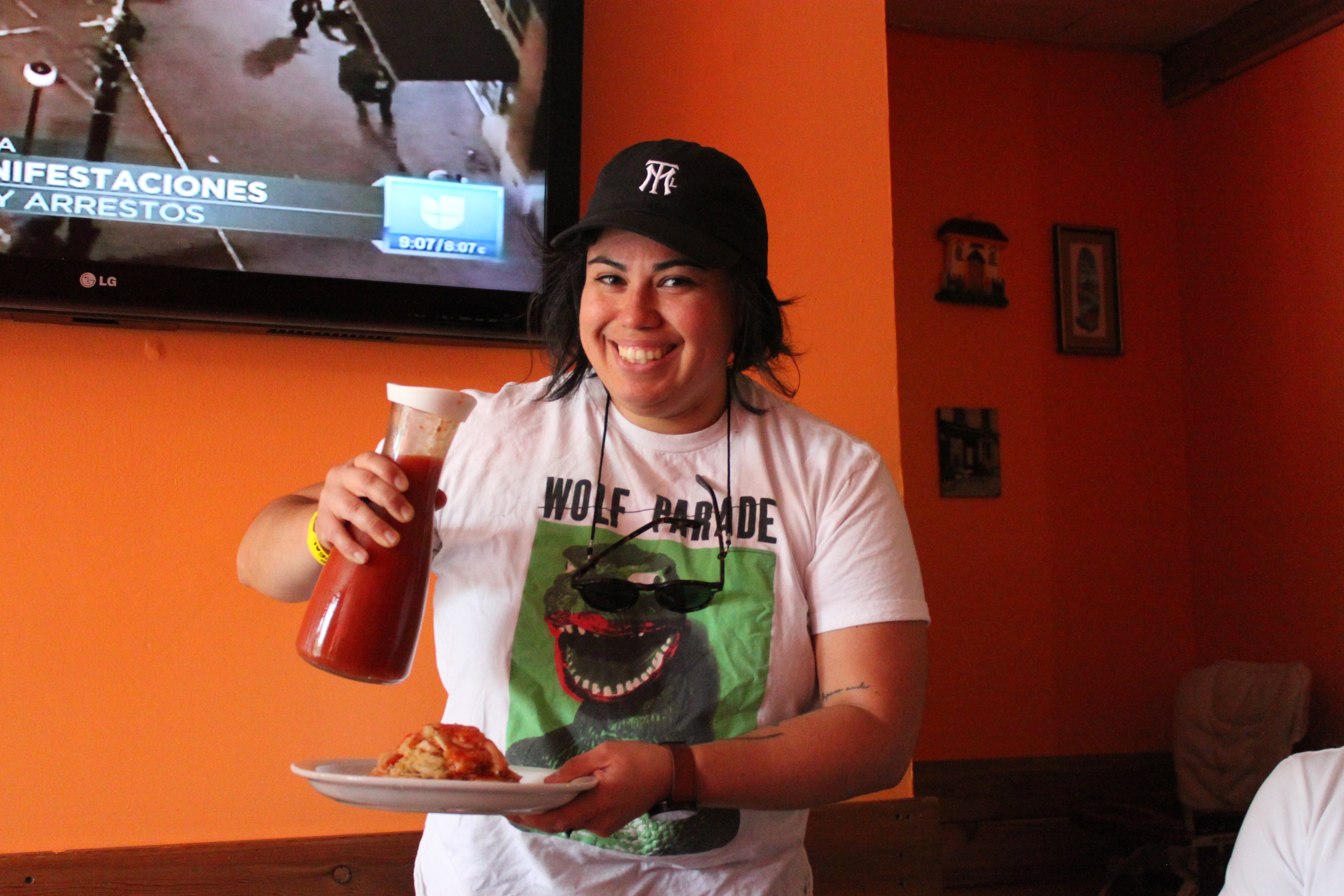 Which is to say, these aren't places that are used to tourists, and even during our stop at the famed Jean-Talon Market, we're treated like locals. After some stinky, unpasteurized cheese we learned the story of spice mecca Épices de cru from Pellerin, and the clerks smiled as she passed around tins of rare spices from around the world for us to smell. At Les Cochons Tout Ronds we went behind the counter to sample a charcuterie of rare cured meats including special thyme and paprika rolled sausages and a seasonal, cranberry infused sausage that's super popular and was available for the first time of the season on the day we visited.
After a visit to Pellerin's "living room", a large private alcove at Brasserie Harricana where we tried a delicious sour beer of her own creation, we ventured through the upcoming Mile Ex neighborhood and grab what she calls the best cup in Montréal at Dispatch Coffee. No one disagreed. With its giant roasting machine looming in the back, Roastmaster Chris Durning explained the history of Dispatch's blends and how they're looking out for the sustainability of the coffee bean as disease and poor cultivation threatened to wipe it out in countries whose GDP largely depends on the export.
Pellerin ended things with a small taster of Dinnete Triple-Crown's picnic basket (delicious fried chicken, sweet potatoes, hush puppies avec hot sauces and accouterments) that we enjoyed over a red and white checkered table cloth in Parc de la Petite Italie. You're allowed to drink in Montréal parks if you're also eating food. Never forget this, as a bag of potato chips will reportedly suffice.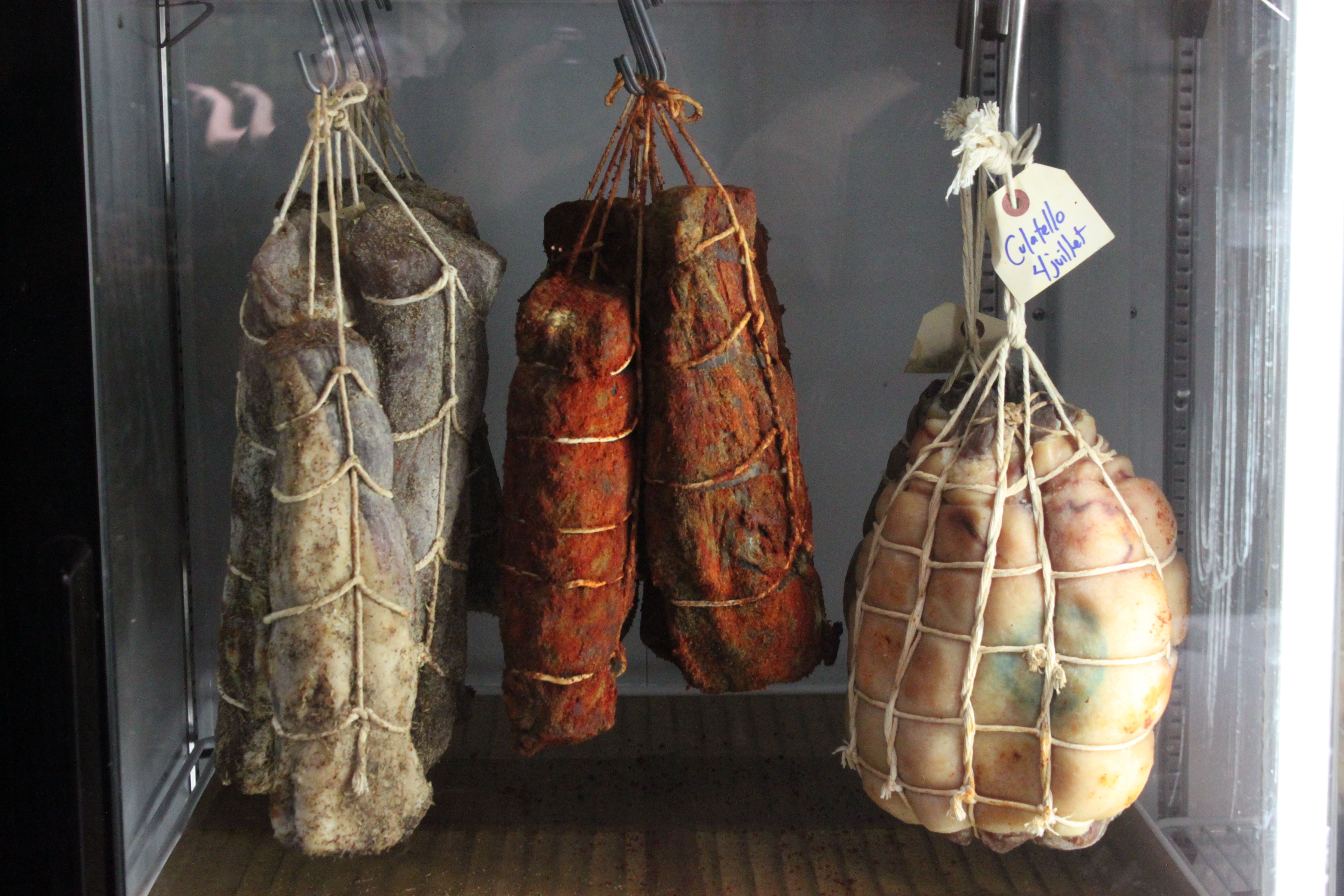 A self-professed music fan in her Wolf Parade t-shirt,Pellerin made recommendations of local artists worth checking out at Pop between stops in the tour, including Beyries, Foxtrott and Kroy. Not making it to see these artists was my greatest regret, as I'd already stubbornly set plans for so many artists I wanted to see.
Walking from Little Italy back to Mile End, I passed bookstores and bars, shops and street art. Neither Phonopolis nor Sonorama on Bernard had the new Nick Cave album, which is also sold out everywhere in Brooklyn, so I kept exploring and settled on a Mexican restaurant down Parc in the middle of a largely Hassidic block. When the doors opened I walked into the stunning Le Theatre Rialto, with its Louis XVI-style adornments, and ascended the steps to the balcony for John Cale.
Much like the city of Montréal, Cale's music simultaneously embraces history and the high-arts while rejecting nostalgia and the gauche retreading of sounds. Best known to the average listener as the droning violist in The Velvet Underground, Cale's solo career has since eclipsed his output with Lou Reed several times over, and his classic albums like Vintage Violence, Paris 1919, Fear, and Music For a New Society stand on their own as compositional masterworks.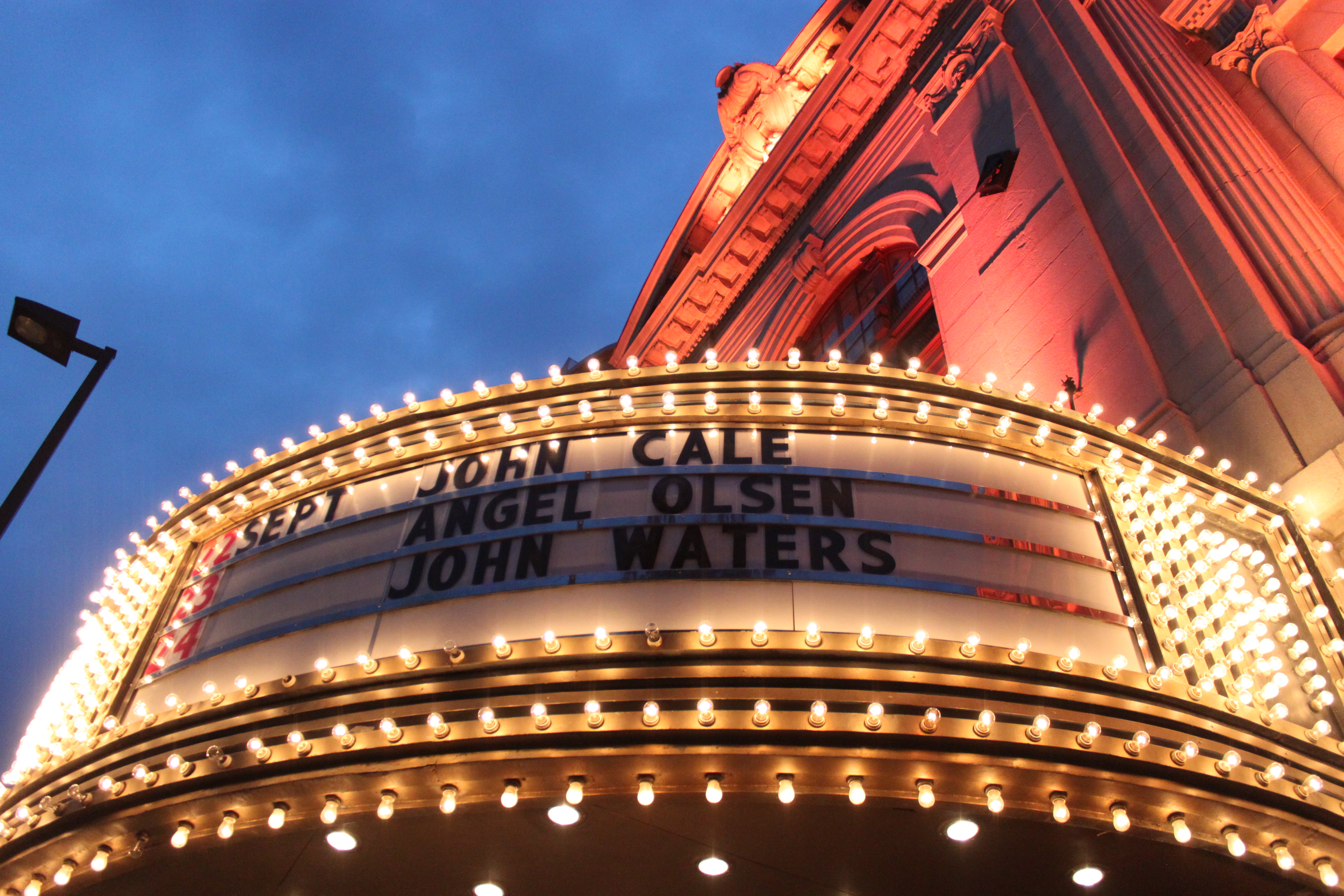 Cale's performance demonstrated that even at 74, the man still feels no wistful impulse to look back on the past. Earlier this year he released M:FANS, a reworking of his '82 album Music For a New Society, alongside a re-release of the original recording. And his set featured re-workings of other classics—Paris' "The Endless Plain of Fortune" became a muscular, glammed-out exercise, while "Hanky Panky Nohow" became an thematically awkward sing along, with the tripping teens in cowboy hats who bum-rushed the stage swaying their arms until we all joined in. "That Dirty Rock'n'Roll" meanwhile, became a call and response to the word "hypodermic" that sounded utterly perverse in the applied context of glorifying heroin. Cale's history with opiates is no secret, and he hosted the documentary Heroin, Wales and Me to explain how much of an epidemic the drug has become in his home country.
Maybe this explains his subversive re-imagining of the velvets classic, "I'm Waiting For My Man", where Lou Reed describes his frustration at trying to find heroin over a steady street shuffle. Cale's "Man" was repurposed as a much darker tale, in a minor key, full of brooding and foreboding.
In a conversation at Musée des Beaux-Arts the next day, Cale explained his itch to re-record. "For me, I've got to do something different, I don't want to remake any previous examples," he said. "It needed to be at least as disturbing as the first, and in a new way."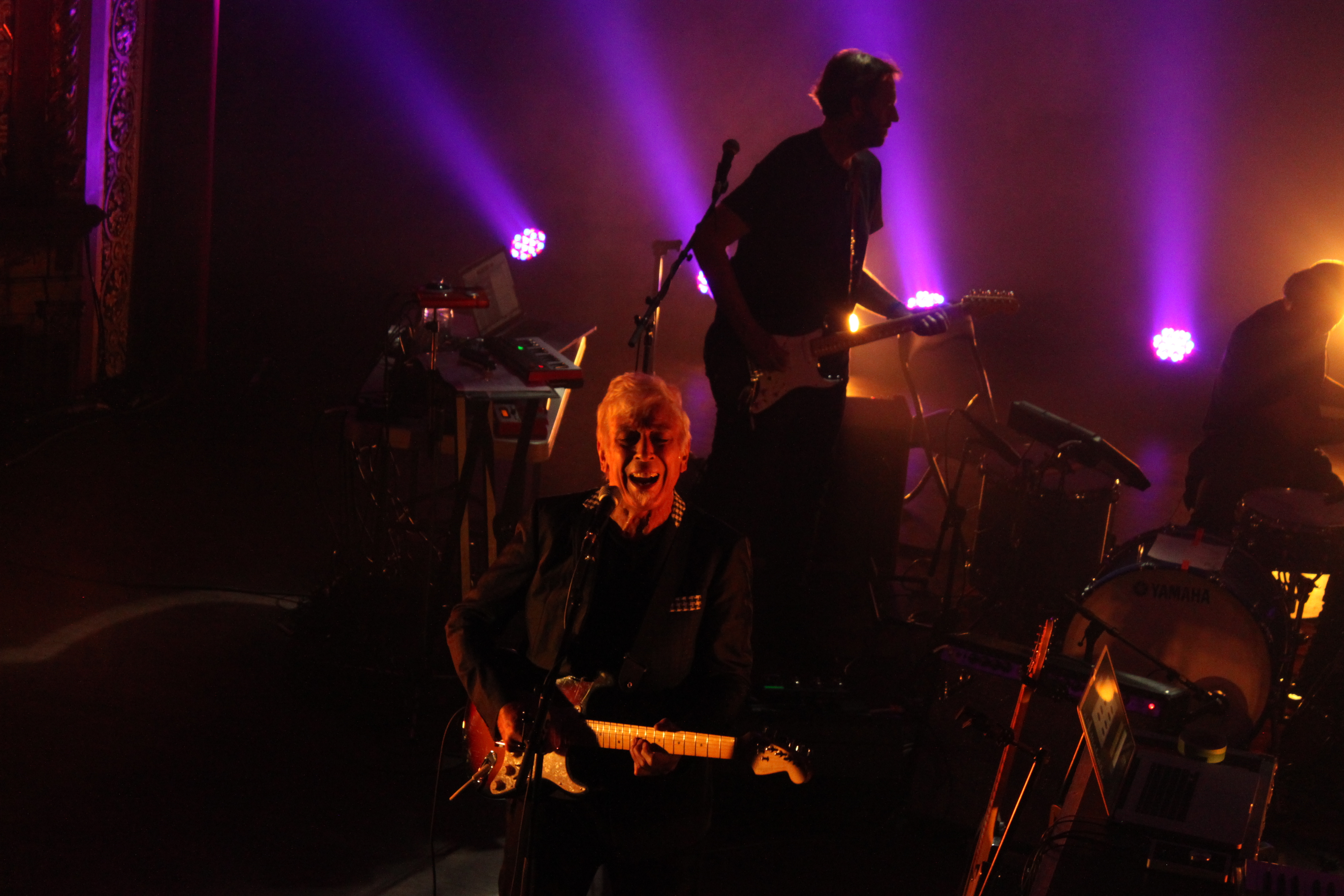 Cale also recalled a time when he had stopped drinking for two months and had to record a band, only to discover they were strung out. "I didn't realize that all the band were junkies, to tell you the truth," he said. "The stupid manager didn't say anything. We certainly discovered that the bass player was losing his sense of identity right in front of us."
While not directly about Montréal, Cale's conversation nonetheless illuminated many of the things that make creativity so vital to the city. Recalling a bygone New York and it's relationship to artists in the '60s immediately made me think of Montréal, with its churches regularly hosting shows and record fairs and artists markets, with its government setting aside funds for musicians and shutting down whole blocks downtown to host festivals for weeks on end.
"In those days you had these amazing things called A.R.s, Artist in Residence certificates," he remembered. "There were a lot of derelict buildings downtown in Manhattan, industrial buildings used for sewing or making furniture and clothes. They were becoming abandoned, and if you could prove to the city that you were a poet or a painter or an artistic person, they would give you a break on the rent. So you'd go down there, show them a poem, and then you'd have a sign up on the door, and that was it, you were as fine as the rent was concerned."
If it all sounds too far-fetched and romantic now with all the rising rent prices and shuttering small-businesses, it didn't used to. But that still counts as looking back. And for Cale, who counts himself as a fan of hip-hop and one day hopes to collaborate with Chance the Rapper, music is about pushing ever forward. Consider his longtime drummer, Deantoni Parks, who has previously played with acts as diverse as The Mars Volta and Flying Lotus. In Cale's band Parks might be summoned to a sampler and back to his kit on the same track. That versatility remains vital toward Cale's insistence on embracing modernity, values he learned from being part of the same interdisciplinary post-Beat, pre-hippie scene of the early '60s that birthed George Maciunas' radical Fluxus art collective.
Cale gave Maciunas credit for helping artists move into the lofts of Tribeca and Soho back then. As an architectural student, Cale explained that Maciunas knew which buildings would stand the test of time and which wouldn't. "He made it possible for Andy and The Factory to be a protected situation," said Cale.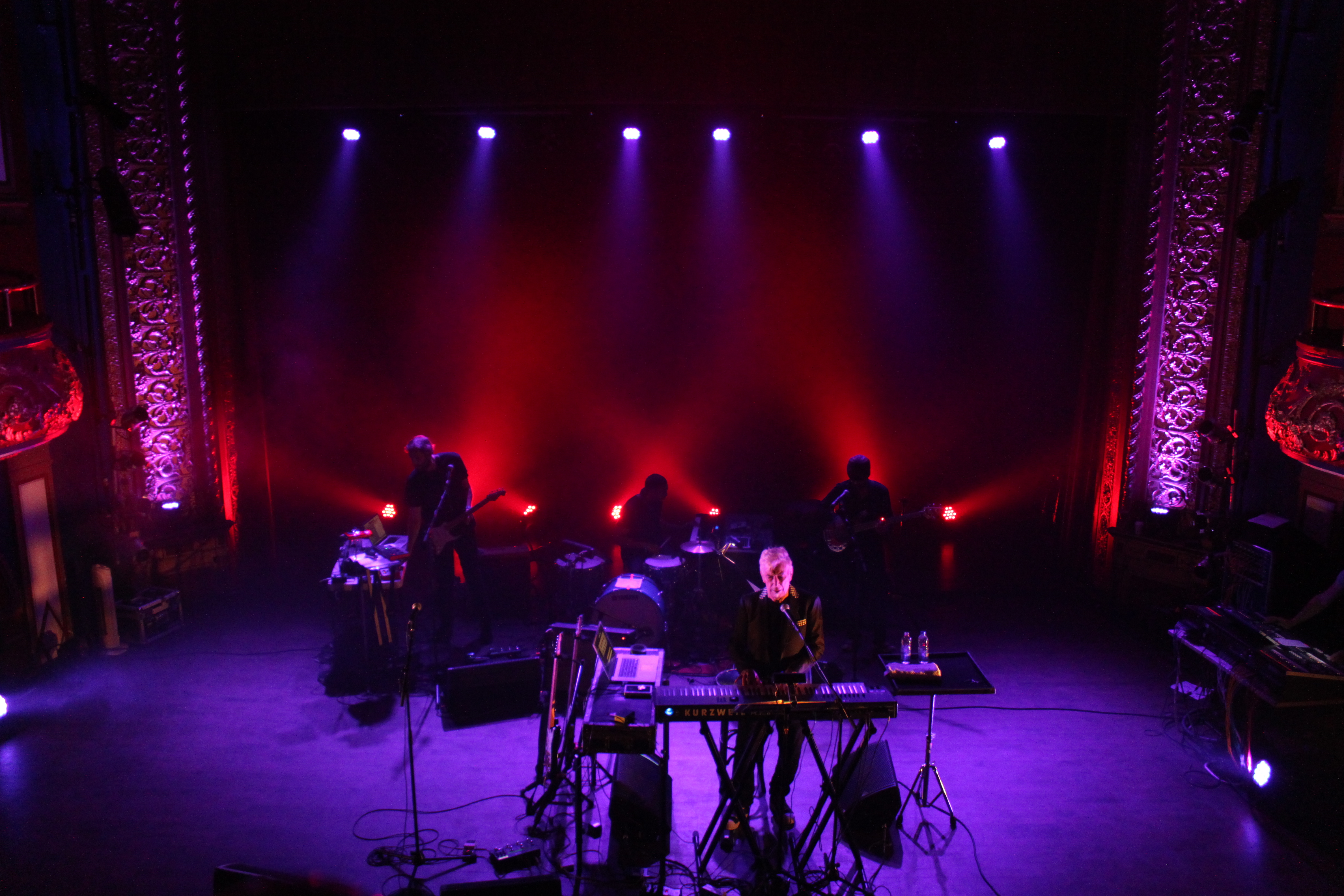 A protected situation, sure, but also a communal one, wherein creative work was interdisciplinary and cross-collaboration was encouraged. Reflecting on his piece in The Guardian about The Chelsea hotel in the Guardian, Cale said that a cultural scene "needs somewhere that people can gather, and it's not that you have to think about providing it, it'll come on it's own accord, people will find where."
Where was that gathering place in Montréal? There seemed to be several. When we talked last spring about his new project, Operators frontman Dan Boeckner explained to me how close all the heavy-hitter Montréal musicians were living to each other. "On this corner is a house and apartment block, and Win and Régine lived here," he showed me on a map. "Wolf Parade rehearsed in the apartment that they lived in, so did Arcade Fire. So a lot of Funeral and most of Apologies got written in this little corner."
Boeckner recommended many other places he thinks are still kickin' spots of congregation in the city, like the afterhours Drones Club, and I look forward to checking them out next time.
Our gathering place after Cale's set was La Sala Rossa, a Spanish resto with a music venue upstairs. Montréal's Laurel Sprengelmeyer took the stage as Little Scream at midnight, explaining that many of her friends couldn't make her late set on a school night with bubbly acceptance before launching into her wonderful art-folk music. Anne-Marie Pellerin found me at the show, too, fondly remembering her love for this room where she first saw Hot Chip way back when and danced all night. Hanging out with our tour guide felt like a continuation of the hospitable vibe from earlier, and we lucked out for being on a tour run by some younger, hipper Montrealers.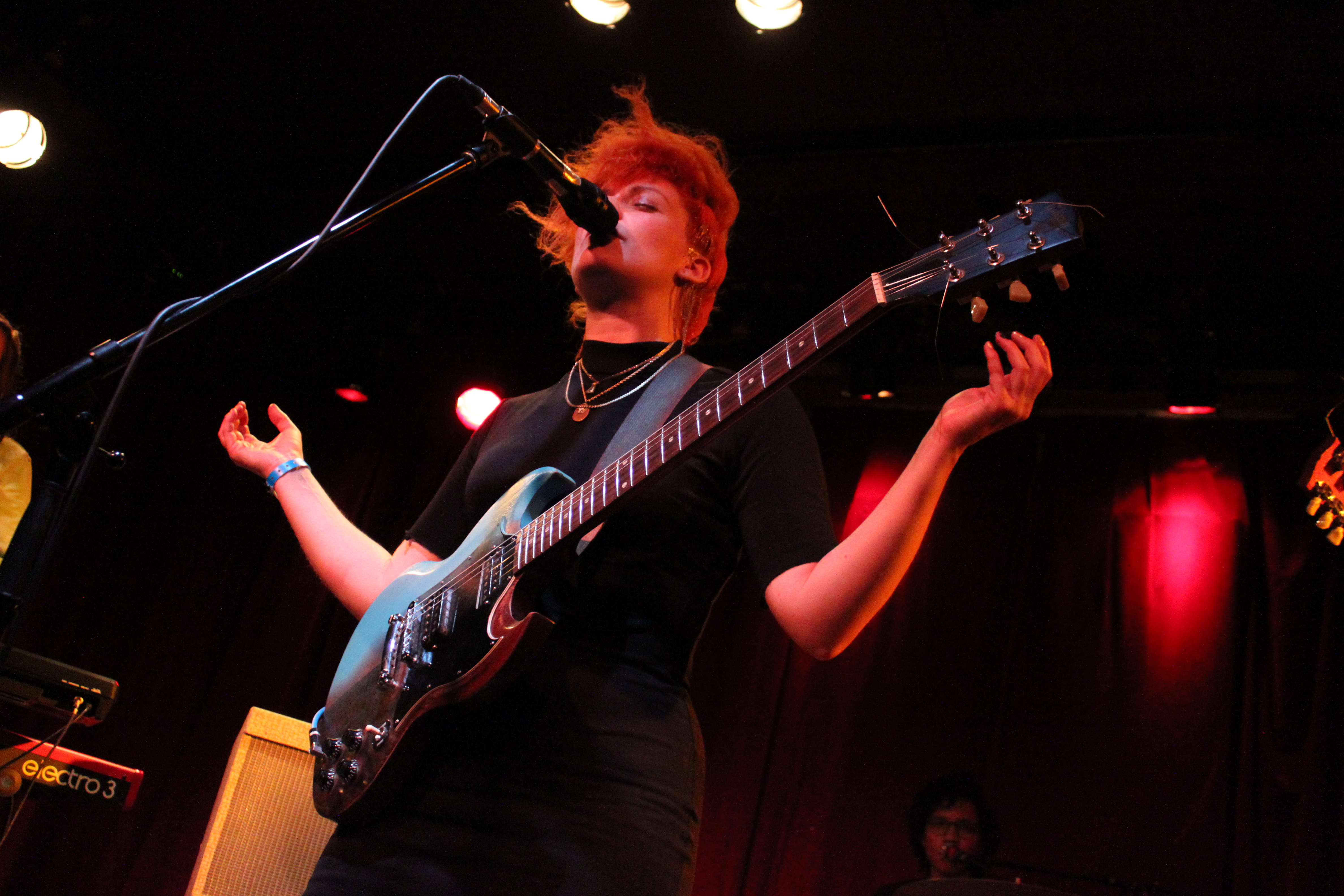 The sense of community came full circle when composer Richard Reed Parry, best known as a multi-instrumentalist in Arcade Fire, took the stage with Little Scream to perform several songs. As the producer of two of her records, Parry knew the songs well, but never gets the chance to perform with her as they're both off doing their own thing. Pop Montréal gave them the rare chance to perform together, and that's what it's all about. Parry even adjusted the bass player's microphone back to its original position as he left the stage, a display of manners you just don't see too often in the states.
Back to Mile Ex the next afternoon for lunch at Manitoba, a First Nations-inspired restaurant that relies on foraging practices to source the main ingredients in its dishes. They're right next to Dispatch Coffee and were kind enough not only to invite us in during the "Beyond the Market" tour, but give us shots of their local St. Laurent gin, aromatic and lovely enough to drink with its notes of seaweed. I had the gin in an elderberry cocktail that afternoon, along with some delicious oysters from Prince Edward Island and a few other delicacies. Then it was off to the Musée des Beaux-Arts for some more culture. Their Robert Mapplethorpe retrospective fed seamlessly into the John Cale lecture, as Cale produced Patti Smith's first LP, Horses, in '75.
During the question and answer session, someone asked Cale what his relationship was with Leonard Cohen. Cale famously covered Cohen's "Hallelujah" on I'm Your Fan, a tribute compilation released in '91 by the French music magazine Les Inrockuptibles. Cohen requested a couple of years ago that he'd like the song to be retired, and Cale said all artists have a couple of those.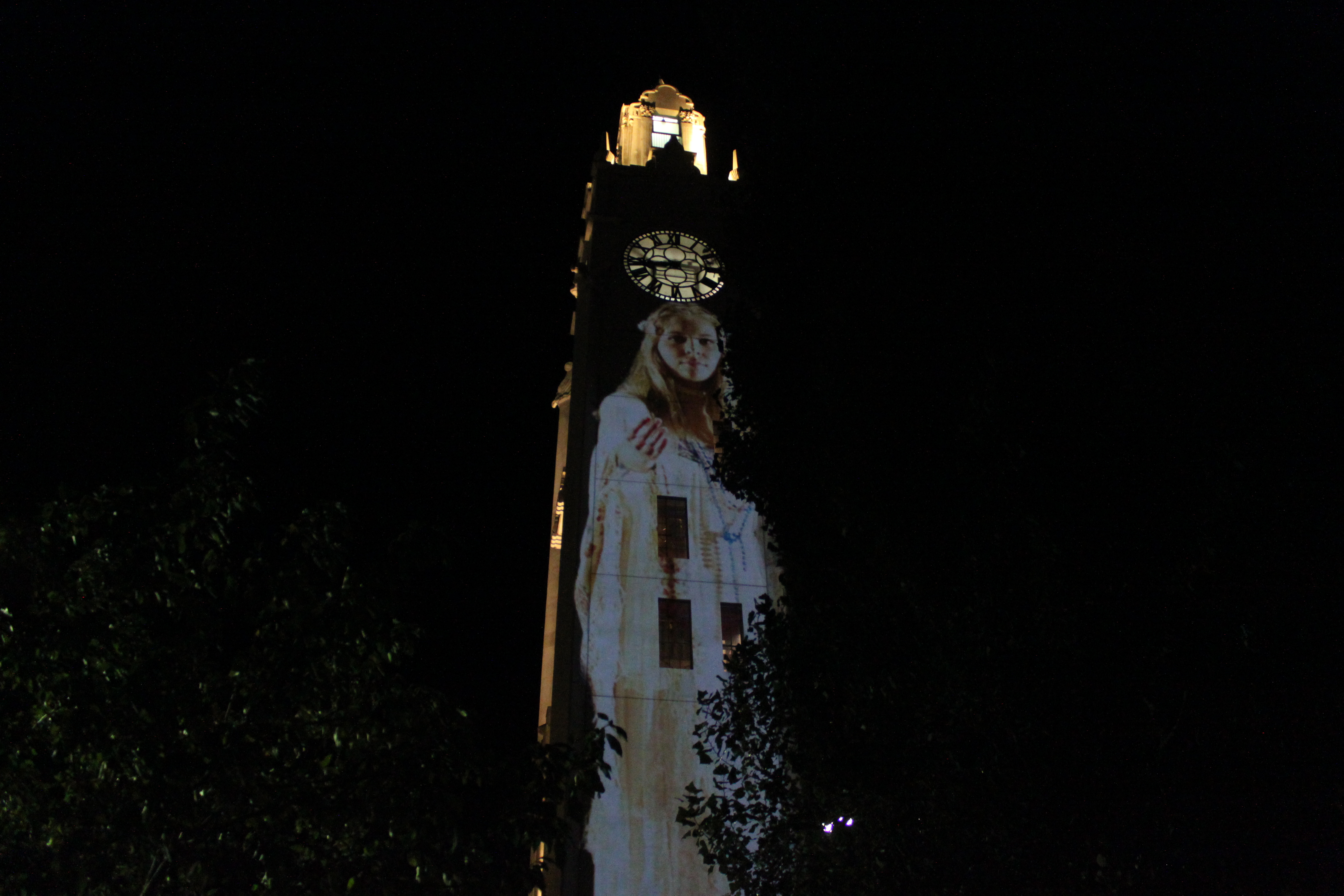 "Yeah, I'd met Leonard before, we had some friends around Bob Dylan we'd run into, and I knew Leonard in London during the punk days," said Cale. "I had some friends in New York that knew him when he used to perform for the Israeli Defense Forces out in the Sinai. He was on WBAI for what seemed like ages with "Suzanne", then I went to the Beacon theatre and he was there with a big band, I think he was opening for Dylan again. And I heard this song, just vaguely remember the chorus. I remember how stately it was, how well-balanced."
Cale's anecdote re-invigorated in me the desire to ventre back to the old port, to the clock tower overlooking the river, where Stéphanie from Tourisme Montréal told us we could find an homage to "Suzanne" at dinner a few days prior.
There was an app you had to download, she explained, called Montréal en Histoires, which provided narration for the video projections. Across buildings throughout the old city, the videos illuminated the history of the neighborhood and told Montréal's story. The clock tower was further out from the circuit, though, past the gift shops and the brasseries and the Cirque du Soleil, through a parking lot and out as close to the water as you can go, to the Clock Tower beach whose workers went on strike all summer for better wages and rendered the scenic beach useless.
Projected on that tower, beckoning you toward the water in her flowing white dress, Suzanne stood tall. As the song played through the app and the narrator described a surreal dream-scape, the old port got back a bit of its wonder. I had to walk past all the tchotchkes and souvenirs to find a tribute to The Poet Prince of Montréal, but it was worth it.
Another trait to the Pop Montréal's programming is that the shows are lively—people move, they chat, they're excited to be there. All good things, but in a larger venue, a younger crowd can be distracting. Local act Best Fern struggled with the chatter but remained tremendously grateful to be playing the Rialto, as was Rodrigo Amarante. Amarante, a creative brother to Devendra Banhart who released his wonderful Ape in Pink Marble the same day, sang next in Portuguese, French and Spanish and did his best to subdue the crowd. You may know him from Little Joy, or more likely from his theme song to Narcos.
It was an energy that Angel Olsen quieted all on her own, with her timeless croon and her muscular backing band. I counted three guitarists including her, a drummer, a bassist, and someone on keyboards/backing vocals.
After catching Olsen on Bleecker Street at Le Pouisson Rouge back in '14 to celebrate Burn Your Fire For No Witness, her blend of riot-grl guitar songs and lovesick, existential country music made more sense, but playing tunes from her recently released My Woman at the Rialto, she blurred those genres toward meaninglessness even more. Just when you're feeling hushed and subdued, songs like "Heart Shaped Face" and "Not Gonna Kill You" expand into widescreen, the full sonic boon of her accompaniment filling the gilded palace from cherub to cherub. "Shut the fuck up," she deadpaned at one point between songs. "Just kidding, have fun. Meet someone tonight. Get laid!"
The next night at the rialto, legendary camp auteur John Waters regaled us with anecdotes from his storied career. He recounted getting to Montréal for a show once at Coop Katacombes when the whole city was shut down during the blizzard. It was illegal to go outside it was so cold, he said, but his fans came anyway.
At one point during the Q&A someone asked him how they can get by being a weirdo in today's world, and he suggested they find other weirdos so they wouldn't feel so weird. Everyone's an outsider these days, he reasoned, but the far more subversive move is to act like an insider.
Those words were still fresh when we headed to Casa del Popolo next, a hopping bar with a mini-zine dispenser and a backroom hosting Pop shows. Owned by the same folks as La Sala Rosa and La Vitrola, Casa del Popolo is the premier tiny room for music in town and makes that block of St. Laurent Boulevard a veritable district. Best Fern told me the night prior that it was their favorite tiny spot to play in the city, as the crowd was always respectful, the sound was great and you could see everyone.
You couldn't have picked a better place to close out Saturday night. I walked in to catch Belave, the project of Devon Welsh and Matthew E. Duffy, who released their first album in '14 but were resurrected in March when they released Indigo, Streams, Lash.
Welsh is much more well-known for the recently defunct Majical Cloudz, his collaboration with Matthew Otto that also included Duffy through the release of '11's II, after which he departed. Upon releasing the second Belave album in March, Welsh explained how Belave was different from Majical Cloudz. "I think with this project we are always trying to create our own world and make something that we have never heard before," he said. "It's definitely a science experiment, and I think we are hoping for new discoveries."
Ranting out prose that he read from a computer screen in between skronks from his horn, White made no effort to hide his sense of experimentation. Welsh played in the background during the set as White's proclamations continued to wrinkle his ruffled shirt, open in the middle like the costume of a colonial re-creationist gone mad. This was the subversion that Waters talked about on display—White enunciated each word and each flailing of his arms with such purpose, such certainty, that he was in on his own schtick. And that made the performance all the more resonant, all the more impossible to ignore.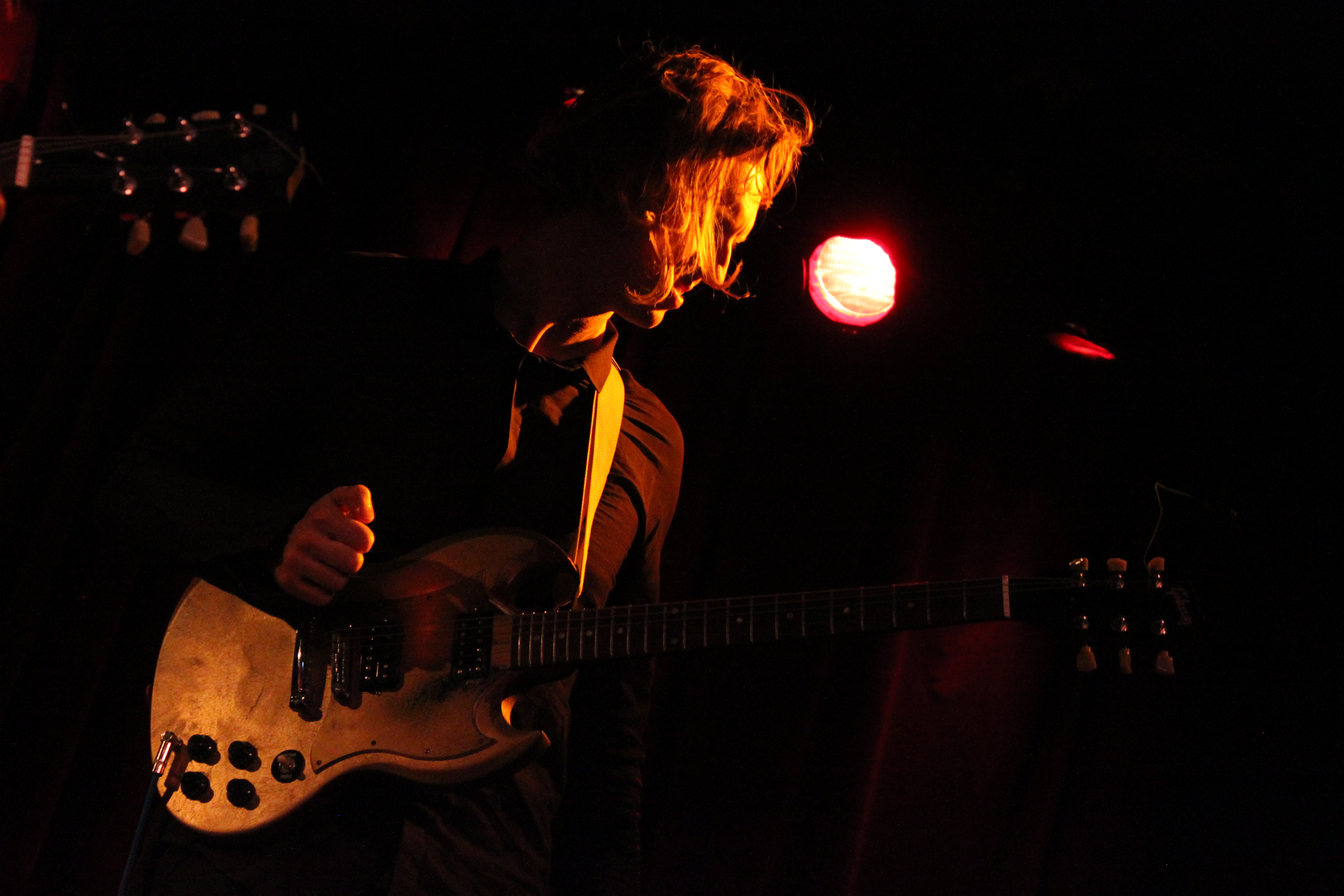 Closing out the night was Devon Welsh's solo set, and I overheard some Majical Cloudz fans mourning the demise of that project that was beloved by so many. Describing a tussle through the sheets with a lover during "Songbird" and a depressed humorist during "Comedian", Welsh weaved personal narrative into his songs with only his keyboard, loop pedal and a microphone. It's been said that Majical Cloudz possessed an ability to turn large stages into uncomfortably intimate settings, but there in Casa Del Popolo's tiny, packed back room, it all felt right, the perfect intersection between scene and song.
Welsh's confessional style of singing was further complemented by his perfect voice, which effortlessly glides between vocal ranges and hits all the notes with perfect enunciation. I'm endlessly fascinated by his ability to take the loop pedal and synthesizer, tools often used to mask or layer songs so that they further distance the performer's presence from the music, and transform them into instruments of intimacy. That's subversion we can all get behind.
These sets also reminded me of something else that John Cale said earlier in the week. Asked how he became so attune to empathy and the psychology of the people around him, John Cale gave all the credit to his mother.
"My mother, she was a teacher," he said. "There was an Italian ice-cream maker in my village complaining about how Walls ice-cream was taking over the world, and about how difficult it was going to be for him. They'd come there from the war, they'd settled in with a little cafeteria and all that, and everyone made fun of them because their English was faltering. And my mom said, 'you gotta remember, these people came here and they already spoke three languages. Don't make fun of somebody who has a certain amount of excellence in them in three other areas that you know nothing about.'"
The Anglophone artists I saw at Pop Montreal seemed to be embracing the French aspects of performance, and that's what's so beautiful about this city. When The Observer sent me to cover a panel on contemporary circus earlier in the year, the French-Canadian folks spoke to the emphasis on spectacle and prowess in performance, or 'la prouesse.' When you're seeing Devon Welsh bare himself before you in earnest with an intentionally sparse set-up, or you're seeing TOPS pull off perfect pop compositions without ornate production, that's la prouesse, too. And when you're looking for a city that still cares about its creative class enough to support them both financially and infrastructurally, that's Montréal.