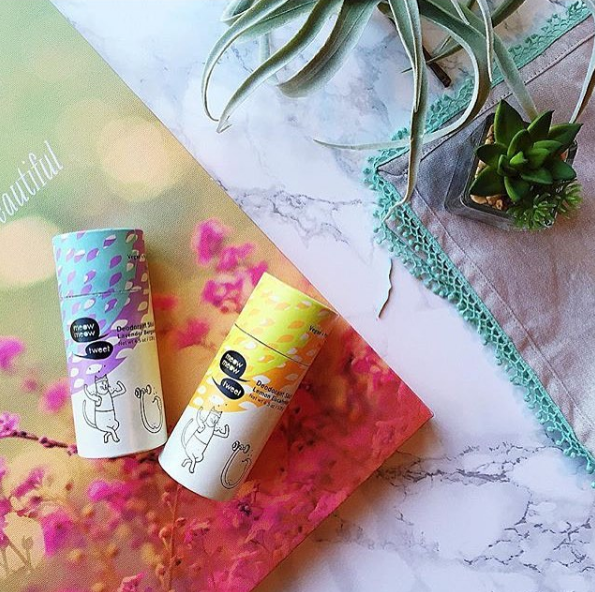 Natural deodorants get a bad rap.
We're both socialized and accustomed to warring against the natural occurrence of our bodies' sweat. It's an instinct that those in the natural beauty space would love to do away with entirely, but not one easy to abandon if you've spent years slapping on antiperspirant. Plus, it can be hard to find natural formulas that actually work.
As if the odds weren't stacked against the category enough, many of these formulas' hero ingredient is sodium bicarbonate (otherwise known as baking soda)—and in the midst of testing these products, I discovered that I am among the faction of people for whom this ingredient causes painful bumps and itchy rashes. Not cute. Even less cute than sweating. So, having chosen a dozen or so natural deodorants to test for the sake of this story, I went back back to square one to find the best options short of this irritating ingredient too. Now, the list is exhaustive with options with and without that common ingredient.
As many of the brands included in this story will tell you, it's healthy to sweat: we just need to bypass the stigma associated with doing so. But why should we? A lot of it comes down to aluminum, an ingredient in most conventional deodorants that we simply shouldn't be putting on our bodies. The ingredient is reason enough to encourage you to throw away your drugstore picks.
It can be easy to ignore the knowledge that deodorants containing aluminum are bad when you just want to stay dry on extremely hot days. But here's the thing: when we shave, we open the skin's pores. This means we're essentially inviting toxic ingredients from conventional deodorant right into our bloodstream and the adjacent lymph nodes that sit right next to the breasts. This is a major deal, as swapping out aluminum-based deodorant is one of the simplest methods of breast cancer prevention we can take.
With knowledge, more and more people are making the shift. The beauty industry is quick to respond to the changing whims of consumers—without a doubt more brands will be advertising aluminum-free deodorants soon.
Kaia Naturals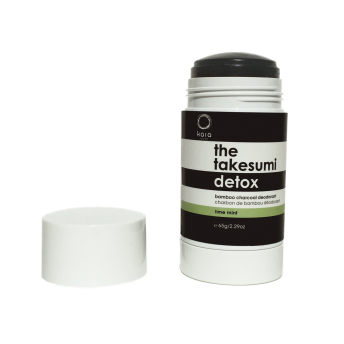 Kaia Naturals' deodorant is reinventing the natural deodorant game, with the creation of their recently launched The Takesume Detox ($21), which they call the first ever charcoal detox deodorant. Takesume (pronounced Ta-keh-su-mee) is an ancient Japanese secret for odor control. Activated charcoal works like a magnet drawing out bacteria and toxins. "It took Mary Futher, founder of Kaia naturals, almost two years to create this scientific breakthrough formula, which suspends activated charcoal in a natural ferment," the brand explained to me. And though the stick is black, it goes on clear and without a trace.  Check out the infographic below for a breakdown of this two to four week armpit revolutionizing process. "Once the detox stages have been completed," however, "the takesumi detox will keep odor away everyday but also work as a daily detox," Kaia notes. I'm a fan and I have put myself on a list to be notified when the cold pressed rose scent is back in stock.
Baking Soda: NO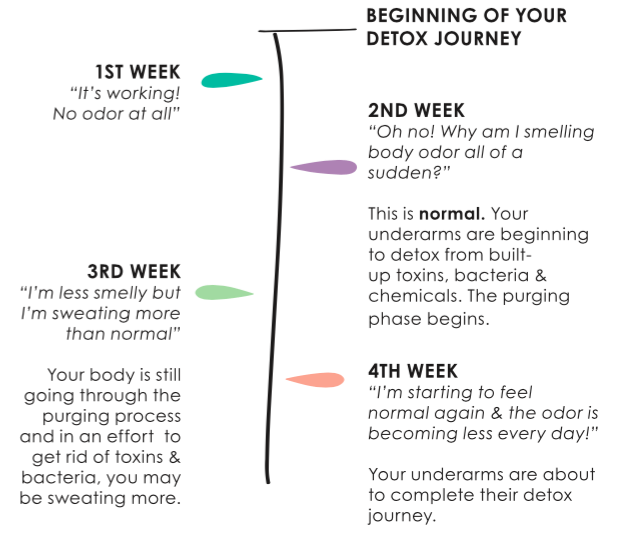 KAI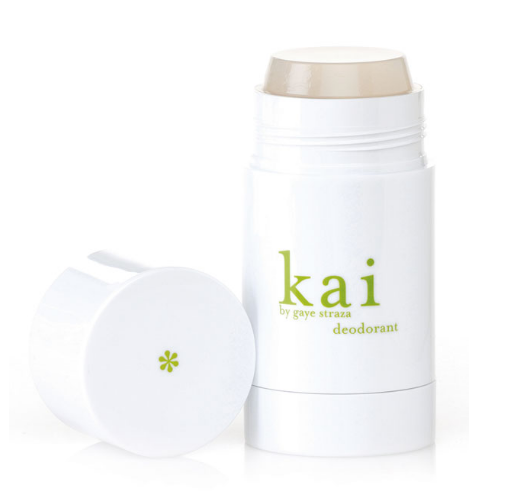 Kai's deodorant ($24) feels highbrow for such a, well, pedestrian product. Its got vitamin E, chamomile, plant extracts, and natural skin conditioning sugars to control moisture. Another completely translucent formula, this deodorant feels safe and glamorous at once— there's nothing hippie about it.
Baking Soda: NO
Ursa Major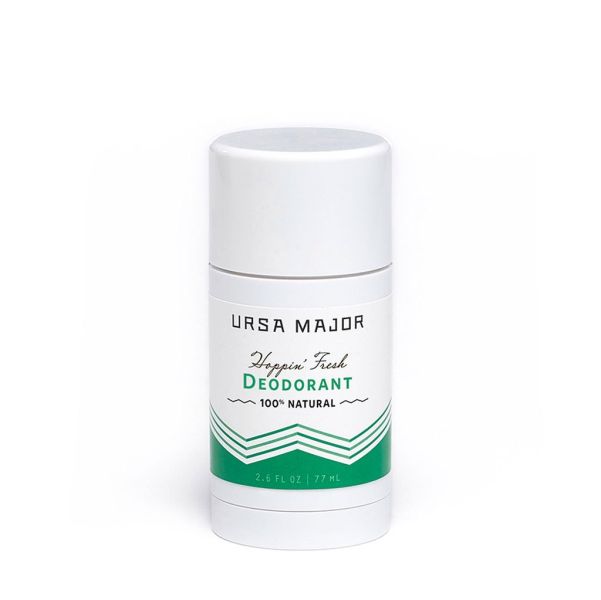 Ursa Major's newly released Hoppin' Fresh Deodorant ($18) smells like a crisp day in Vermont, which happens to be where the line is made. Its namesake ingredient is hops, which fight odor and are anti-microbial and anti-bacterial. Kaolin clay absorbs moisture and helps neutralize odors. Eucalyptus fights odor-causing bacteria, and aloe soothes sensitive skin.
Baking Soda: YES.
Agent Nateur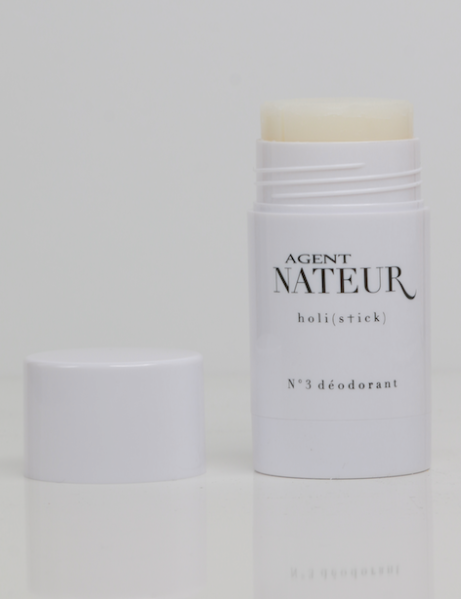 The Agent Nateur Holi(stick) ($19) is the brand's only product—and it's worked its way up to cult status. Jessica Richards, founder of Shen Beauty cites it as a favorite, and she's not the only cool girl to do so. The fragrant lavender, eucalyptus blend contains food-grade ingredients: coconut oil, beeswax, sunflower butter, raw organic honey, avocado butter, lavender essential oil, and eucalyptus essential oil.
Baking Soda: YES; however, the brand acknowledges that this ingredient is irritating to some and notes, "If you are sensitive to baking soda, we recommend that you try an apple cider vinegar wash prior to using our deodorant.  Apply apple cider vinegar and warm water to a towel and wash your underarms before applying."
Meow Meow Tweet
Meow Meow Tweet just brought their well-loved natural deodorant formula to stick form ($22) in two lovely scents: lemon eucalyptus and lavender bergamot. The brand notes that this formula only contains a touch of baking soda, which might work if you're only minimally sensitive to the commonly used ingredient. Magnesium, however, is the key to this formula which is fortified with skin conditioning organic plant oils and butters.
Baking Soda: YES, some. But the brand offers a non-stick, baking soda free version ($14).
Soapwalla
Soapwalla founder Rachel Winard "spent over six months refining her deodorant cream recipe, testing it on herself and friends until it was perfected," the company explains. "Rachel tweaked the deodorant formula over 2,000 times before she was satisfied. Soapwalla's deodorant cream has been heavily tested in Europe and US labs for effectiveness, sensitivity, antibacterial and antifungal properties." The two formulas—original and citrus deodorant creams ($14) are made with superfine vegetable powders and clays, which keep you dry, while essential oils including lavender, peppermint, and tea tree inhibit bacteria.
Baking Soda: YES
R.L Linden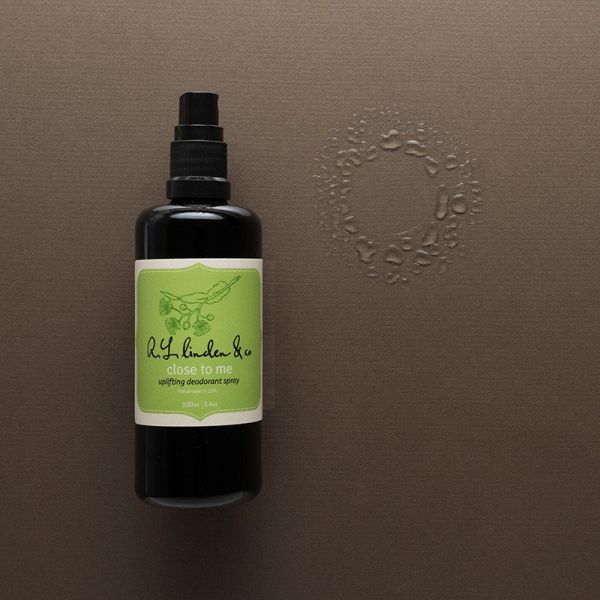 R.L. Linden's versatile creation, the Close To Me Uplifting Deodorant Spray ($15), is light and refreshing, like a gentle natural face mist for your underarms…but can also be used to deodorize your yoga mat or shoes. Tamanu oil and olive leaf extract are antimicrobial, while essential oils (a proprietary blend including Rose Geranium and Bergamot), and flower essences including borage and dandelion. If you like your products to multitask, this is your pick.
Baking Soda: NO
Soul Sundays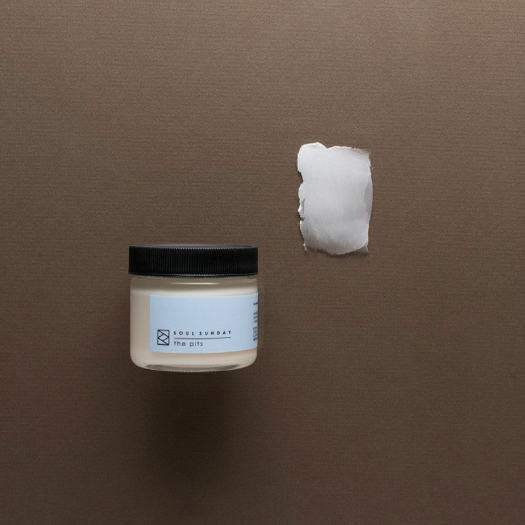 Aptly named The Pits ($14), Soul Sunday's creamy blend is most noticeably lavender scented. Its pudding-like texture makes it easy to apply with your fingers, if you're down with that. The inclusion of shea butter makes this nourishing for your (very) abused underarm skin as well.
Baking Soda: NO
Baxter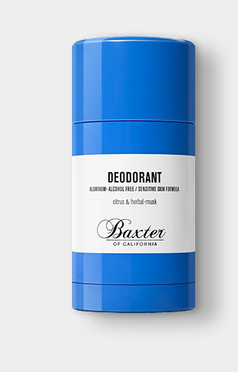 Baxter's Deodorant ($19), in its appealing blue packaging, has the most masculine smell of any deodorant on this list—an herbal musky scent that goes on completely clear. A perfect choice for those of you willing to share with a boyfriend (because we all know that extra space is hard to find in a New York bathroom).
Baking Soda: NO
Way of Will
This deodorant is alarmingly refreshing—it feels like applying mouthwash to your pits, and in aggressively hot temperatures, that is not a bad thing. That's a result of tea tree, a key ingredient in this Canadian brand's Tea Tree + Pumpkin Seed deodorant ($16). Pumpkin seed is anti-inflammatory, something those with sensitive skin will undoubtedly appreciate. It's always a good sign when testing a new product piques your interest about an entire brand, and for me, this is one of those instances.
Baking Soda: NO