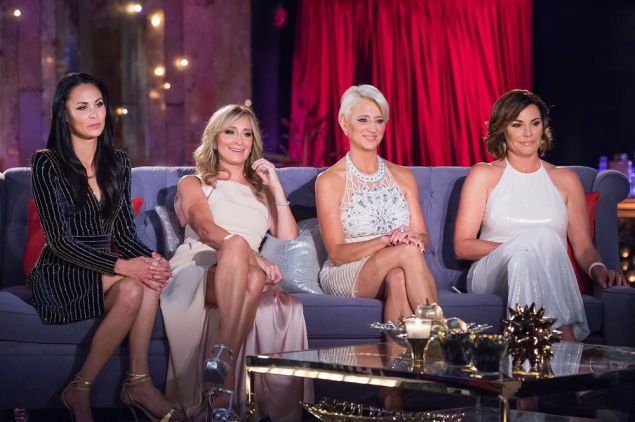 Reunions are the worst. Nothing gets resolved, voices go well over the allowed-indoor decibel limit, and everyone talks over each other. Having Andy Cohen as reunion host doesn't help. He is perhaps the worst kind of moderator: throwing softballs to the women who committed the season's vilest acts, and zeroing in on minor issues or scenarios that no one cares about – like how Luann doesn't know how to spell Bethenny. I understand the impulse; the people who committed the worst sins not only will justify their behavior, but will be so delusional as to not acknowledge facts for what they are.
Which is why it has become a common practice across all Housewife franchises to bring physical evidence to the reunion. I'm talking tweets, texts, emails, and even phone calls. All so that out of the fire and brimstone the Housewives rain upon one another, the Housewife with the most solid proof emerges victorious.
It's a tactic that was brilliantly utilized last night by Bethenny. As Luann tried to twist Bethenny's slut-shaming comment about Luann's hypocrisy into a damning statement on Bethenny's own integrity, Bethenny reached into the couch cushions and pulled out her phone.
Bethenny has always been a welcome presence on reunion episodes. She readily admits her wrongs, calls out bullshit when she sees it, and can pull out a trump card like nobody's business. And when Luann went on and on how Bethenny also sleeps around with married men, how her current boyfriend was married and living with his wife when they started dating, Bethenny shut that shit down fast. And dialed her boyfriend's daughter.
Now if Bethenny was a true home-wrecker, the kind that slept with a married man and subsequently broke up the marriage, then the daughter would have nothing nice to say about Bethenny. Hell, she wouldn't have picked up the phone and allowed her voice to be filmed on television. Bethenny would have been branded the devil, the woman who stole her dad from her mom.
But to this daughter, Bethenny is a person who only got romantically involved much later on, when the marriage was good and fully dead. A woman who has protected her and her family from public scrutiny, to the point where no one even knows her father's name. She loves Bethenny, and said as much on the phone.
But to someone as conniving and as sketchy as Luann, this is hardly a trump card. For all she knows, this is some random person Bethenny set up to do this. And even if she did manage to get her boyfriend's daughter on the phone, something hinky must have gone down. Luann is so sure of her own delusional reality, that even the atom bomb of bombshells couldn't make her see the truth.
And so, even though she knows she got burned, big time, she doesn't budge. She may have lost the argument, and didn't get the satisfaction of seeing Bethenny squirm, but she still had one card left in her deck: name-calling. She declared that Bethenny was a "horrible, evil person." Because, after all, only a horrible person would destroy Luann's carefully scripted reality. But Bethenny had the last laugh, giving Luann the ultimate derogatory nickname: Lie-Ann.
It's not surprising, though, that Luann tried so hard to take down Bethenny. Last year, Luann was the queen of cool, garnering some half-way decent fans in the process. But the self-obsession, delusion, and outright hypocrisy she displayed this season has led to a lot of hate from fans. Her relationship with Tom in particular, has inspired a lot of vitriol. But because Luann is delusional, she thinks that people are upset that he chose her and everyone is just jealous. But it's not about the fact that he loves her and only wants to be with her. It's about the fact that Luann has always been an immoral woman, with no qualms about hunting men who have been claimed by others. It's shameless and it's rude, quite the opposite of what Luann would want as her reputation.
So Luann saw the reunion as a platform for redeeming herself. But, like a true narcissist, instead of addressing the issues behind why people have turned on her, she pushed the blame outward, to Bethenny. And she did all she could to nail Bethenny to the cross.
She started small, making ridiculous claims about innocuous things, like that no one would raise their hand to say that Bethenny's hair looks like Luann's because she would rip their hand off. Then she butted into every conversation that painted Bethenny in a remotely negative light. But she didn't really go full throttle until Andy mentioned Bethenny's crazed rant up in Dorinda's Berkshires home.
Speaking of Dorinda, she has been such a fascinating character to watch evolve. As she sat on the couch, speaking in an overly explanatory tone that's both patronizing and comforting, she seemed like a perfectly nice woman. Throughout this season, she has shown her loyalty and willingness to help a friend in need. In the latter half, she also showed her willingness to exploit those relationships for camera time, stirring the pot whenever she got the chance. She also has a vindictive streak. As she sat on the couch, Dorinda's smile was a bit manic, glued onto her face as she tried to shame and school her cast-mates into listening to her. All of these character traits are derived from a basic desire: Dorinda wants to be loved and she wants everyone to look up to her.
But there is also a darker side to her. Last night, it was revealed that Dorinda does drugs, specifically coke. Bethenny tried to avoid talking about it, but Dorinda's overly defensive reaction made it clear this is not just some wild accusation. And then Sonja piped up, after squirming in her seat like a kid with a full bladder, confirming that it was true. And as Dorinda continued to deny, Luann quietly, but firmly, told Dorinda to "drop it." This was the nail in the coffin for Dorinda, affirming to viewers everywhere that she is perhaps as delusional, if not more so, than Luann.
This common thread of delusion is what links Dorinda, Sonja and Luann together, and it's perhaps why they are all friends (and seated together on the "opposition" couch). It's easy to pretend to be friends with someone who is as equally delusional as you are, and is willing to sweep problems under the rug.
But Sonja, who has shown tremendous growth all season, is not as delusional as she was in the beginning of the season. And, as she told Andy while getting ready for the reunion, she is resentful of the way the women disregard her thoughts and opinions. Especially Dorinda, who treated Sonja like a child, deeming her too fragile and intoxicated to go to the Berkshires. And so, Sonja seemed ready for battle, lashing out and confirming Dorinda's darkest secret with the haughty sneer of someone outing a hypocrite.
Sonja's sneer was outmatched by Ramona's self-satisfied, Cheshire-cat smirk as Bethenny dug in her heels over Luann's hypocrisy. See, Ramona was lucky last night. She was treated to Andy's softballs and light-hearted commentary because her exploits have been relatively tame. Like mispronouncing "reggae," having an active dating life (and her hilarious attempts to hide it), and a five-second clip at Luann's yacht engagement party of Ramona thrusting her arms like she was having an epileptic seizure in what might be called a dance.
Luckily, the drama seems like it will come to a head next week. Let's hope Andy doesn't try to shut it down with some random comment from Elizabeth in New Jersey wanting to know when Carole's stupid cookbook will be coming out.