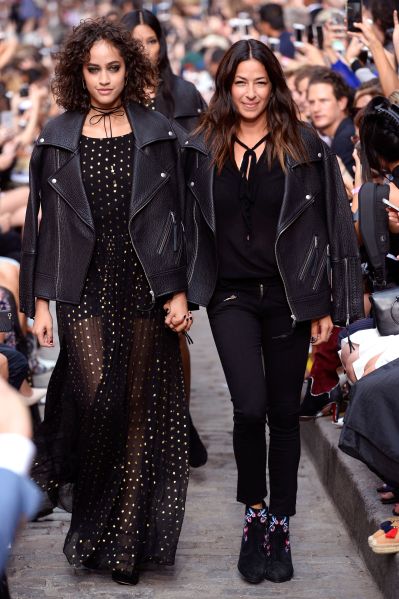 This season, Rebecca Minkoff took the term "runway to retail" rather literally. Nearly 20 minutes following her fashion show en plein air, which shut down Greene Street, her shop was open to the public and stocked with clothing that the models and influencers had just debuted to the world.
The designer, whose feminine dresses and simple leather bags are an affordable favorite among teens and college age girls, has veered from the traditional fashion course. Last February she decided to shift her business to what she calls a See, Buy, Wear strategy, which explains how her designs are instantly shoppable from the moment they debut. But how have her customers responded to this shift?
"When we looked at our February to February sales, they were 200 percent more [than the year before]. It solidified our idea that the consumer wants to purchase in season, see in season and buy it," she told the Observer backstage. For a contemporary customer, with a need for instant gratification, that totally makes sense. When a young consumer sees a runway picture on Instagram or Snapchat, they don't want to wait months to be wearing the same thing. In fact, they will likely forget about it as they scroll further down their feed.
"I have 15 minutes of the worlds attention, so lets focus that energy on something that's actual. You can see in her response, her being my consumer, that's what she wants," Minkoff said. By capturing her customer's attention and delivering a product as soon as possible, Minkoff has found even greater success.
This time around, her runway included the usual suspects of leggy models, but Minkoff further capitalized on her 15 minutes by asking a slew of bloggers and influencers to walk in her show. Chriselle Lim was the first to hit the runway, garnering cheers from the front row. Arielle Noa Charnas, of the blog Something Navy followed, as did BFF duo Caroline Vreeland and Shea Marie. No doubt their Instagram prowess will help fuel Minkoff's sales, considering Marie has over 1 million followers and Lim has over 729,000.
However, the designer is thinking about more than just sales numbers; her show had a charitable component as well. The finale featured 22 leather jackets, spray painted with inspiring messages by the female empowering street artist Gilf!. Each of the jackets will be auctioned off to benefit Not On Our Watch, a charity that focuses on humanitarian work.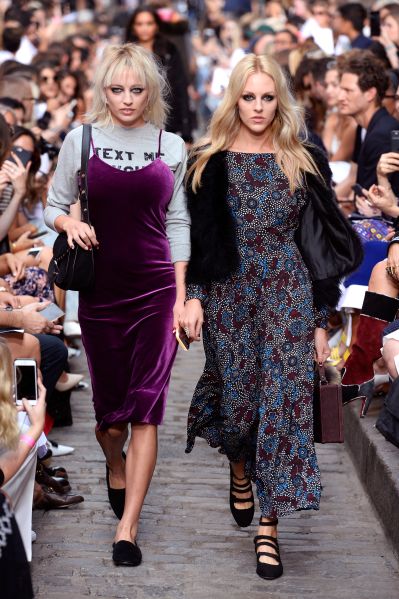 "As great as working in fashion is, it's hard to wake up every morning with all this going on every day. I thought that since I had the world's attention that I would use it to do something good," explained Minkoff.