When one thinks of the legendary Dakota on Central Park West, a discount isn't exactly what comes to mind.
But that is what's happening now, as Grammy-winning singer Roberta Flack has reslisted her two-bedroom, two-bathroom co-op in the famed building, and it's asking just $7.5 million.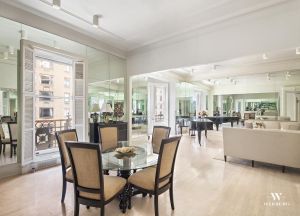 Though that's definitely not pocket change, it's a $2 million cut from the $9.5 million Flack was first hoping for when she put her 2,000-square-foot home on the market back in June 2015.
Alas, the unit was taken off the market this May, when its price had already been reduced to $8.9 million. If anyone was worried they missed their chance to own a piece of property in the building that Judy Garland, Leonard Bernstein, and Lauren Bacall once called home, you're in luck, as Flack's unit is back, this time with Warburg Realty broker Rebecca Edwardson.
The apartment features lots of the prewar details one has come to associate with the building, like original oak floors, mahogany and ash moldings, plaster moldings and shutter framed windows throughout. The co-op has 12-foot ceilings, with a formal dining room with a wood-burning fireplace, as well as a "majestic" living room with another wood-burning fireplace and set-back bay windows from which one can take in the view of Central Park.
The master suite has a sitting room around yet another wood-burning fireplace (this one with an original mantel), and the secondary bedroom has its own fireplace, too.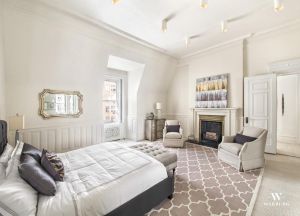 Flack, known for songs including "Killing Me Softly with His Song," "Where Is the Love," and "The First Time Ever I Saw Your Face," has lived at 1 West 72nd Street  for nearly 40 years, during which time the notoriously snooty co-op board rejected names like Carly Simon, Melanie Griffith and Billy Joel.
Interestingly enough, this current listing for the apartment has been edited in certain ways—unlike the original listing (held by Town Residential), this one no longer declares that the apartment is home to "its most famous Lady of Song, Roberta Flack, multi Grammy winner, whose music has been the accompaniment to the times of our lives." Perhaps they're going for a more low-key vibe this time…