The whirlwind journey Neil Hagerty has embarked on in his noise-rock squelching and vomit-blues boogie throw down has been one helluva underground rock-trailblazing ride.
In the '80s, Hagerty helped birth the noise-rock movement in D.C. in the legendary Pussy Galore before they took their shit-fi garage-punk raunch to downtown New York City where they set the then-drugged out wasteland of the East Village and Alphabet City aflame in crusty noise.
It was there in the squat dredges of downtown where Hagerty met his partner in drugs, crime and life Jennifer Herrema and formed slop-rock blooze hounds Royal Trux. Over the next dozen years, Trux put Drag City Records on the map before the two hit pay dirt during the post-Nirvana signing orgy when they inked a deal with Virgin Records. Ultimately, drug abuse spelled doom for both relationship and band and the couple acrimoniously parted ways before their recent surprise reunion.
Hagerty never lost steam in those subsequent years, though. Beginning with 2001's solo debut under his own name, the nomadic Hagerty has released nearly a record a year and even penned a comic book.
However, it's been with The Howling Hex where he's arguably churned out the best music of his career arc, albeit under the radar. Now clean after years of well-documented substance abuse, Hagerty relocated to New Mexico in 2003 to live in obscurity, trading in the lo-fi wah-wah blues of Plays That Good Old Rock And Roll (2002) for the schizoid racket of The Hex.
But it was his move to Denver in 2011—a place where he spent a chunk of his childhood—that truly brought discovery and reinvention. Galvanized by Denver's deep-seated Mexican roots while taking cues from traditional Mexican music like norteño and ranchera, Hagerty experienced a rebirth as "The New Border Sound" purveyor.
That direction—Mexican music-inspired, stoner desert-punk jams wired with addictive, bass-driving polka-like rhythmic repetition and topped by Hagerty's slinky guitar stabs and snotty snarl—recalls the tinny jazz-funk shards of the Minutemen and the Meat Puppets' acid-rock trips. The grizzled Hagerty's "New Border Sound" is fully realized on his excellent and most recent record, fittingly titled Denver, his homage of sorts to the city where he grew up and the place he's called home for the last five years.
The Observer caught Hagerty on tour somewhere in America via email (he doesn't dig phone interviews) to talk his time in New Mexico, all things Denver, the Mexican music icons who've inspired him and those foot-tapping, danceable rhythms. 
[youtube https://www.youtube.com/watch?v=pREqVSlSMok&w=560&h=315]
After Royal Trux ended in 2001 and you and Jennifer broke up, you picked up and moved to New Mexico, right?
I stayed at our house in Virginia. She wasn't around much. I worked on my first solo LP while the legal stuff got sorted out—that took a year, had to stay in state. We weren't really prepared for the end but finally I did move to New Mexico.
What made you decide to move there?
I would drive on I-10 west past desert towns all the time on tour and I wondered what it was like to live there.
What kind of existence were you living?
I bought this 80-year-old railroad adobe house and just started fixing it up. I learned how to make the bricks and work with plaster. Winter ended in January and things were nice. I could play loud all day and night. I tried to tour just the minimum amount; I needed to stay Z-list but still slightly in the $$ because I knew I'd be going back to a city eventually once the aughts dragged to a close.
I read you were living out in the middle of nowhere.
It was in Luna County but right off the highway, so it was nowhere but still in the middle of a neighborhood.
After doing Royal Trux all those years, how did living in New Mexico—its music and culture—affect your musical direction?
In that area there was always music going, people hanging out fixing cars and showing off their dogs. It was a lot like when I first got to New York. I thought if I could be a part of this and learn how to live in the desert then that would be an improvement in my life.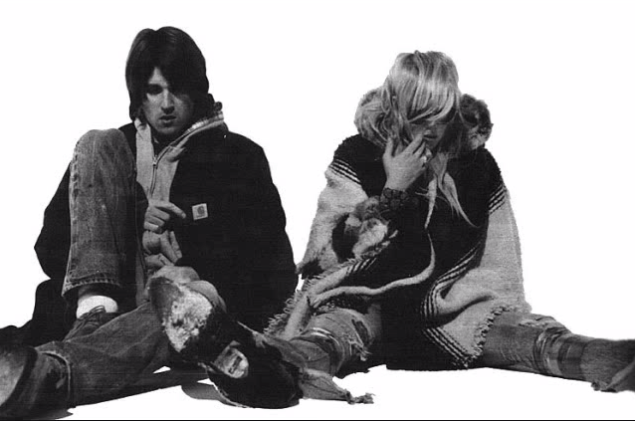 Let's dip into The Howling Hex's beginnings. Did you shelve records under your own name and see the Howling Hex as a reinvention after making your mark in Royal Trux and for being in Pussy Galore, hence the title of the first record, Introducing the Howling Hex?
I always have an easier time remembering band names over people names so I threw out the band name as a tribute to Davie Allan & the Arrows—except with a lot of "H" words rather than "A" words.
So you were down with having an actual band instead of flying solo.
It is all the same really. It never was a true band, just mostly me, serial collaborations. One day I said I had a band, one day I denied it: typical obscurantist hugger-mugger.
What made you so drawn to Denver, Colo.?
I was drawn to Denver but not Colorado itself. The entire state of Colorado had fewer people in it than New York City. But Denver was interesting, it was growing so well and fast, it had a nice pragmatic vibe and was not self-branded so much like other medium cities. I imagined it was like West Berlin in a weird way, surrounded by a 500-mile ring of people who want it destroyed but the city was winning.
You spent a good part of your childhood in Denver. What memories can you share about growing up there?
Me and mom lived with an uncle and my grandparents while my dad was in Vietnam and it was crazy. I remember wearing a little army uniform, a pair of rabbit ears, cowboy boots and a fake diamond necklace, running wild for a year with little supervision. Washington Park, watching it sink away forever and there was nothing I could do and I remember the weather, which remains amazing.
[youtube https://www.youtube.com/watch?v=tpBCZHeoZzU&w=560&h=315]
Beginning with The Best of the Howling Hex, you latched onto and found a sound (that repetitive super-catchy Mexican music-influenced rhythmic aspect) that continues on Denver. What role did Colorado's culture play in spearheading that direction?
Little by little in New Mexico I started to feel like I understood it. Then by the time I got to Denver I could play it for the audiences there with dexterity and detachment enough for it to get across. Moving to Denver pushed me to work again like I used to, join the human race—it challenged me.
Were you listening to specific artists who inspired you to go on that path?
The trinity is Rosalino "Chalino" Sanchez, Narciso Martínez and Los Tigres del Norte. Lots of others like Lucha Reyes or Ramón Ayala. But those main three are my stars, my idols.
What is it about those rhythms?
Yeah, it is so sophisticated: the slight variations, how the rhythm section incorporates the separation of harmonic roles of the marching bands, stoic repetition laced with nuance derived from the Iberian Caliphate or Aztlan. It was uptight too, the way the bands wore matching polyester suits while batting emotionally against the limited forms.
I connected with it right away as it seemed harmolodic to me and it seemed to be similar to the way marching bands evolved into the New Orleans culture. But coming from a different table of purposes, I thought it'd be cool to put some electric guitars in there but not so that it turned into heavy metal.
You also coined a name for it: "The New Border Sound."
That refers to the fact that the border has moved all the way up north now and this is part of the sound of the new map.
[youtube https://www.youtube.com/watch?v=tjDrD8Mg-2Y&w=560&h=315]
Calling your last record The Best of The Howling Hex cracks me up since there's not really any "hits." What was behind naming the record that?
I was working in a lot of performative and comedic elements in those years, mostly in the live shows, one-off things, so it is supposed to be funny. But I was also thinking of purging the name after that to start fresh again so I figured that would be the last Howling Hex record. But bookers still would use the name, along with "ex-Royal Trux" so now it's the kind of record someone might accidentally buy at face value; that's O.K. though since it is a good overview of what I do.
On Denver there's obviously the name of the record then songs titles like "Mountain," "City Song" and "Canyon." Do you see this record as an ode to Denver? What is it about Denver you love?
I mentioned some things I love about the real city earlier but the Denver songs are fragments of an attempt to describe a place that is still creating its identity, that is: Denver does have these various self-images it tries to project but none of them are definitive and none of them are strong enough to capture what is special about how the city works.
The songs together I think simulate that entire process of the city growing and changing too fast for marketing to keep pace with, too fast for conservative thinking. There are random street name callouts and clumsy slogans like "Denver gets 300 days of sunshine" a year and there are details of things I have seen as a newer resident and memories from people I know who have lived there a long time.
There are many people who think the city has been defined, that it has a fixed character not just successive evolutionary phases and they don't think about how the city comes off to the rest of the world, that would require a level of self-awareness and ego that would be shameful. But I don't have that problem so I wanted to try and take all these slices and organize them into a pattern that reflects or expresses the dynamic I see at work as the city grows and then slap it on a cheap postcard.
[youtube https://www.youtube.com/watch?v=3XebJRjFJe4&w=560&h=315]
How does the current Royal Trux reunion stack up to your touring with the Howling Hex? I imagine you feel more emotionally connected to the songs on Denver than the Trux songs you are playing to bigger crowds.

The Trux shows are great because people know the songs. We just need to play them right and it connects with them emotionally and then suddenly my solo work isn't a burden I'm trying push up the hill—it's just what the other guy from Trux does the rest of the time and it has been a huge relief. I already ran the table once and I'm not trying to do it again—just want to play. I am emotionally more invested in my solo work but now I don't have to worry about people thinking I am trying prove something—that bothers the fuck out of me and makes life difficult, so doing both has been great.
Do you see yourself ever leaving Denver or you're there to stay?
I don't know, I got a good setup there but if things go sideways I have just enough resources to move. I haven't played there in a few years as it is. I guess if they don't like me I'd need to move, but then again maybe I can just hide there.
Can we expect another Denver-themed record and more of those Mexican music-inspired rhythms?
Electric Norteño, it is all I want do. But I probably won't do anything about the city itself. I've been in Denver five years so I thought I should make a contributing statement, leave my card at reception so to speak. Now I'll see if Denver follows me back.
Neil Michael Hagerty & The Howling Hex play Trans-Pecos on Saturday, September 17, and Mercury Lounge on Sunday, September 18. Denver and Full Moon in Gemini are out now via Drag City.