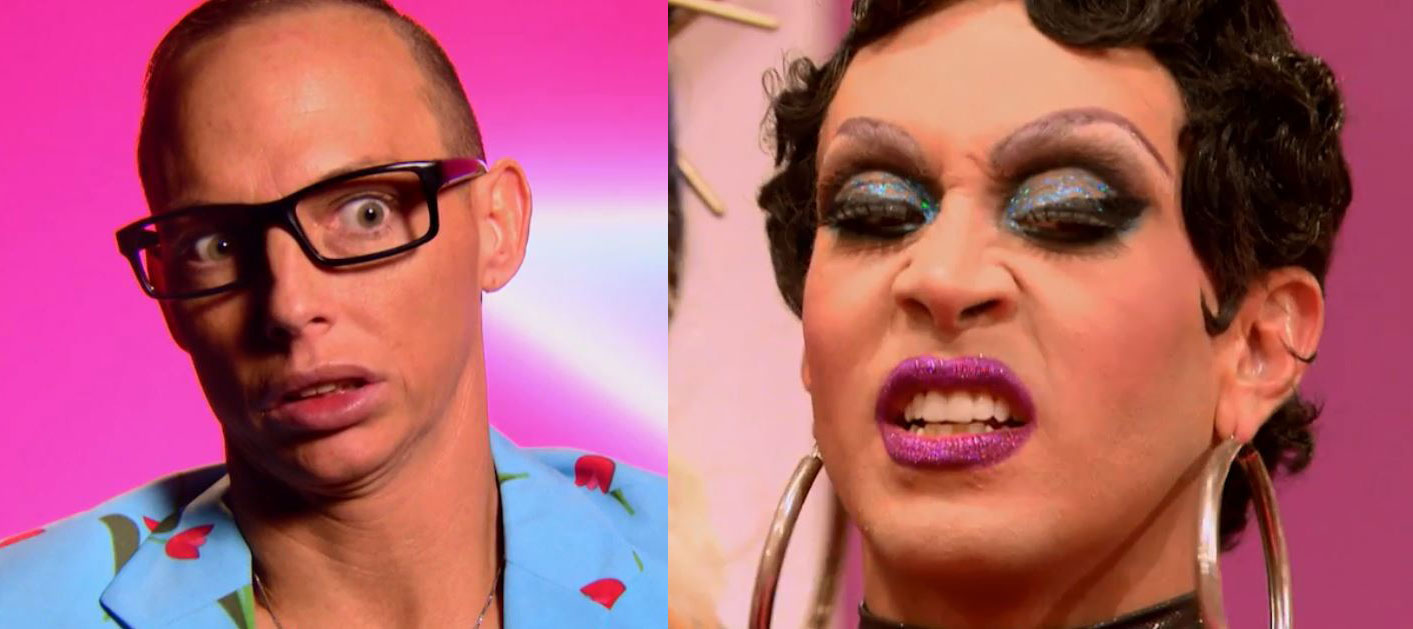 We finally got ourselves an excellent episode this week, and it gets heated right from the jump. Phi Phi had ended last episode running her mouth about Alyssa and lord knows who else, and then all of the sudden the lights come on and all four eliminated queens were in the mirror. Phi Phi explicitly came into this season trying to redeem herself from how she acted/was portrayed on season five. So far, she'd been doing a good job and a lot of the snideness just seemed like editing. This week, not so much.
Obviously the girls are all stressed, high pressure environment, all that jazz. But Phi Phi knows damn well that even if a given queen can't hear her talking smack, then the cameras sure can. In fact, that was part of her downfall in her season. It wasn't so much that she set up Jiggly to lose—as shady as that was—but that she did so consciously and then laughed about it. Jiggly called her out in tears at the reunion, and then Willam called her "twisted." By her own admission, Phi Phi came off as "insane."
Now, however, she just looks red-handed and immature (to be charitable). Alyssa immediately put her on blast, and Phi Phi's response was, "If you want to act all foolish in front of the cameras we could." In other words, she knew—or very belatedly realized—that the cameras were there and how this was going to play at home. Not a good luck, Ms. O'Hara.
Phi Phi complained that Alyssa was "playing the victim" but she actually was the victim of the elimination and of malicious smacktalk. If anything, Phi Phi's transaprent scrambling to do damage control was far worse than anything she had said to begin with. "Everything I heard and knew about her," Alyssa says, "I am glad she validated." Meaning, it's not "the editing"; Phi Phi has a bad rep among the queens themselves. Scandal!
And we've haven't even gotten to the challenge…!
Once again the challenge is a very basic and broad one: a stand-up comedy show. Here's where it gets complicated. Each eliminated queen is paired with a current queen. Then the top two of the eliminated lip sync, with the winner staying and sending someone home. Effectively, someone comes back at the expense of someone who hasn't left yet. Roxxxy is odd woman out and gets the MC position, but no one expects her to win this despite all the stipulations of what happens if she does. Clearly this was planned to be five pairings but Adore quitting screwed up the dynamics.
Rather than giving the teams subject matter or a target, it's completely open-ended. The audience will be filled with former queens. Though it's portrayed as if this will be harder, they will obviously actually be rooting for one another. Every contestant always explicitly says that the show is a huge sisterhood of mutual support.
Doing comedy in pairs is actually exponentially harder than doing it solo (at the very least if neither is a comedian). It's hard to recalibrate when jokes aren't landing without being able to give that cue to your partner; you're interacting with the audience on one level and the other person on another. Given that, it's pleasing to see how funny the show is—both funny funny and bad-funny.
It's great to see the cameos from the former queens in the audience. Mrs. Kasha Davis, Laganja, Jaidynn Diore Fierce, Vivacious, Nicole! Paige! Brooks!, Alexis Mateo, Jiggly Caliente, Trinity K. Bonet, Vivienne Pinay, Chad Michaels, Monica Beverly Hillz, Mariah, Gia Gunn and Porkchop brought the party. Roxxxy was a terrific MC, in that when her jokes fell flat she owned it, knew it and kept the night going. Her confidence (comedy isn't her thing, so what?) kept her fun and likeable.
We finally got our first major trainwreck of the season. Even though the challenge was stand-up comedy, Phi Phi and Coco came out and did a weird sketch based on caricatured stereotypes. Mind you, Coco won the comedy challenge her year. If Phi Phi had been smart she would have just allowed Coco to run the show and followed suit. Instead it was cringefest in the best possible way. Even funnier was watching the judges wince alongside the crowd.
In terms of elimination it was a bit of a coin toss: five queens, two are going to be up for elimination. That Phi Phi was on the bottom was a no-brainer. Though she might not have been as funny as Katya, Roxxxy's energy was infectious and she was clearly making a valiant effort. Plus she had to come out over and over again, which is tough. That said, it was fair for her to be up for elimination but she was far better than Phi Phi regardless.
That the top two would be Alaska/Alyssa and Detox/Tatianna wasn't even a question. Both pairs killed it and did so in a way where their performances played off one another. It was strategic and smart and paid off handsomely. Watching interactions like Detox and Tatianna bouncing off one another is exactly what All-Stars seasons are supposed to be about. It's hard to visualize what that would look like, and fortunately now we got to see it.
Now let's turn to the lip sync. Holy crap was this one for the ages. It's no surprise that a Rihanna song lends itself perfectly, but both Alyssa and Tatianna are clearly in their element, familiar with the song, and hit every single beat. Even their outfits complemented each other. Tatianna wasn't particularly known for lip sync her season, but boy oh boy has she COME THROOOOOUGH in the years since. RuPaul is so impressed that she brings both queens back (to the huge delight of the fans, no doubt).
Both, in addition, had the option of sending someone home—and both picked the obvious choice of Phi Phi, who was worse than Roxxxy this episode and in terms of season-long consistency. Given that Phi Phi supposedly won't be attending the reunion this year, we have ourselves a real sad ending for Phi Phi O'Hara.