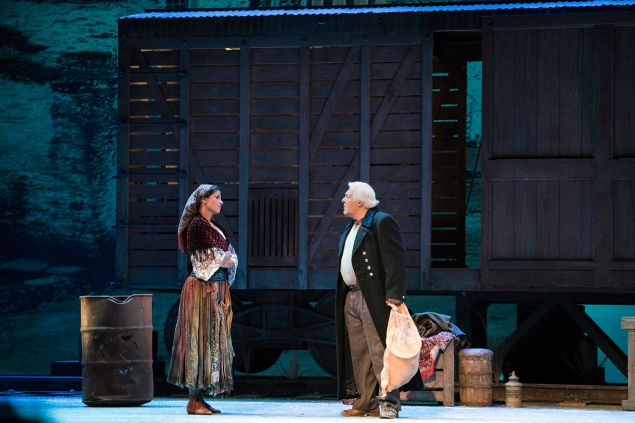 With last week's performances the oddball double bill of Rachmaninoff's Aleko and Leoncavallo's Pagliacci, New York City Opera in its lastest incarnation has put its best foot forward twice, two opening nights with, sadly, equally lackluster results.
The first of these openings was not all that long ago, in fact: January of this year, when then company kicked off a half-length season with a reactionary staging of Puccini's Tosca, performed in copies of the sets and costumes from the opera's first production in 1900. Unfortunately, the only points this context-free concept scored were not artistic but political: The slavishly archeological visuals held up an effective middle finger to the Peter Gelb's Met, where the "radical" Luc Bondy staging of this melodrama still holds the stage.
This season's opening program didn't even have that extramusical thrill to offer: What NYCO offered was a show that could be seen at any of a couple of dozen regional companies in America. In fact, the package originated at Opera Carolina (that is, Charlotte, N.C.) earlier this year.
The practice of importing a package production seems to be NYCO's method for at least the foreseeable future. The remainder of this season promises to consist of the contemporary opera Fallujah, an import from Long Beach Opera; Respighi's La Campana Sommersa, brought in from Teatro Lirico di Cagliari; and what is most likely another borrowed production for Péter Eötvös's Angels in America. (Press materials for NYCO don't indicate the origin for this staging, but they do note that another major presentation this season, Bernstein's Candide, will be a "new production," so presumably if the Eötvös were also new, that would be trumpeted.)
The problem with building a whole season, or almost a whole season, out of productions created for other companies is that there is not much change to create any real sense of company identity. It's a sort of Starbucks effect: Just as every downtown shopping street in every major American city now features the same familiar retailers' names, New York City Opera has no particular artistic identity different from, say, Opera Carolina. Not that there's anything wrong with Opera Carolina, which surely serves Charlotte admirably, but the hard fact is that Charlotte is a different sort of place from New York City.
And it's that very "New York City" that seems to have gone missing from the heart of New York City Opera these days. That's a particularly important lack for a company that from its inception was geared specifically to the tastes and needs of New Yorkers. NYCO's mission was not only to provide accessible (i.e., affordable) opera performances to New York audiences—this was in the good old days when opera was in demand as a popular art form—but also to provide employment opportunities for New York-based artists.
For most of its history—that is, before the company hit the shoals following Paul Kellogg's retirement in 2007—New York City Opera was above all a company, that is, a team of creative and performing personnel, as opposed to an ad hoc collection of talent cobbled together for a particular project. One of the most famous Beverly Sills stories focuses on the diva's threat to bolt the company if Phyllis Curtin (by Sills' estimation no longer a member of the NYCO family) were cast in a high-profile production of Giulio Cesare. Sills is careful in her two autobiographies to emphasize that she never accused Curtin of being an inferior artist; rather, the issue was that at NYCO, a company member (such as, oh, let's say Sills herself) would automatically be given first preference in casting. Only if there were not a suitable artist already on the roster should the company look elsewhere.
That company concept has now completely vanished from NYCO. Every production is cast from scratch, sometimes attractively (e.g., Latonia Moore and Michael Chioldi in last season's Tosca) and sometimes bewilderingly (for instance, the rough-voiced Gustavo Feulien as Silvio in Pagliacci, a part every lyric baritone in America has in his repertoire). The losers here are artists like Moore and Chioldi, who could easily build fervent New York followings if they were given the chance to appear in repertoire here several seasons in a row, the way a previous generation of singers like Sills, Samuel Ramey, Jerry Hadley and Catherine Malfitano did at the "old" NYCO.
To be sure, NYCO has also done some very good work lately: Last season's presentation of Florencia en el Amazonas was in every way the sort of fully realized opera that NYCO of any era could be proud of. But if New York City Opera wants to compete successfully with the Met as well as scrappy young companies like LoftOpera, it needs to position itself as something more vital and more essential than the frivolous showcase it is currently