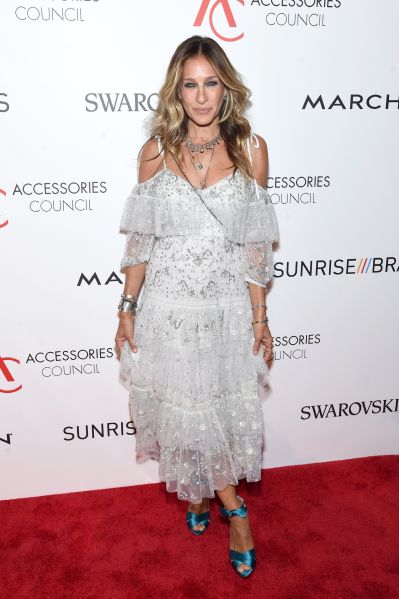 Come October, you too can have your own Carrie Bradshaw moment. No, we're not talking about living in an absurdly large rent-controlled Manhattan apartment (with a walk in closet to match) nor are we talking about finally landing Mr. Big.
Now you can actually dress like the Sex and the City character, thanks to Sarah Jessica Parker's forthcoming dress line. The actress announced her latest fashion venture (which follows hot on the heels of her successful shoe line) on Instagram, of course.
Not only did she announce the new line in the post, but she also offered up a few details about it. The LBDs will be available next month, exclusively at Bloomingdale's. Furthermore, the range of dresses is made in the USA. As for what they actually look like? Well, you'll just have to wait and see, as SJP has left that detail a complete mystery. However, she did point out the dress she's wearing in her Instagram announcement is her favorite in the range.
It looks like the actress wore that same dress for a taping of Amazon's Style Code Live on September 22. She was photographed taking a similar twirl in the ultra flattering dress which features 3/4 sleeves, a circle skirt and pockets. For more updates on this line of dresses, stay glued to her Instagram account. We have a feeling it will be the best source for all things relating to SJP's LBDs.
Update: It seems Bloomingdale's is actually the place to turn for updates on this range, as they released more information this morning. The first dress of the collection, which will be available at 32 Bloomingdale's locations, is a sleeveless jersey number with a tiered skirt made from tulle. Yes, this is definitely something that Carrie Bradshaw would wear.
The dress, which is being called Title, will retail for $395 in sizes 0-12. As it turns out, this frock is part of a larger capsule collection of LBDs that will be designed by a variety of designers, set to launch in stores by Spring 2017. We have a feeling it will definitely be worth the wait.