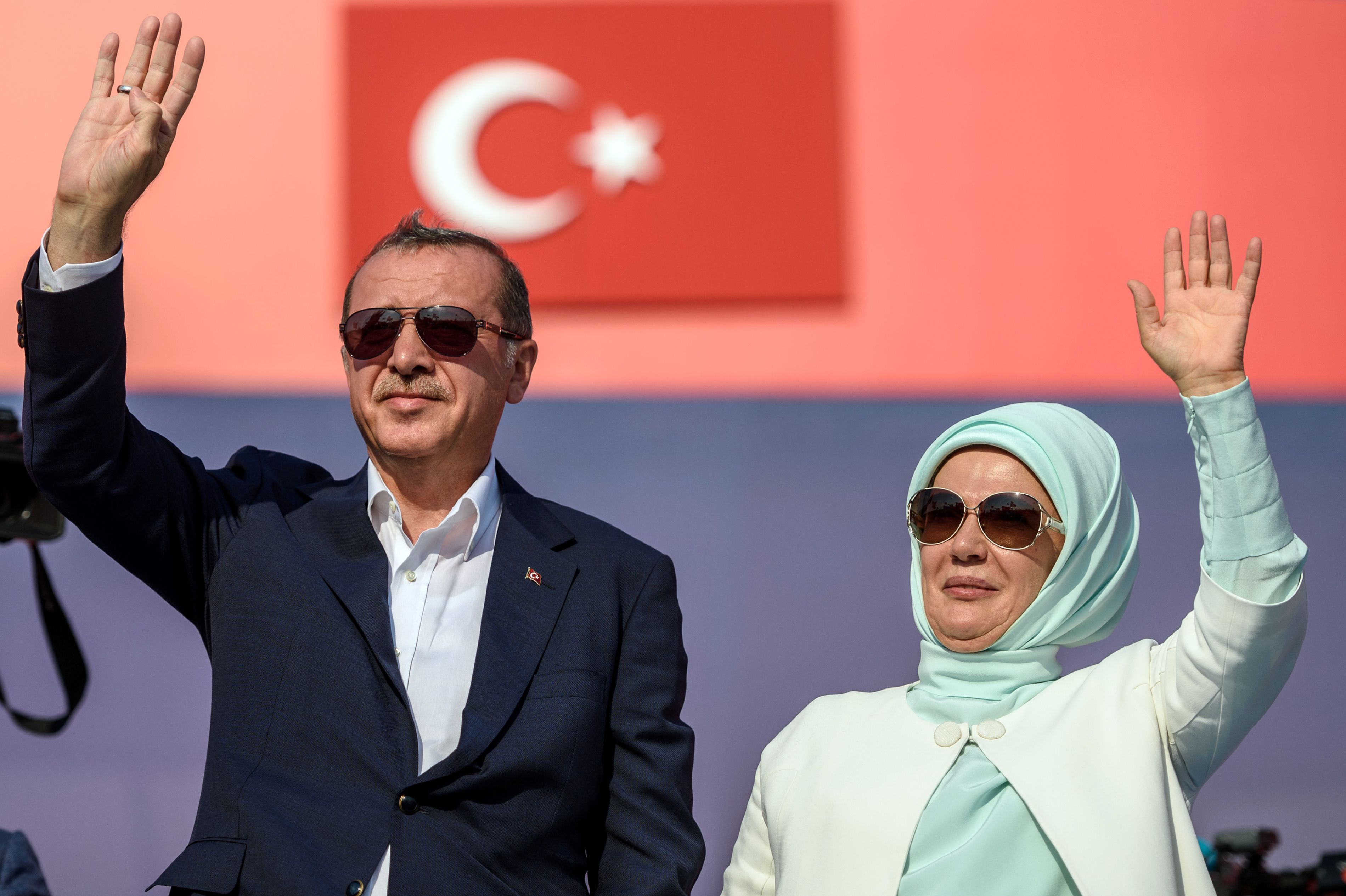 Perhaps you've heard of "mansplaining," a term for when a man talks condescendingly to another person, typically a woman, about something that he knows little about, believing he's the real expert. Well, Turkish first lady Emine Erdogan showed that you don't need to be a man to conduct such behavior.  She also engaged in that annoying lecturing style that critics of America love to employ, talking down to the U.S. people, believing we don't know anything.  In reality, it's the tone-deaf Turkish regime showing its ignorance, not only of the United States, but how to keep from throwing allies under the bus.
At the Harvard Club in New York last week, first lady Erdogan claimed "Americans need to imagine their own country under assault to fully appreciate how a July 15 coup attempt has traumatized their treaty ally Turkey," reported Akbar Shahid Ahmed, a foreign affairs reporter for the Huffington Post. She apparently didn't even realize that the dust was barely settling from terror bombs going off in New York and New Jersey, not far from where she spoke. Americans aren't a bunch of rubes or in some location remote from the War on Terrorism. We're on the front lines and have our battle scars.
According to Ahmed, first lady Erdogan labeled the Western response to the Turkey coup a "huge disappointment":
"Some countries we call friends were even hesitant to condemn the coup attempt…They made half-hearted statements as if waiting to see who would win, and some went as far as to say the coup was a fiction.  Just try to imagine the feelings those shocking remarks can have on a nation that has just faced death…If Brooklyn Bridge was taken over by terrorists or Capitol Hill was shelled, this [would be like what] happened in our country."
Ever heard of 9/11, Emine?  We have. We lived with it. It was a tragedy that dwarfs the casualty figures of your July 15 coup by more than tenfold.
Shortly after the September 11 attacks, a Muslim cleric living in exile in Pennsylvania, Fetullah Gulen, paid for a full-page ad condemning the 9/11 hijackers, explaining why their attacks violated Islam.
The truth is, America did condemn the coup.
President Erdogan has blamed Gulen for the July 15 coup attempt in Turkey. Erdogan and his supporters also blamed America for backing the coup. Now he and his wife want us to extradite Gulen to Turkey for a trial (after firing all judges so he could pick new ones he prefers). Since he and others have lied about America's involvement in the coup, how can we trust him on accusations of Gulen?
Rather than apologize to the United States for fanning the flames of anti-American sentiment in his country, Erdogan's wife comes to America to talk down to the U.S. and accuse us of not fully supporting the Turks. Who can forget how her husband cut the power to Americans serving on the NATO Base at Incirlik, right in the middle of our campaign against ISIS? Whenever Turkey claims they are going after ISIS, it is the Syrian Kurds and our military advisers helping them instead who often need to duck.
The truth is, America did condemn the coup. America also joined other countries in condemning the post-coup purges which international observers have called a political witch hunt, full of human rights abuses denounced by NGOs. Such actions violate the very international laws and agreements Turkey signed.
There's a great Bible verse about taking the log out of one's own eye before remove the speck from someone else's eye. Before Turkey lectures us, it's time they apologize to us for their post-coup hostility toward Americans.
John A. Tures is a professor of political science at LaGrange College in LaGrange, Ga. He can be reached at jtures@lagrange.edu