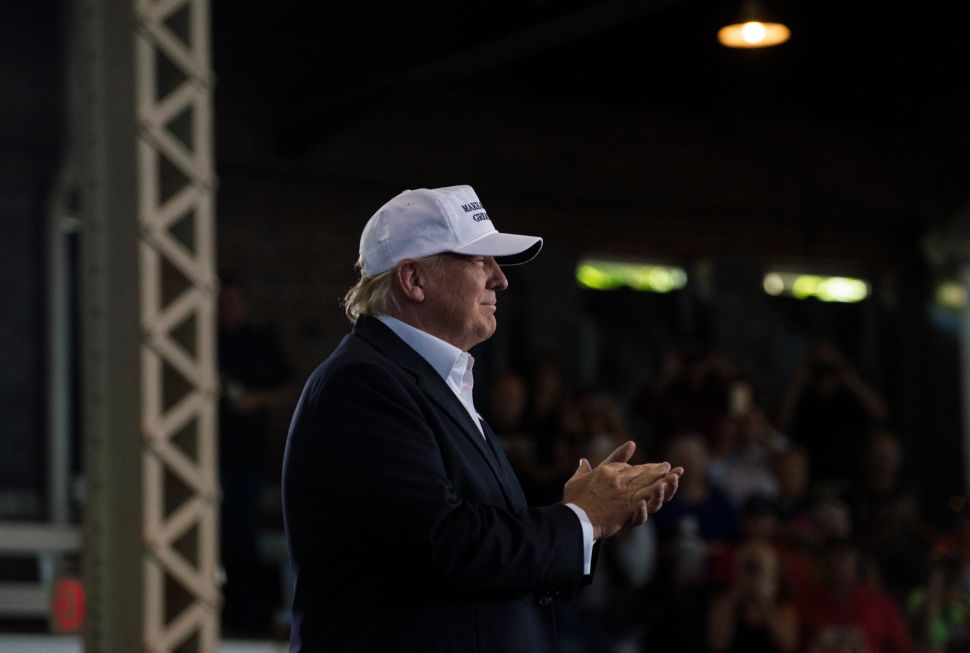 Anyone who has spent any time in a college town is familiar with the grudges that arise between students and "townies." It now appears that the tensions between the "ivory tower" and "Main Street" are being writ large on the American political canvas.
With polling showing college-educated white voters poised to vote for a Democrat for president for the first time since pollsters thought to survey this demographic, and non-college white voters lining up behind Republican Donald Trump, the 2016 presidential election is setting up as the "Town vs. Gown" grudge match of all time. The white "gowns," if polling is to be believed, are set to join voters of color from all educational backgrounds in support of Hillary Clinton.
State-by-state polling shows how this contest is shaking out. Using Census Bureau estimates from 2015, The Party Crasher has determined that the states with the largest percentages of adults over 25 possessing at least a bachelor's degree are largely showing Clinton in the lead, and the states with the lowest percentages of such individuals are overwhelmingly supporting Trump.
In fact, the 15 states with the highest percentages of degreed residents 25 and older, plus the highly educated District of Columbia, are currently all supporting Clinton. In these 16 jurisdictions, only Colorado, where Clinton's average polling lead has slipped to a little over 3% recently, is in any kind of doubt right now. Because many of these states (particularly California, New York, and Illinois) have large numbers of electoral votes, these jurisdictions alone would provide the Democratic nominee 211 of the 270 electors she needs to win, with 202 of those electoral votes currently looking to be in the bag for Clinton.
Of the 20 most educated jurisdictions in America, Clinton leads in 18 (and by significant margins in 17); the exceptions are #17 Utah and #18 Kansas, and even in these states, where she has now fallen well behind, Clinton was close or even ahead at times during this campaign season. Expanding out to the top 25 most educated jurisdictions, Clinton leads in 19.
Meanwhile, Trump currently holds the lead in the 12 states with the lowest percentages of degreed citizens over 25, and in only one of those states, closely divided Nevada, is Trump's eventual victory in any doubt at all. Among the 25 states with the lowest percentages of degreed individuals aged 25 and older, Trump clearly trails in only three (Michigan, New Mexico and Wisconsin) and is essentially tied in four others (Arizona, Florida, Nevada and Ohio). He holds a clear lead in 18 of these 25 states. It is no wonder that Trump famously proclaimed his love of the poorly educated, and the feeling is clearly mutual.
The one wild card: six of the seven lesser-educated states where Trump trails, or is essentially tied, have very significant populations of color that are clearly countering the blue-collar white vote. Only Wisconsin, at 89% white, bucks this trend.
And what of North Carolina, which stands right in the middle, at #26 out of 51 jurisdictions? Current polling averages show the state almost evenly divided, with Trump holding an edge of about 1%.
The educational divide is starker than anything seen in recent memory, and appears to be a key component in some of the more surprising polling results being seen at this moment. Iowa, which comes in tied for 35th with 26.8% of adults 25 and older holding at least a bachelor's degree, has Trump solidly in the lead right now, despite having gone Democratic in five of the last six presidential elections (narrowly going to George W. Bush in 2004). Nevada, coming in at 44th with 23.6% of adults 25 and older holding degrees, is essentially tied despite its large Latino population and the fact that it decisively supported Barack Obama in the last two elections. Even the rural 2nd Congressional District of Maine, which hasn't voted Republican in a presidential election since the last time Maine as a whole went to the GOP (1988), is showing Trump with a decisive lead at this time.
On the flip side, Clinton continues to hold a strong lead in New Hampshire, which has been the only New England state to go Republican in a presidential election since 1988 (narrowly going for George W. Bush in 2000). She also holds a small but consistent lead in Colorado, which is one of only two states in America—the other being Florida—to split its party allegiance 3-3 in the last six elections. In recent elections, Colorado has consistently performed better on Election Day for Democrats than its polling indicated, so Clinton's lead there is probably safer than it looks right now. New Hampshire ranks eighth in the percentage of adults 25 and older holding at least a bachelor's degree (35.7%), and Colorado places second (39.2%).
In short, a political divide has clearly developed this campaign season between jurisdictions with better-educated residents and states with fewer people who hold at least a bachelor's degree. So now we have yet another stark division further separating an increasingly divided country. It is another reason to pose the question of what it will take to put the "united" back in the United States of America—if, in fact, this diverse nation ever really was united.
But that's another question for another time.
Disclosure: Donald Trump is the father-in-law of Jared Kushner, the publisher of Observer Media.
Cliston Brown is a communications executive and political analyst in the San Francisco Bay Area who previously served as director of communications to a longtime Democratic Representative in Washington, D.C. Follow him on Twitter (@ClistonBrown) and visit his website at ClistonBrown.com.