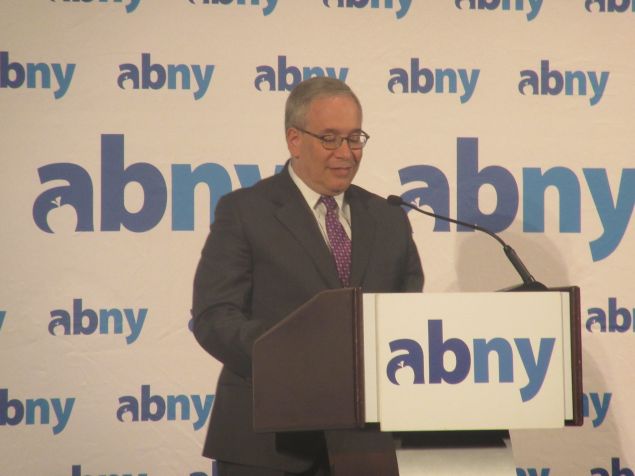 Comptroller Scott Stringer took Mayor Bill de Blasio to task on just about every plan he has to address the city's most pressing issues—including affordable housing, homelessness and the lack of contracts given to minority- and women-owned businesses—in a speech that sounded like a platform for his rumored mayoral run this morning.
Speaking at the Association for a Better New York breakfast in Midtown Manhattan this morning on his economic vision and the current state of the city's economy, Stringer took jabs at the mayor on everything from his affordable housing plan to what he perceives to be the city's poor performance working with minority- and women-owned businesses. He even said his Computer Science for All initiative—which the mayor will tout today—is a "terrific idea" but would only reach all city students by 2025, which he thinks is too late. And he said that it was his audit of the city's homeless shelters that forced the city to "wake up." 
He offered his own plan to address the city's need for affordable housing—the creation of a land bank that would help convert vacant space into permanent affordable housing. (His audit this year found that there are 1,175 vacant properties in the city.)
He noted that Attorney General Eric Schneiderman has already helped to fund more than a dozen land banks throughout the state with money he recovered from major lenders involved in the housing crash—and had announced a new round of funding last month.
Stringer said the city is "missing out on those dollars and that focus because we have yet to establish our own land bank," calling it "our ticket to transform vacant spaces" and "house our most vulnerable citizens."
"For the past year, I've gone with Commissioner Steve Banks to visit shelters in this city," he said. "We're always reminded, 30 percent of the folks living in family shelters actually have a job. All they need to get back on their feet is access to affordable apartments, ones that will stay affordable permanently, not just for tentative use."
And he pointed out that affordable housing has been achieved in the city before, citing examples such as the late Mayor Fiorella LaGuardia building the first government-funded housing project in the country in 1930 during the Great Depression and the state's Mitchell-Lama Housing Program established in the 1950s. (The federal funding that started those programs, particularly under LaGuardia, has all but dried up.)
The city needs not only a vision to find new solutions and "the will and strategic planning to see them through" but to partner more with communities, he said.
He seemed to imply that the reason why the City Council rejected the Sherman Plaza development proposal in Inwood in August was because Mayor Bill de Blasio did not do enough outreach in that community.
"That's why we have to do the real, hard work of engaging community leaders in Inwood, Jerome Avenue in the Bronx or Bay Street in Staten Island and in all of our neighborhoods to find a solution that works for everyone," Stringer said. "You can't just show up in a community and expect people to go along with a one-size-fits-all kind of plan. That's not New York. It doesn't work that way. That never has."
The criticisms didn't stop there. Stringer also noted that the city spent $14 billion on goods and services, but only 5.3 percent of that spending went to certified MWBEs and less than 2 percent went to firms owned by African-Americans and Latinos.
"We have to do better across the board. I know this because every year, I put out a report grading agencies on how well they engage minority- and women-owned firms," Stringer said. "And every year, the city gets a D. It's a disgrace. The goal must increase."
His solutions? A three-point plan: the city partnering with community-based banks and insurance companies to provide more loans, bonds and credits to small businesses, collecting city agency bills on time and a "real mentorship program," he says.
And the MTA is already using this approach, he said, crediting MTA Chief Diversity Officer Michael Garner, who was in attendance. (Stringer told the Observer after his speech, "The state is doing better…they have a goal of 30 (percent), the MTA is doing better.")
"More than 20 percent of the agency's massive capital plan is now flowing to minority and women business owners and is actively saving taxpayer dollars. And I can't believe I'm actually up here praising the MTA," he said, to laughter from the audience. "But I'm going for it, because the bids that they get from small businesses are often lower than what the agency budgeted and that's good news for all of us." 
Eric Phillips, a spokesman for the mayor's office, dismissed Stringer's criticisms as indicative of his lack of experience.
"These are the kinds of critiques you make when you have never run anything and don't know what you're talking about," Phillips said. "Mayor de Blasio's building affordable housing at a record pace, jobs are at an all-time high, crime is at a record low, graduation rates are up, and we're on target to meet the most ambitious goal on MWBE contracts our city's ever had."
When Gotham Gazette's Ben Max asked him whether City Hall is willing to work with him to consider his proposals or if he is merely an outside critic, he said that whenever he puts out an audit or suggests an idea, "they don't embrace it right away, but eventually do a lot of it."
His job, he says, is to push city agencies and the administration and said he has had "some real success."
"And I'm always willing and ready to work with the mayor…When he's right, I say he's right," Stringer said, addressing reporters after the breakfast. "When we disagree or we do an audit, you know, I have to be critical but I don't come here today. I came here today, I said very good things about him as well."
He also denied rumors that he could potentially challenge de Blasio in the 2017 Democratic primary for the mayoral race.
"So right now, I'm in the Hillary zone and the Trump zone, 60 days to go," Stringer said. "No one should be thinking about '17. Everyone should be hands on deck trying to elect Hillary Clinton president and a Democratic State Senate."
This story has been updated to include a comment from the mayor's office.